Why Your Libido May Suffer During The Colder Months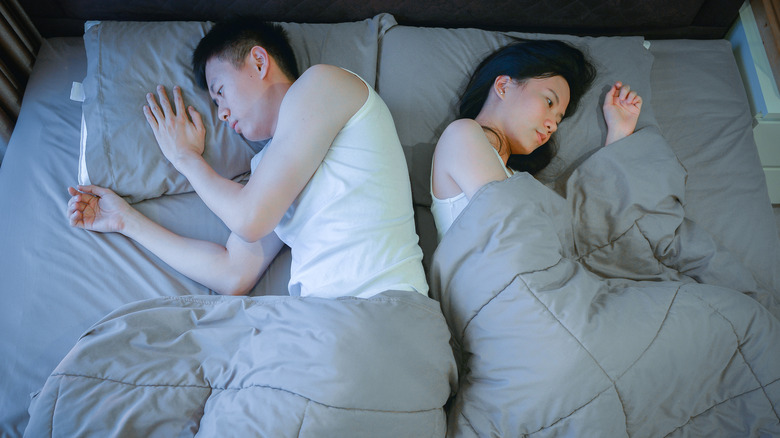 Tavarius/Shutterstock
As the seasons change, your health can be affected in different ways, from dry skin to coughs and colds. What you might not realize, however, is that statement can apply to your sexual health, too. No, it isn't just you; according to numerous sources, wintertime can really mess with your libido. A 2016 study conducted by researchers at the University of Siena in Italy worked to address this problem in male participants by introducing a light box to simulate the summery conditions, but it isn't a gendered issue (via Reuters).
"There may be biological, practical and/or environmental explanations for fluctuations in sexual desire in winter months, particularly after the new year," according to sex therapist Casey Tanner, who spoke about the issue to InsideHook. If you're wondering what might be causing your low libido in the colder months and what you can do to get your sex life back on track, we've rounded up a few expert opinions to get to the bottom of it.
A vitamin deficiency could be to blame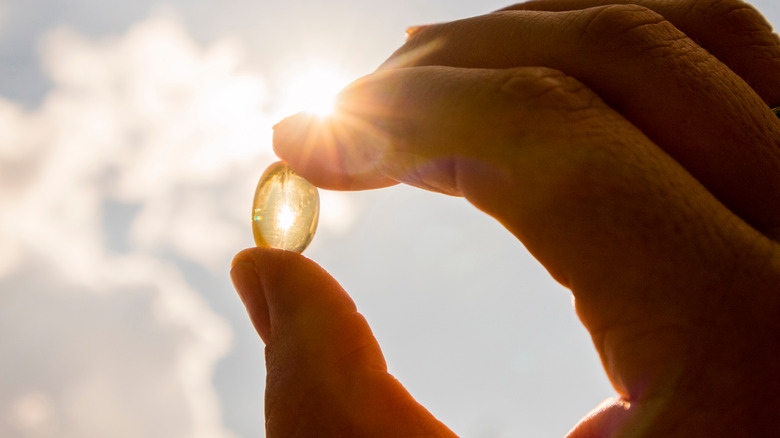 FotoHelin/Shutterstock
It turns out that a lack of vitamin D, which can be provided by sunlight, doesn't just affect your mood in the wintertime; it could also be affecting your sex drive and might contribute to a sexual plateau in your relationship. The Maudern explains that numerous studies have linked a lack of the vitamin to erectile dysfunction, and also reveals that estrogen levels may be at their lowest in the winter for those who don't take hormonal birth control. Likewise, Alyssa Dweck, MD, FACOG, told Well+Good that vitamin D "might have [an] impact on testosterone levels and sexual drive."
Other evidence, published in a 2016 study in European Journal of Obstetrics & Gynecology and Reproductive Biology, supports the idea that low levels of vitamin D also have a negative effect on women's sex drives.
Regardless of your identity and your body's hormones, then, it might not be a bad idea to get your vitamin D levels checked if you think this could be affecting your sex drive. Per MedLinePlus, a vitamin D deficiency can cause problems for your bone health and may be linked to other medical conditions as well.
You might be more tired than usual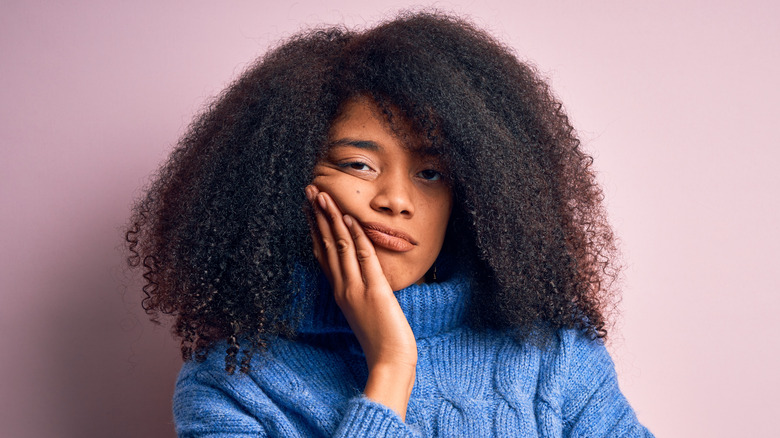 Krakenimages.com/Shutterstock
Even if you discover that you don't have a vitamin D deficiency, your sex life might be suffering simply because you're more tired in the winter than you would be otherwise. OB/GYN Kenosha Gleaton, MD, told Well+Good that our "bodies also need to work harder to keep us warm, making the simplest tasks exhausting." Subconsciously, in other words, your body might be putting sex out of your mind.
That said, therapist Michelle Herzog, LMFT, CST, also told the website that you might be able to work around that one: "Anything that brings you pleasure can help sustain sexual desire, which can ultimately combat the winter blues." Sex blogger Tatyannah King mentioned to InsideHook that cuddling with your partner can stimulate connection and might be useful to get your sex drive back in the cold weather. 
No matter what helps you to get back in the mood, just know that you aren't alone.