How To Rock Wide-Legged Pants If You're Short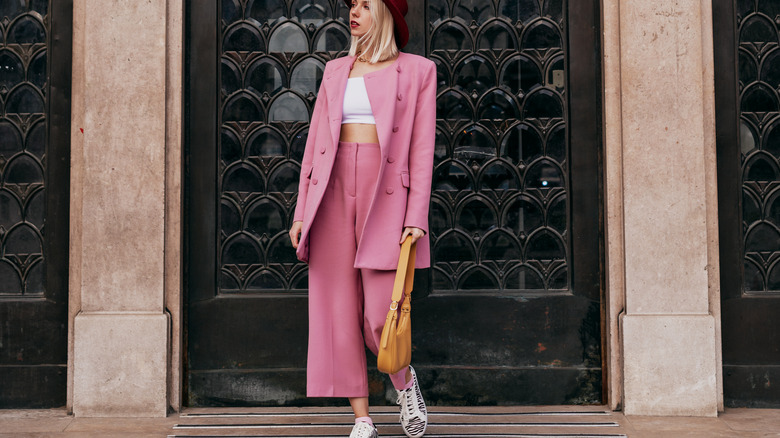 Victoria Chudinova/Shutterstock
Some trends come onto the scene and make it easy for people of every height to find a way to style them. Other pieces are harder to figure out, especially with shorter frames. This doesn't mean they are inaccessible to people who don't kiss the 5 feet 4 inches and above category — it just means some clever thinking and different options might be in order.
One such style is wide-legged pants, and they are making a big comeback on the fashion scene. In the 1990s, trousers with a loose cut through the legs were hugely popular, and the trend stuck around until the early 2000s. However, wide-legged slacks have actually reappeared in fashion fads every 12-15 years since the twenties, according to Fountain of 30. With a pattern that seems to be fairly set in stone, for now at least, this means shorter people have to either embrace the trend or avoid it completely ... so why not indulge in these fun ways to rock wide-legged pants without looking frumpy or drowned out?
Cropped/ankle length
Not all wide-legged pants were created the same, and in fashion, this is a good thing. You can find this style in varying lengths, and crop or ankle cuts are ideal for shorter frames. By opting for a higher waist, you can still add length while flaunting those ankles for a truly stylish and chic wide-leg look. For most people 5 food 3 inches and below, a 28-inch inseam will measure out to look like normal-length pants, so while this seam is considered shorter, it can also provide the full-length effect depending on your height.
Kick it in kick flares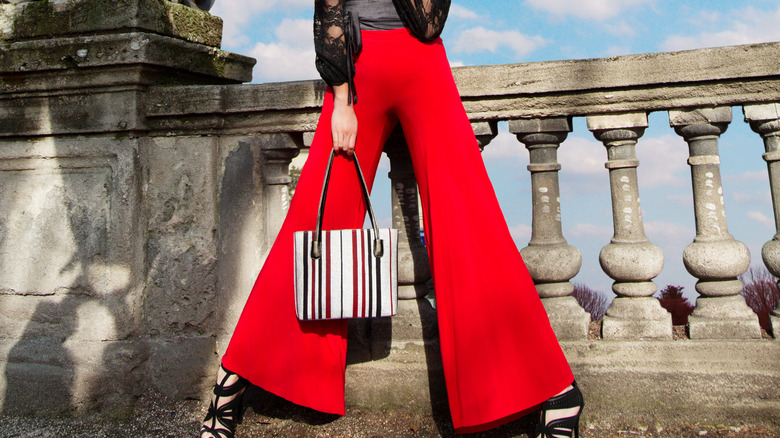 Moustachegirl/Getty Images
Kick flare pants might be a small leap from wide-legged trousers, but they still offer petite shoppers the chance to indulge in the trend. Kick flares get wider as they go down, providing an open cut that is flattering on both your hips and lower legs. The exaggerated cut allows for optimum accentuation, but it's best to avoid bells (the very bottom part of the pants) that stretch wider than your actual hips. This will help give you a longer frame, which is always a win for the shorter crowd.
No qualms with the mom's (jeans)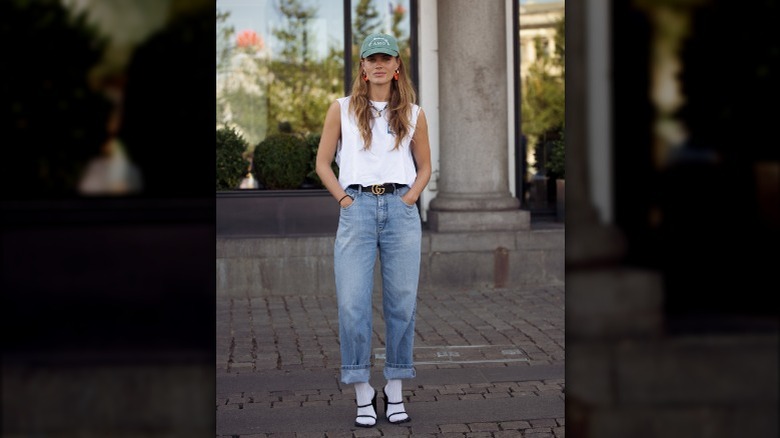 Raimonda Kulikauskiene/Getty Images
As with kick flares, mom jeans might be in a slightly different category than wide-leg pants, but they can still pack a punch. If you're reluctant to go big or go home, why not try a slightly slimmer style? This particular cut can be rolled or cuffed to build a cropped look, and are more flattering than the boyfriend option since they elongate shorter forms. There is still tons of space inside the legs, so you won't feel relegated to tighter thigh areas that leave room for discomfort or self-consciousness like skinny jeans do.
Try a tailor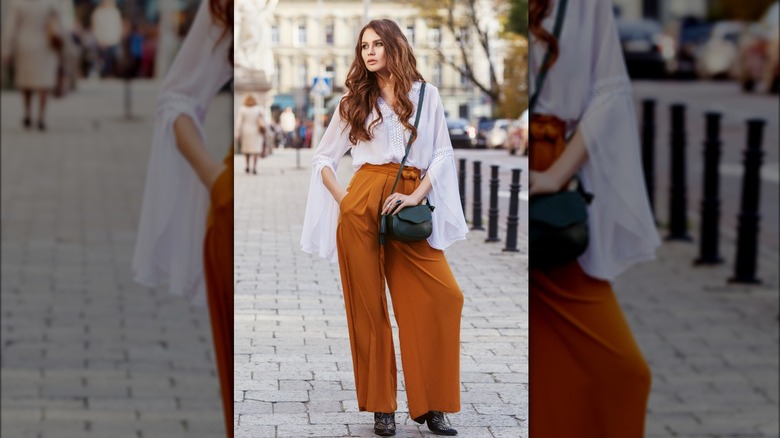 Victoria Chudinova/Shutterstock
Having your clothes fitted or altered by a tailor is not a memento of the past, left behind by the eras of pedal pushers or cinched waists. In fact, a good tailor is an asset to any wardrobe. They can find the ideal cut for wide-leg pants that might not fit properly straight off the rack. Think about what kind of shoes will be worn with the pants first, then discuss with your tailor how they can approach the hemline with that in mind.
DIY it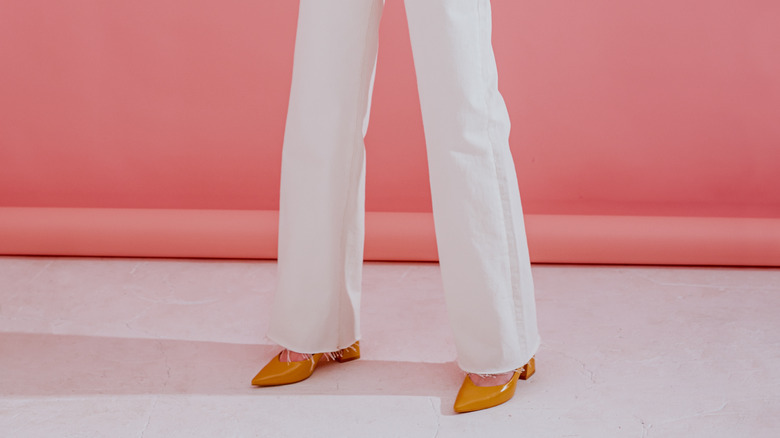 Victoria Chudinova/Shutterstock
A bonus of wide-legged pants trending during this decade is that they go hand-in-hand with a raw or un-hemmed look. Cutting your own pants can be as chic as buying them to look unfinished. There is also something extremely gratifying in creating your own finished product, and your pants will look cool and effortlessly fashionable. Eschew the notion that it's wrong to alter brand new attire, and make wide-legged pants your own with this trick. Stick to one length around the hem, as differing lengths can be reminiscent of a mullet cut.
High-five for high waists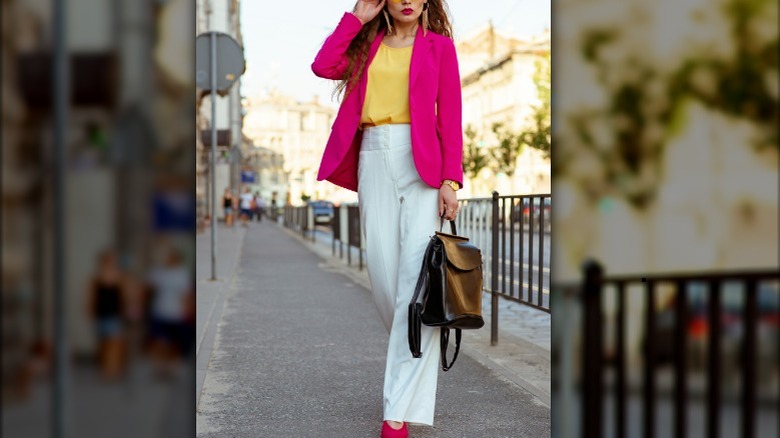 Victoria Chudinova/Shutterstock
If you're short, you might already be aware that high-waisted pants elongate your form, while low rise can add a frumpy air. Being little offers a ton of perks, but wearing low cut pants is not one of them. That doesn't mean you can't rock the baggy or loose look, but opt for versions that offer a higher waistline. This serves to accentuate your higher curves while still allowing the wide bottoms to flatter rather than flounder.
Tuck your tops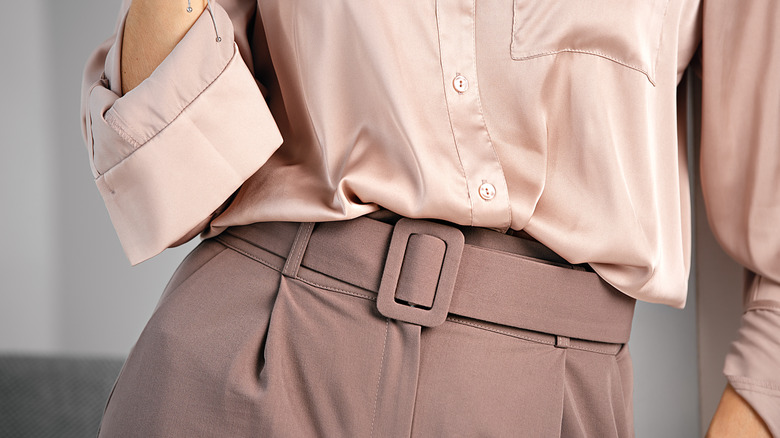 Elena Boltunova/Getty Images
Another trick to make this trend work for your short frame is to tuck your tops in. Whether you go for a casual partial tuck or a full cinch, this will help bring attention back to your curves and torso, helping to produce a longer look. You can also pair crop tops or shorter, fitted tees with wide-legged pants, then throw on an oversized blazer, sweater, or flannel to create an edgier style. Rocking this fad comes down to you: You should feel comfortable, chic, and fearless. Finding combinations that give you those feelings mean you're onto something.