Botox Versus Dysport: What's The Difference Between The Injectables?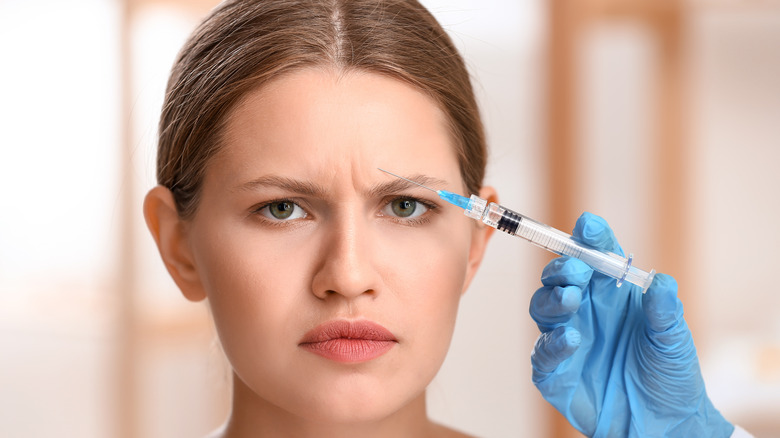 Pixel-Shot/Shutterstock
Many different products are known as "injectables" in the beauty world, intended to treat fine lines and wrinkles or add volume to cheeks and lips. One of the most prominent of these is Botox (or onabotulinumtoxinA, if you'd rather), but there are other wrinkle-relaxing injectables on the market too. One of these is marketed by the brand name Dysport, and it's also made from botulinum toxin. The difference is that Dysport is what is known as abobotulinumtoxinA.
Per the Cleveland Clinic, while Botox and Dysport are very similar to one another and are used for many of the same purposes, the two products differ both in their formulations and what they are used to treat. Whether you're looking into the difference between Botox and Dysport before you get injectables for the first time or are looking to make the switch from receiving one product to the other, we have some information that you'll want to know.
Know the differences between Botox and Dysport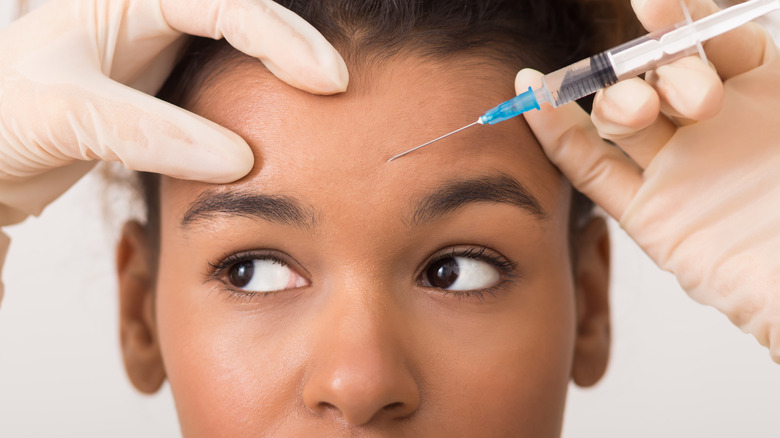 Prostock-studio/Getty Images
The basics on these two injectables are that Botox is onabotulinumtoxinA, while its competitor Dysport is abobotulinumtoxinA. Dermatologist Shilpi Khetarpal explained what this means to the Cleveland Clinic, sharing, "Botox and Dysport have the same primary active ingredient, but a different protein allows Dysport to diffuse further or spread more."
This means that there are some purposes that are better suited for Botox over Dysport — or vice versa. For one thing, as noted by Healthline, Dysport is only meant to target one area, the glabella, to treat the lines on your forehead and between your eyebrows. If you aren't planning to get injected there, then you can go ahead and cross Dysport off your list before you ask a medical provider for more information. Meanwhile, the Cleveland Clinic adds that Botox has been approved by the U.S. Food and Drug Administration (FDA) to treat other wrinkle-prone areas, such as crow's feet, that Dysport has not.
Know when to choose one over the other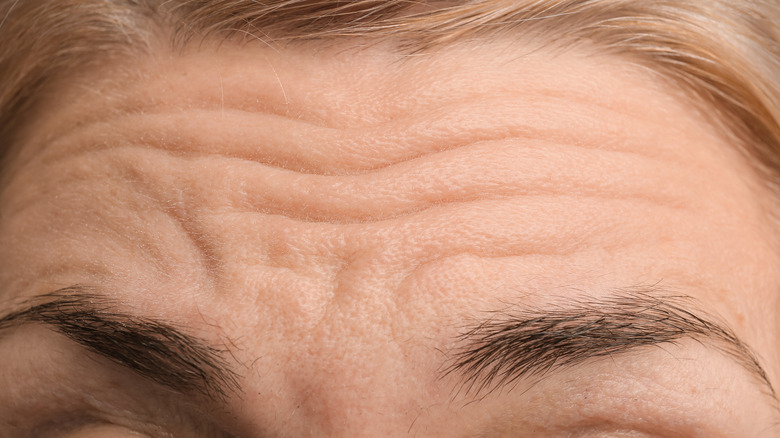 Zulkarnieiev Zulkarnieiev/Getty Images
If you are looking for an injectable to target your glabella, how do you know whether to choose Botox or Dysport? According to Healthline, your medical provider might be the one who makes that decision for you, since you might not be suited for Dysport if your wrinkles are not considered to be severe enough. This means that you could end up with Botox or another injectable by default. If you're concerned about the financial aspect of getting Botox instead, don't be; the Cleveland Clinic writes that the costs of Botox and Dysport are about the same.
On the other hand, there are some positive benefits to Dysport if you are using it to treat those deeper wrinkles on your forehead. Dermatologist Corey L. Hartman explained this point to Allure, saying, "Dysport really shines when injected in the forehead where it spreads well and covers this large, flat muscle in a complete way that allows for some movement."
Ultimately, you should discuss the pros and cons related to your specific situation with your medical provider before getting injected to find out whether Botox or Dysport will give you the effects you desire.