Here's What You Need To Know About The Karl Lagerfeld-Themed 2023 Met Gala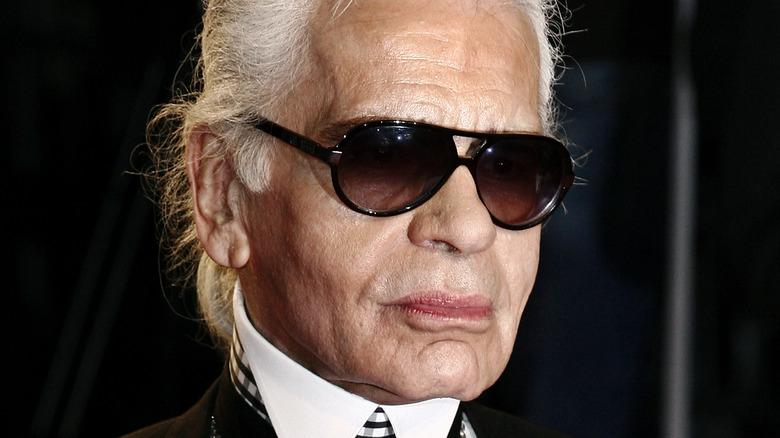 Andrea Raffin/Shutterstock
Since 1948, the Metropolitan Museum of Art in New York City has been hosting the fundraiser to end all fundraisers: the Met Gala. Celebrities, designers, and philanthropists gather annually on the first Monday of May for an exclusive first look at the museum's yearly exhibit and a night of glamorous debauchery, but for many, this event is more than just a simple fundraiser. Each year, the gala includes a theme meant to correspond to the museum's new exhibit, and designers bring their A-game, creating otherworldly looks that showcase their talents.
This event is like the World Cup of fashion, and the fans are just as devoted. Throughout the year, fashion lovers wait with bated breath to see a slew of certifiably iconic looks, quickly taking to social media to provide feedback about whether or not each celebrity created fashion history or fell flat. Because of this, one of the most anticipated moments before the Met Gala is the announcement of the dress code, and, finally, this year's wait is over.
The dress code for 2023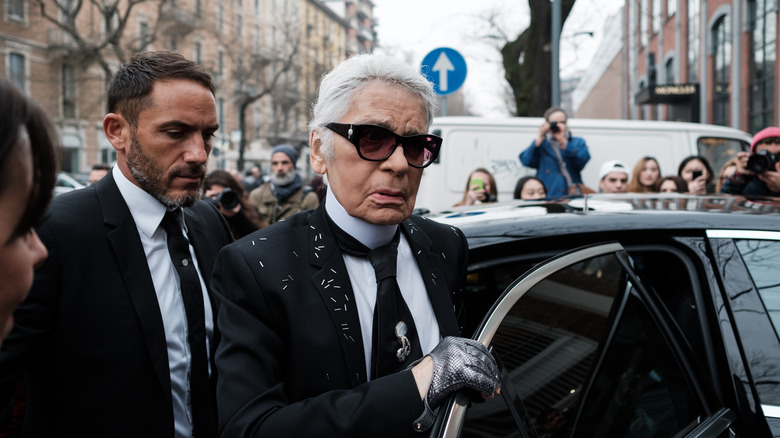 Marco Aprile/Shutterstock
Last year's Met Gala theme, "Gilded Glamor," received a bit of criticism from fans for being too open-ended. Celebrities showed up in everything from plain gold dresses to historical costumes, but in 2023, designers have a much more precise goal to work with. This year's exhibit, "Karl Lagerfeld: A Line of Beauty," honors the late designer and icon's contributions to the fashion world, and the dress code seeks to do the same thing, suggesting guests dress as an honor and homage to the late designer (via USA Today).
While a focus on one designer might seem a little too limited at first glance, Lagerfeld's life and legacy provide a nearly endless trove of inspirational material. Throughout his long career, he not only created his own brand but also designed for Chanel, Chloe, Fendi, Balmain, and Patou, spreading his influence through just about every corner of the industry. He is most well-known for his work modernizing Chanel and bringing it back from the brink of financial ruin, and the rest of his career follows a similar theme of revitalization and revolution in a previously-stuffy fashion world. With this in mind, inspiration abounds.
The co-chairs of the 2023 Met Gala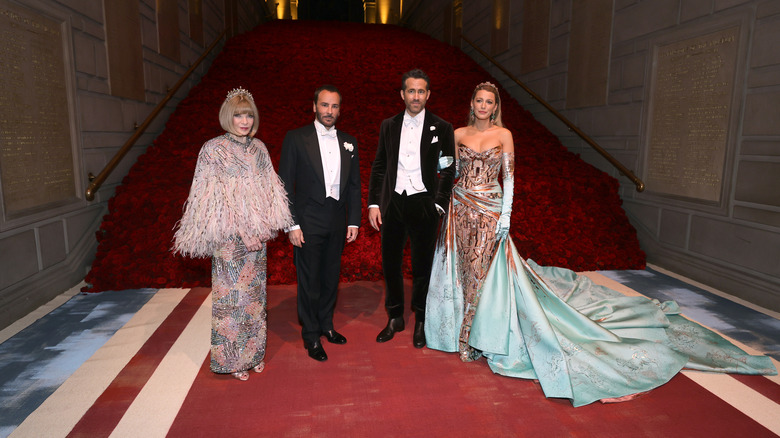 Matt Winkelmeyer/mg22/Getty Images
At every Met Gala, alongside Vogue editor-in-chief Anna Wintour, of course, a team of co-chairs is selected to help bring the event together and act as hosts. Last year, Lin-Manuel Miranda, Blake Lively, Ryan Reynolds, and Regina King had their time to shine, but this year, a new group has been chosen to do the honors. Specifically, 2023's selections include actor and screenwriter Michaela Cole, actor Penelope Cruz, tennis player Roger Federer, and musician Dua Lipa.
Unfortunately, we'll still have to wait until the first of May to see exactly which celebrities will be in attendance, and, just as importantly, what they will be wearing, but it's safe to say we'll likely see quite a few one-of-a-kind archival Karl Lagerfeld pieces alongside more modern interpretations of the paragon's distinctive style. It's sure to be a time capsule of fashion history rivaled only by the museum's exhibits themselves, so be sure to tune in and follow along once the Met rolls out its iconic carpet on the stairs.