Here's The Deal With The Thinx Underwear Lawsuit Settlement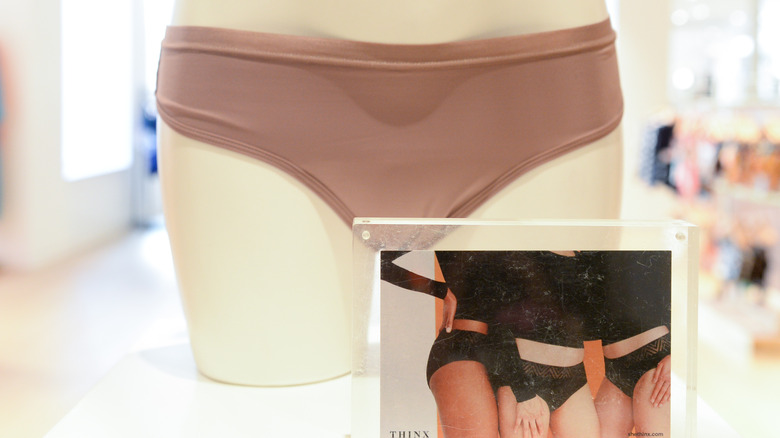 Nicky J Sims/Getty Images
For decades, women have struggled with using tampons and bulky pads during their periods. When period underwear was introduced in the 1990s, many thought they were the end to embarrassing leaks. However, they were bulky and uncomfortable. With new information and technology, though, companies were able to improve on the original design. Thinx, which launched in 2013, was one of the groundbreakers of comfortable yet appealing period underwear.
Not only was Thinx affordable and effective, but it also claimed to be eco-friendly and charitable. According to its website, the company promises to donate one pair of underwear for every pair bought. Many also like the fact that the products are reusable, which makes for less waste on the planet. You can simply throw it in the wash and have it ready to wear again in no time. The company also ensured safety measurements and stated that its products are "rigorously tested for harmful chemicals." However, an investigation by one of its consumers claimed to find toxic materials in Thinx's products.
Thinx settles $5 million lawsuit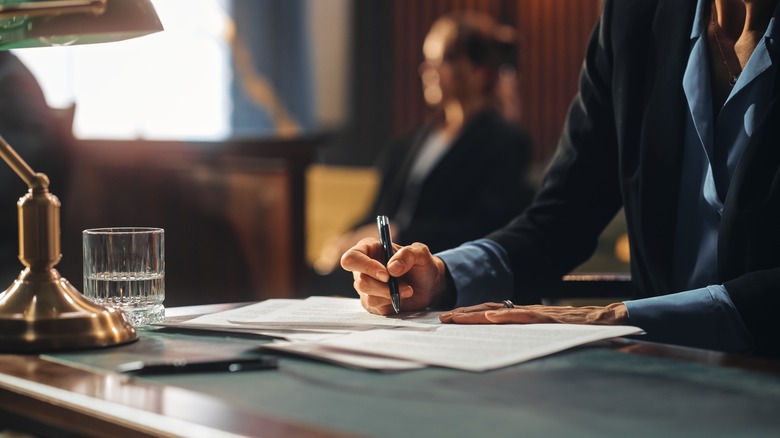 Gorodenkoff/Shutterstock
In May 2022, a lawsuit was filed against Thinx that claimed the company used "harmful chemicals including multiple polyfluroalkyl substances ('PFAS') and silver nanoparticles, which are a safety hazard to the female body and the environment," according to Court Listener. The lawsuit also alleges that Thinx knew about the toxic ingredients and knowingly concealed the information from the public. "Through its uniform, widespread, nationwide advertising campaign, [Thinx] has led consumers to believe that Thinx Underwear is a safe, healthy and sustainable choice for women, and that it is free of harmful chemicals," the plaintiff claimed.
As reported by Shape, while PFAs are widely used in products and even found in foods, they are believed to have adverse health effects and may cause cancer. Thinx settled the lawsuit in January for $5 million and has vowed to ensure PFAs are not "intentionally added" to its products. The company has also agreed to reimburse consumers who have purchased its products, which include its bikinis, thongs, and cotton briefs.
How can you receive your reimbursement from Thinx?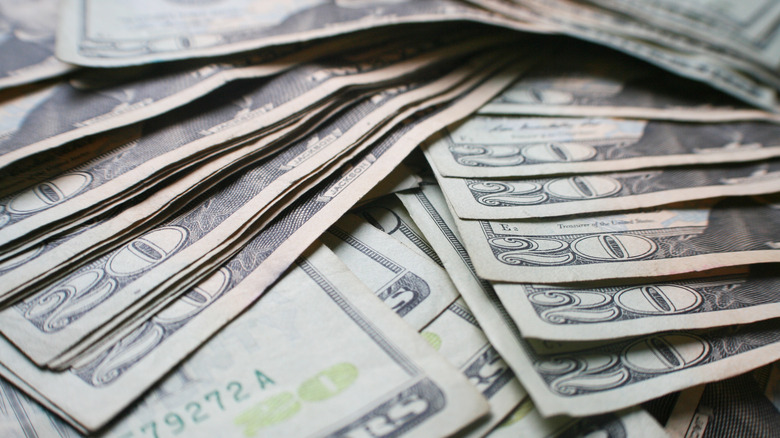 ShutterstockProfessional/Shutterstock
If you've bought a product from Thinx any time between November 12, 2016, and November 28, 2022, you can fill out a claim and get some of your money back from the company, per Class Action. Those that have receipts can get $7 for up to three purchases. If you don't have proof of purchase, Thinx will give back $3.50 for a maximum of three purchases. Alternatively, you can receive a voucher for a 35% discount for a one-time use of up to $150 in purchases. Consumers can file their claims on the settlement's official website no later than April 12. You can either file online or by mail.
Thinx previously faced controversy when its founder Miki Agrawal was accused of sexual harassment by Chelsea Leibow, the company's head of public relations in 2017, per the New York Post. Agrawal called the accusation a "bogus sexual harassment claim," and although she settled with Leibow, she was ultimately forced to leave Thinx. With its newest $5 million settlement and many customers likely to demand reimbursements, the company has ultimately taken another big hit.