How To Get An Effortless Contour, According To Hailey Bieber's Makeup Artist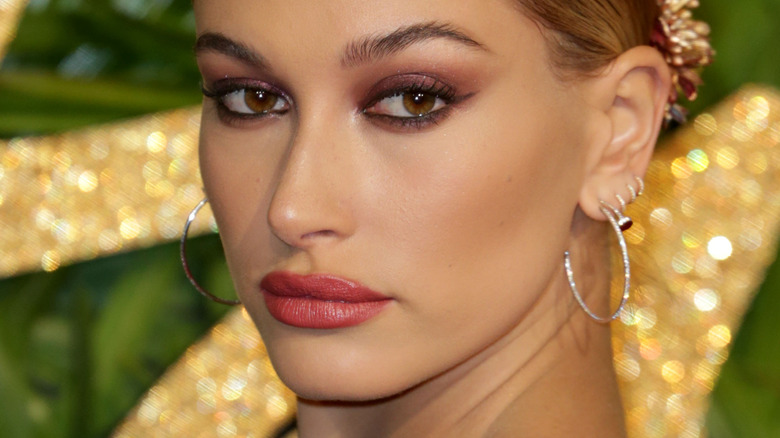 Fred Duval/Shutterstock
Hailey Bieber always stuns with her chic but effortless makeup looks, and it's no wonder she has amassed a huge following who try to recreate them. While she is a huge celebrity, many love her for her laidback style, and she's quick to share her tricks on social media. Known for her smooth, glass-like complexion, Bieber started a trend known as "glazed donut" skin. The model showed TikTok users how to achieve this look by blending the Peptide Glazing Fluid by her skincare line, Rhode, with her foundation before applying the mixture to her face.
Advertisement
No doubt, Bieber learned many tricks from her makeup artist, Mary Phillips, who also works with Kendall Jenner and Jennifer Lopez. While Bieber has the advantage of having naturally chiseled cheekbones, Phillips knows how to enhance them with artfully applied makeup. Fans did some sleuthing to find out the makeup guru's tricks, and they learned a simple trick that made all the difference.
Mary Phillips uses a technique called underpainting
Makeup lovers figured out how Mary Phillips gives her celebrity clients the most natural, contoured look, and fans took to social media to try the method on themselves, growing underpainting into an entire makeup trend. Then, Phillips decided to hop on TikTok to demonstrate her technique and impart her wisdom as a makeup magician. Using herself as a model, she applied contour first under her cheekbones, the top of her forehead, and under her jawline.
Advertisement
Explaining her underpainting method, Phillips shared, "To me, it makes more sense. It's like laying down the bones under the skin. So the contour and highlight being the bones and the skin being the foundation." She used a smaller brush to apply highlighter under her eyes and along the bridge of her nose. After blending so there are no visible lines, Phillips used a large, fluffy brush to apply a thin coat of foundation over the contour and highlight. Finally, she brushed on a rosy cream blush and was left with beautiful glowing skin. While Bieber's go-to look is natural, glowy skin and a brown lip, another look created by Phillips made the model sparkle.
Hailey Bieber shines with glittery eyes and dark red lips
With Hailey Bieber's bone structure and flawless skin, she can naturally pull off any makeup look. Normally, her day-to-day application consists of dewy foundation and a neutral eye and lip, as demonstrated in her TikTok video. However, she chose a more playful route with glittery eyelids and a wine-stained pout for the 2021 LACMA Art + Film Gala, per Grazia. Of course, her go-to makeup artist, Mary Phillips, perfected this fairy-like look, which was enhanced by her signature flawless foundation application. Bieber's eyes were otherwise bare besides the lilac glitter and a few coats of mascara, which balanced out the dramatic dark burgundy color on her lips.
Advertisement
Phillips shared a snap of Bieber's look on her Instagram page and many fans begged the makeup artist for product info. Much to their disappointment, she remained mum. Still, Phillips' latest product reveal on TikTok is pretty promising, and hopefully she'll divulge more of her secrets so we can all look as effortlessly made-up as Bieber.