What To Wear To A Second Job Interview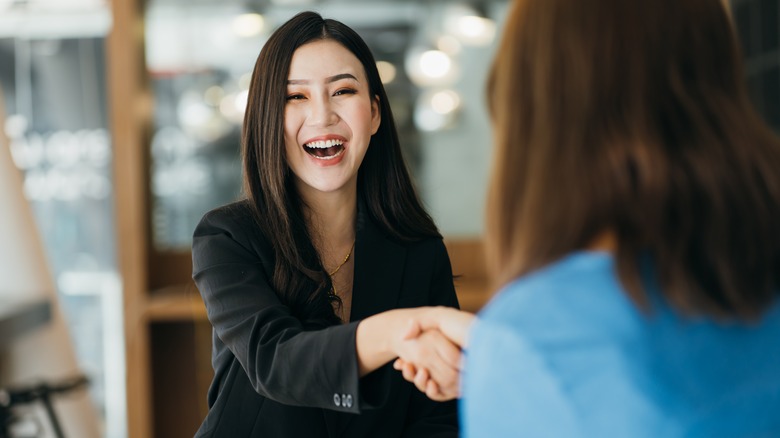 PaeGag/Shutterstock
You've gotten the call, email, or text that a potential employer wants to see you for a second interview. After the initial cheers and jumping around die down, the inevitable question becomes apparent — what should you wear to this all-important meeting? Chances are if the interviewer invited you back for a second round you nailed your initial interview outfit with just the right balance of professionalism and personality. Since it's frowned upon to wear the same thing in consecutive interviews (Quel horreur!), it's time to hit the closet to design a look that'll perfectly complement your oh-so-capable nature.
Whatever look you land on, it's critical to follow a few simple rules. First, make sure it fits appropriately. Clothing that is too loose or too tight will make you appear messy and ill-prepared, which is not what most employers want out of a new hire. Along the same lines, make sure the outfit isn't missing any buttons or sporting loose hems, and have clothes cleaned and pressed/ironed as appropriate for the fabric. This is the time to literally put your best foot forward, not show up looking like you just rolled out of bed. And for the love of everything, make sure your hygiene is on point! Failing deodorant never got anyone the job of their dreams.
Suit up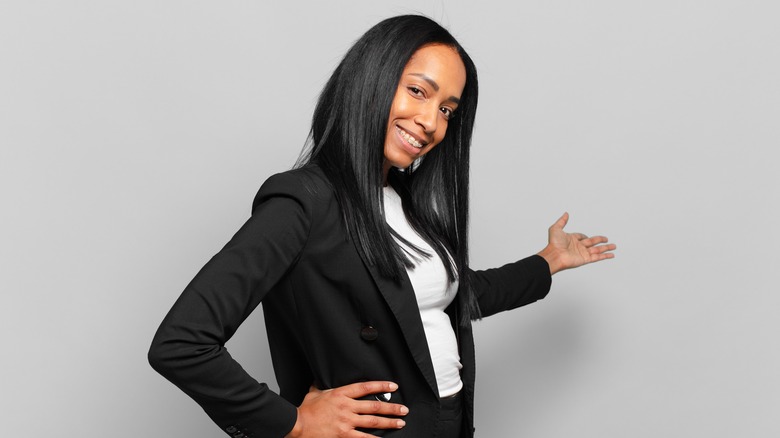 Kues/Shutterstock
Sure, a lot of offices have adopted very casual styles, but the second interview is not the time to show up in distressed denim. The classic black suit, with a skirt or pants, flatters all shapes and sizes and is easy to liven up with accessories. If black feels too funeral-like (especially in the summer months), opt instead for a suit in a different hue, like navy, khaki, or gray. Avoid suits in loud colors and any clothing item in a busy print. In a pinch, slacks and a coordinating blazer can also work, as long as the interview isn't for an executive position.
Keep it classy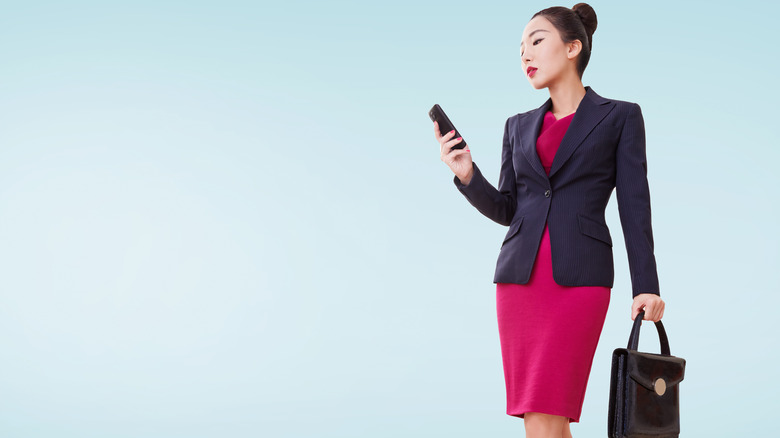 Moustachegirl/Getty Images
The second interview is not the time to show off your ample bosom or great legs. Really, those assets should probably be kept under cover in all professional situations. The best length for a suit skirt in an interview setting is one that comes to the knee. This particular meeting is about your professional and interpersonal skills, so let those shine through. That's not to say that you have to look frumpy or boxy, but appearing overly sexy will definitely distract from your skillset. You want the interviewer to be attracted to your mind, not your body.
Avoid flashy footwear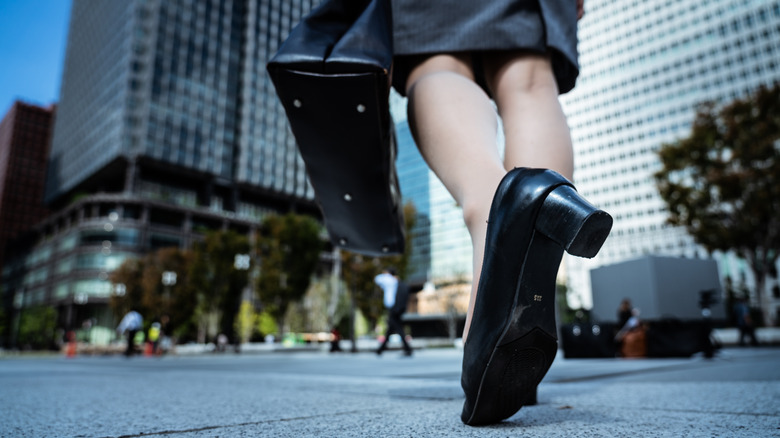 aijiro/Shutterstock
Save those sparkly hot pink stiletto Louboutins for a more appropriate appointment. Instead, the safest interview footwear bet is low heels in a neutral color that blends in with your chosen suit hue. If they've seen better days, freshen up footwear with shoe polish and a shine a few days before the interview. Above all else, make sure they're comfortable to wear for long periods. Second interviews often involve multiple meetings, skills tests, etc. and blistered heels will not make any of that easier.
Wear tasteful jewelry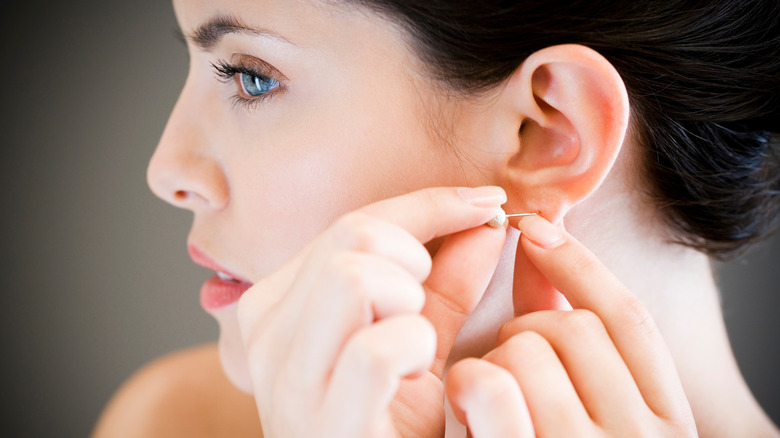 Juice Flair/Shutterstock
All jewelry should be small and tasteful in manner, like studs or small hoop earrings, a delicate chain, and maybe one ring per hand. The idea is to class up your look without letting jewelry hijack the show. As legendary fashion designer Diane Von Furstenberg once said, "Jewelry is like the perfect spice — it complements what's already there."
Choose complementary accent pieces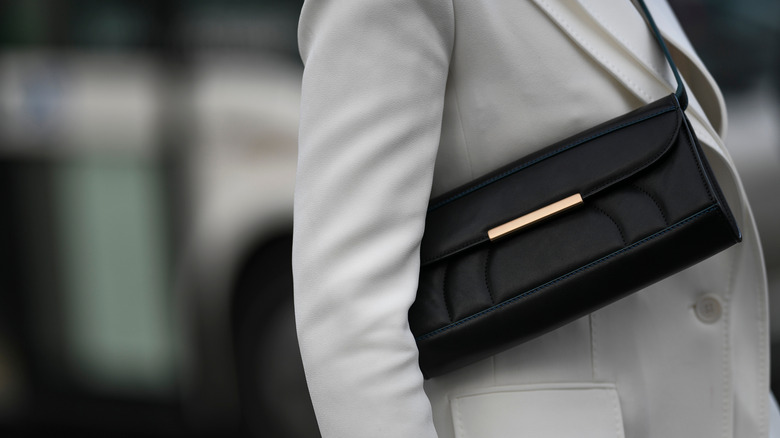 Creative Lab/Shutterstock
Nothing finishes off a look like quality accent pieces. These don't have to break the bank, but they should communicate a professional, tasteful vibe that meshes with your overall clothing. Accent pieces can include anything from a briefcase/portfolio to a purse or clutch. This is definitely not the situation for any type of hat, no matter how fetching it is.
Mind the mane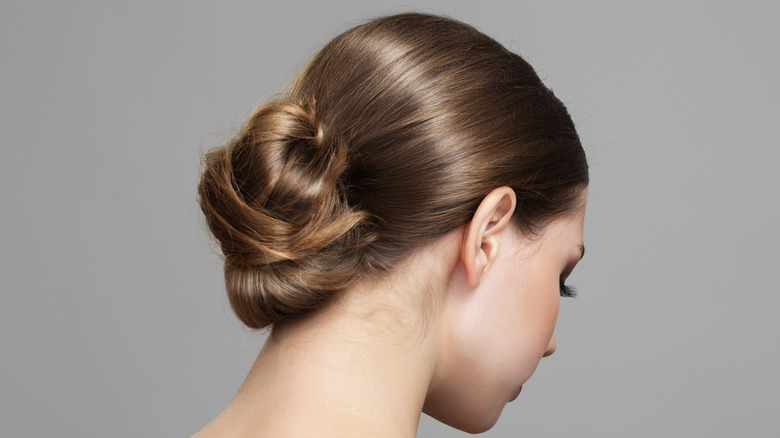 Kourdakova Alena/Shutterstock
There's no need to visit the stylist before each and every interview, but if you're past due for a cut and color, now's the time to make that happen. The perfect second interview hair should be well-tamed (easier said than done during the humid summer months, we know), clean, and subtly styled. It can be worn long and loose, in a chic chignon, or any other way that communicates that you're well put together and professional in both form and fashion.