Is The Viral Air Up Water Bottle Actually Worth It?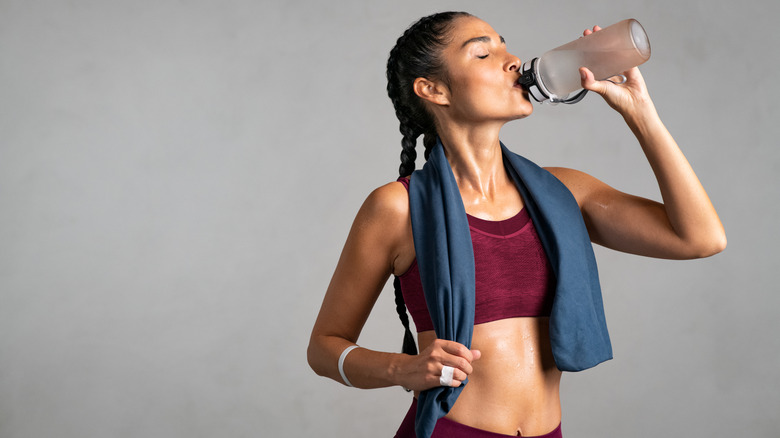 Ground Picture/Shutterstock
As 2023 New Year's fitness goals commence, a clip of a 2022 Peloton workout featuring Kim Kardashian has resurfaced on Instagram. During the clip, the reality star runs on a treadmill while drinking from a pink water bottle clearly labeled with the words "Air Up." As usual, internet sleuths were immediately on the case and now, Air Up water bottles have gone viral with influencers and celebrities like Jojo Siwa fueling the fire on TikTok.
According to Air Up's official website, their water bottles work using retronasal science to flavor plain water using only scent. This allows for flavored water without the calories, artificial sweeteners, food dyes, or the mess that accompanies infusing fresh fruits or herbs. However, not every viral product is worth the hype or the price tag. Here is everything you need to know before you decide to order an Air Up water bottle of your very own. 
Reviews of the Air Up water bottle
Reviews of Air Up's water bottles are available all over the internet and they appear to be slightly more positive than negative overall. Associate editor Sabrina Oritz of ZD Net rated the bottle a 6.5 out of 10, noting that while the bottle certainly worked, the effectiveness of the flavoring was inconsistent between flavors and that she experienced leaking. Air Up explains on its website that leaking when the bottle has no cap on is unavoidable due to the airflow technology.
The product has a 4.1 (out of five) rating on consumer review site Trustpilot, where a reviewer named Lola Browning raves that the Air Up bottle has helped her go from drinking zero water to four or five bottles a day. It is worth noting, however, that several reviews do mention negative experiences with Air Up's customer service team when attempting to request a return.
In the end, your impression of the Air Up water bottle is likely to be influenced by its high-end price tag. A $10 or even $25 water bottle has room for design flaws as long as it gets the job done. A $39.99 water bottle (though this comes with a starter pack of pods) that requires refill pods that will set you back up to $12.99 for a three-pack may not have as many liberties to take. 
The science behind Air Up water bottles
The driving force behind the popularity of the Air Up water bottle is the retronasal science that allows flavoring water with scent. As Science World explains, your sense of smell is responsibile for around 80% of what you taste. If you've ever plugged your nose to swallow an unpleasant tasting medicine or struggled to taste your food when you have a cold with nasal congestion, you've experienced the phenomenon.
Due to the fact that humans, compared to other mammals, have a rather weak sense of the orthonasal smell, our ability to engage this sense of retronasal smell can help to make up the difference (via American Journal of Neuroradiology). There is no question that the scientific concept of the Air Up water bottle is legitimate and sound. The only question that remains is whether the first-generation execution is worth the price. If you truly struggle to drink enough water, it may be worth finding out for yourself.