The Right Colors Of Nail Polish To Complement A Black Dress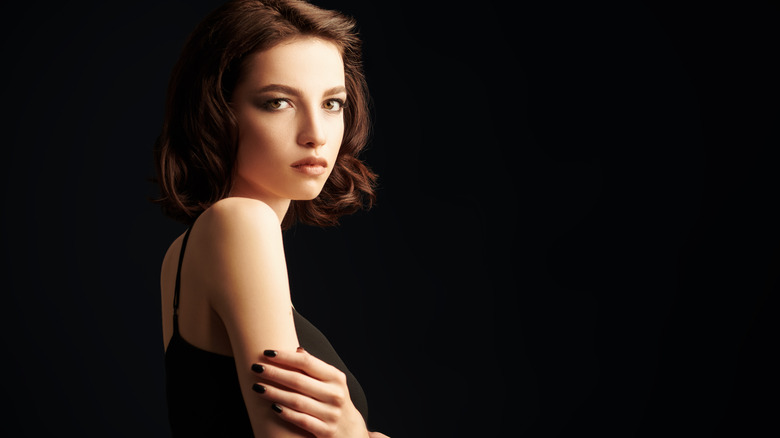 Kiselev Andrey Valerevich/Shutterstock
Not many options out there are as timeless as the little black dress. As sort of a blank slate, the black dress is fairly easy to accessorize and dress up or down. It's the go-to for many, from classy evening events to first dates to a night out on the town. It's the savior on those rushed evenings when you're racing to get out the door and need to look like you put in more than a few minutes of effort.
According to What Every Woman Needs, the black dress was introduced by Coco Chanel in the 1920s and left its position as solely a garment for grieving. Black can play tricks on the eye, elongating, flattering, and slimming the figure, as well as drawing attention away from less-than-ideal stitching. So, when it comes to nail polish, how do we best complement a black dress? While it does seem to go with just about everything, there are a few guidelines to keep in mind when visiting the nail salon before your black dress event. Nail polish can be the defining touch on a look, and here are the colors you should opt for.
Classic reds
Probably the most obvious choice, classic red nails go perfectly hand-in-hand with a black dress. Red nails paired with a black ensemble are the ultimate power couple — the two were simply made for one another. Spice up this classic combo by choosing a fun nail shape, like almond, the next time you're at the nail salon for a mani.
Bright neons
If black isn't your go-to color and you tend to wear a more colorful wardrobe, then pairing it with a bright neon nail polish will likely help you feel more like yourself. Neon green, orange, yellow, or pink — all are excellent choices to complement a black dress, particularly in the warmer, summertime months.
Subtle neutrals
Nude polish with hints of peach or cream is a beautiful, elegant way to enhance your black dress for the day. Nude nails are arguably the most versatile choice out there and the minimalistic simplicity of a black dress paired with neutral nails is a perfect way to make your LBD daytime chic.
Deep vampire purples
We love a deep, dark purple nail polish paired with a black dress for an extra edgy, vampire vibe. Nothing says midnight quite like this combo. Just be sure to opt for more of a burgundy purple than bright purple to keep the mood right and avoid any clashing with your black dress.
Glittery golds
Most of us associate black and gold with New Year's Eve, but this combo is an eye-catching look any time of the year. Classy, fun, and elegant, opt for sparkling gold (or silver and bronze!) for more formal, extravagant events designated for celebration — birthdays, anniversaries, or big parties. You'll fit right in for the occasion.
Simple blacks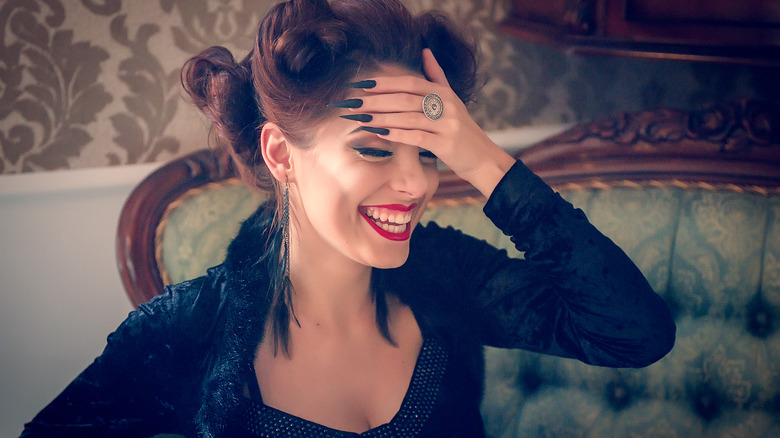 Alexiszernescu/Getty Images
You can't go wrong with a simple black polish to complement your little black dress. The edgy, slightly goth vibe is a great way to carry out your personal style with the classic energy of a black dress. Matte or shine, black nails are an easy choice for your next evening out.