How Wearable Is Gray Lipstick Really?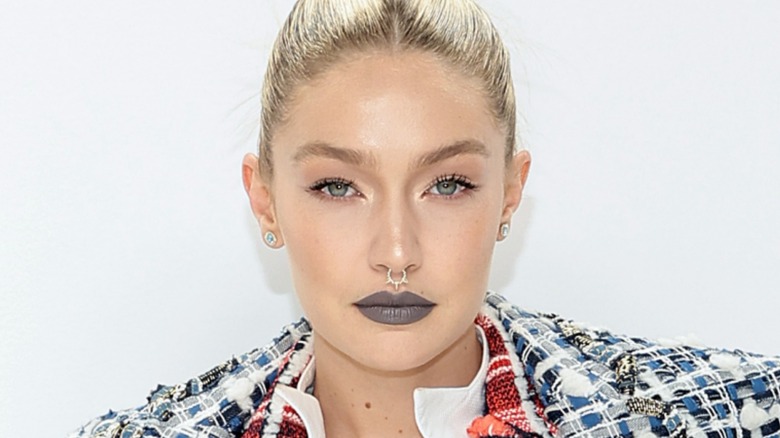 Dimitrios Kambouris/Getty Images
Gray lipstick isn't a trend that most people jump at the chance to try. Unlike popular shades like red or pink, gray might not seem like an intuitive lip color. However, the trend has steadily gained attention (via Cosmopolitan), leaving many folks asking, "Wait, could I pull that off?"
Finding gray lipstick isn't a problem — it comes in a wide selection of shades, consistencies, and price points. The real challenge comes when you try to wear it. If you apply this color poorly, you end up with a chunky blotch of murky gray that drains the life from the rest of your skin. On the other hand, a well-executed gray lip is a perfect balance of edgy and sophisticated.
You can style gray lip color in various ways, ranging from a dreamy, subtle approach to a hardcore rocker vibe. Regardless of your aesthetic preferences, you will need the right products and techniques to take gray lipstick from a celebrity fashion stunt to a wearable makeup look.
Gray lips on the red carpet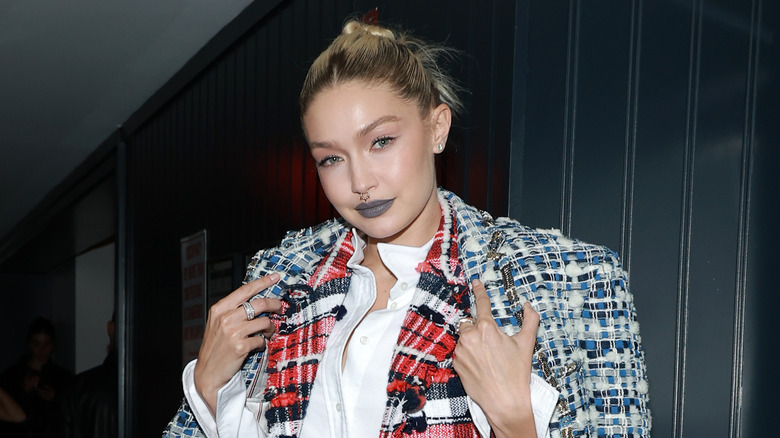 Jason Mendez/Getty Images
If you don't follow makeup and beauty trends, gray lipstick might sound like a weird prank pulled by fashion influencers. But this look is definitely having a moment in the style world. In November 2022, Gigi Hadid created buzz when she showed up at the CFDA Fashion Awards wearing a cool gray hue on her lips (via Vogue). Hadid's grungy gray lipstick paired well with her punk-inspired Thom Browne outfit, so it's no wonder the look received praise from many fashion media outlets. And naturally, if Gigi Hadid rocks a show-stopping gray, it's only a matter of time before other people start reaching for a tube.
Although Hadid is certainly a leader in this latest trend, bold and unconventional lip colors have been around for quite some time. For a relatively recent reference point, consider the lipstick colors of the 2010s. Kylie Lip Kits, for example, came in several dark neutral shades that leaned toward gray, not to mention the brand's attention-grabbing blue and black color options, per Glamour.
Compared to the bold matte lipsticks of the 2010s, though, the up-and-coming gray lipstick of today offers a more cohesive vibe. Note how Hadid's lipstick has a slight shine to it, and the shade of gray complements both her bronze eyeshadow and her naturally fair coloring.
How to wear gray lipstick in everyday life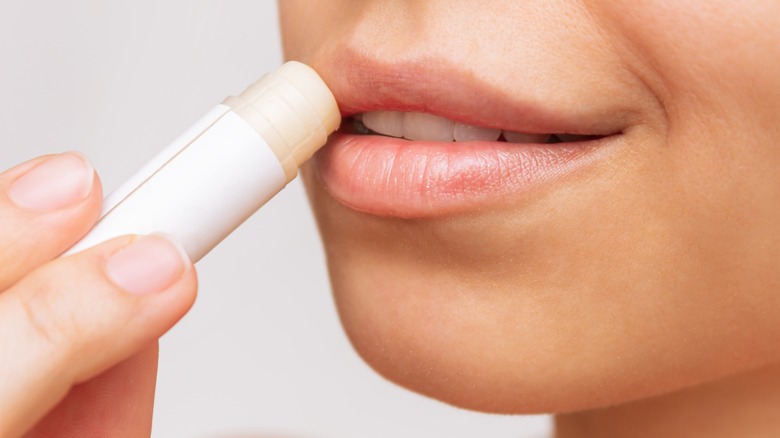 Marina Demeshko/Shutterstock
Wearing gray lipstick without a red carpet stylist is easy as long as you coordinate it with the rest of your makeup (and potentially your outfit). Take the lead from Gigi Hadid's makeup at the CFDA Awards and focus on neutral, fresh-looking colors on the rest of your face, which can help you achieve balance and wearability, makeup artist Kelli Anne Sewell explained to Allure. Or, if you want a more traditional punk style, you can give yourself a smoky eye.
If you've never worn gray lipstick before, you will need to find the right shade for your skin tone. According to MasterClass, the best way to choose a shade is to match the lipstick to the undertones of your skin. Any skin color can have warm or cool undertones, so you'll need to closely examine your skin under natural light to determine yours. Cool skin tends to have hints of pink or blue, whereas warm skin has a caramel or peach hue. Based on your undertones, you can select a cool or warm shade of gray to match.
As with all daring lip colors, make sure your lips are properly exfoliated and moisturized before applying your lipstick — the last thing you want is to have ashy flakes falling off your lips. Once you've prepped, you're ready to go about your day wearing that gorgeous gray.