The Naked Glitter Nail Trend Adds A Touch Of Sophistication To A Sparkly Mani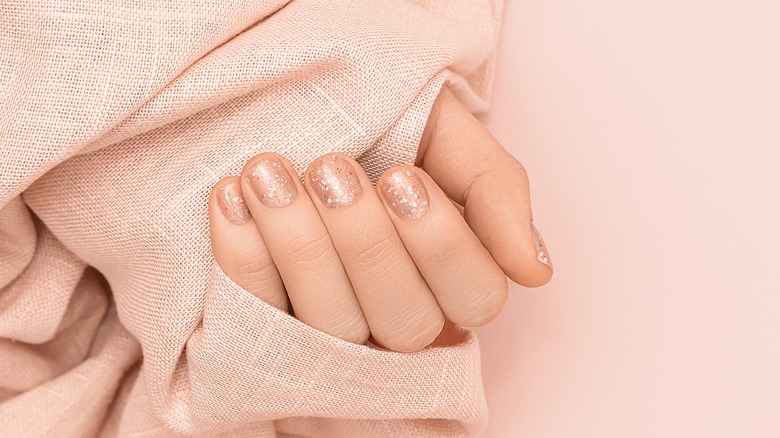 Dev_Maryna/Shutterstock
When it comes to nail trends, matte nails are as classic and timeless as it gets. In particular, French nails and pearlescent manicures are the most recognized for being elegant and upscale. However, one of the season's biggest nail trends will mark a new era in sophisticated nails. Glitter is slowly becoming one of the funnest and on-trend ways to make a subtle statement with your nails. Celebrity nail artist Queenie Nguyen tells Ipsy, "I love that glitter nails are festive, fun, and long-lasting. They are quite versatile nowadays, and one can choose to go all out or rock them subtly." So while once a divisive pick, glitter nail polish is a trend that's here to stay.
Advertisement
Although more are embracing glitter nails, not everyone's on board for an over-the-top statement glitter nail. Thankfully, as the trend grows, people are coming up with ways to incorporate glitter into every situation. Now the naked glitter trend is here to add a little sparkle to your formal events. No matter how you prefer to rock your nails, this trend is perfect for all nail shapes and sizes. And it's so easy to pull off! 
The shiny gleamy nails
It's no secret that glitter can make anything an event, so why not wear it daily? To make these nails pop some more, add a base color close to your natural nails on the bottom for the glitter to really shine through. Nail artist and designer Stephanie Loesch showcased via Instagram how subtle beige and glitter can be all you need for a sparkling new manicure. You can also see how this combination works perfectly on acrylic nails, which makes it ideal if you want to keep your length.
Advertisement
Barely there nails
The best way to pull off the naked glitter nail trend is to make it seem like there truly isn't any color on your nail. To rock this look, all you need is to layer a clear coat as your base and add a glitter polish to the top of your nails. You can even rock this without a clear coat underneath and simply put glitter polish on your fingernail. Ensure that your glitter polish is subtle and understated to keep the minimal, sophisticated vibe.
Advertisement
Add more glitter
You can never have too much glitter. Instead of adding only one coat of glitter, try adding multiple layers. Ensure you use a polish with only smaller flecks of glitter instead of bigger ones. Using small glitter flecks will make it appear like the glitter is packed on your nail more than just scattered. Nail artist Brooke shared via Instagram how a glittery nail in a soft color will help you give a subtle but chic shine.
Advertisement
Add a clear white coat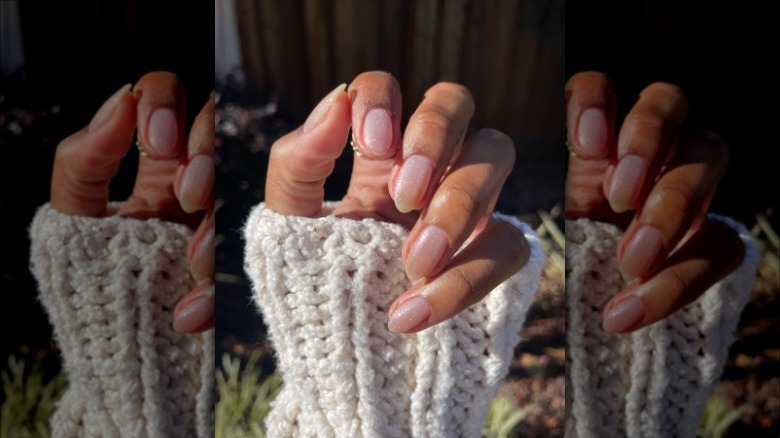 Instagram
Another way to add some interest to your naked glitter nail is by applying a barely-there milky white base coat to your nail while adding a soft glitter top coat. Applying light white nail polish to your nail will give your glitter something to contrast against and give it an extra shine. 
Advertisement
Make it ombré
It's always fun to add an unexpected twist to your nails, especially if it helps highlight your glitter. Give your nails an ombré twist to help keep them interesting and unique. Instead of adding a glitter coat to your entire nail, use a sponge to gently add it to your nail tips, or just to the bottom section of your nails. You can keep your nails natural or add a subtle base coat to give your glitter something to contrast against.
Advertisement
Don't forget the gold
Adding a little gold to your nails is a fun way to liven up any trend. Nail and makeup artist Mariapia Calapá shared via Instagram how a few gold flecks can turn any manicure into a chic and sophisticated design. You can add any base color that you want with this look, but colors that are close to your skin or nail color will always be a better option to help you pull off truly naked glitter. 
Advertisement