The Spring/Summer 2023 Haute Couture Shows Preview The Fashion Trends Everyone Will Be Coveting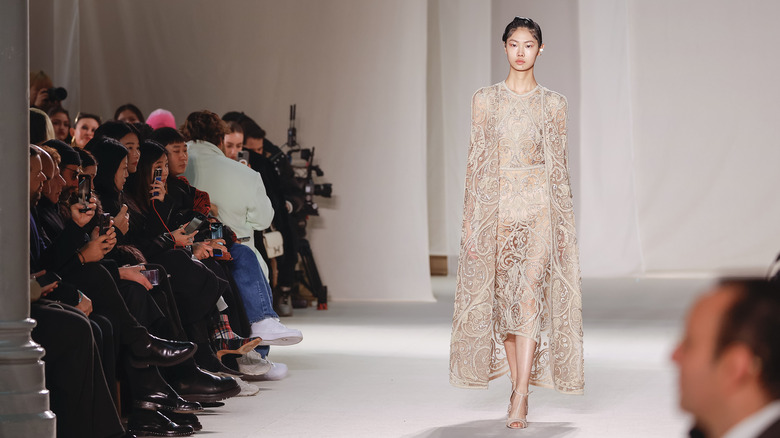 Estrop/Getty Images
While the fashion world anxiously awaits the start of another fashion month, they must first go through the excitement of another haute couture season. As opposed to ready-to-wear shows, haute couture collections are the perfect opportunity for designers to showcase their artistic and garment-making skills. Haute couture typically sees designers pulling out-of-the-box designs that you will hardly see off the runway. These designs usually remain in archives or are seen during red carpets and special events. While we hardly see these designs in the outside world, there's plenty we can take from them. This year's show was nothing short of viral moments, art, fashion, and wildness. From Schiaparelli's controversial lion dress to theoretical fashion collections, there's plenty from which we can take inspiration.
Although it would be difficult to wear these haute couture designs in our daily lives, there are trends we can take and incorporate in a way that fits our lifestyle. For those looking to push the envelope with their fashion, these haute couture shows have given us a glimpse of how to make a chic statement. Even though some of these trends have already been growing in the background, this season's haute couture shows will make them the newest must-have trends.
Adorned in embellishments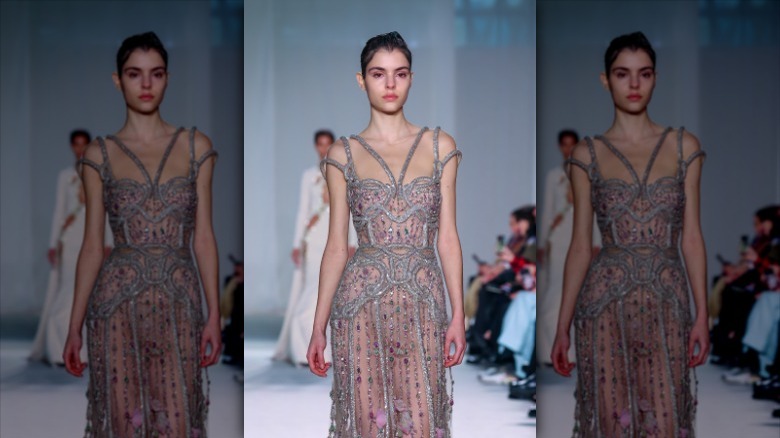 Peter White/Getty Images
Get ready to add some sparkle to your looks this spring and summer seasons, because the haute couture shows were all about things that sparkle. Besides the drama and artistry, one trend that stood out during the haute couture shows was the beading and embellishments on the majority of the pieces. From beaded dresses to embellished tops, every designer wanted to stand out with their beadwork. Instead of reaching for a solid and minimalist outfit, try to incorporate embellishments and beading into your pieces for a chicer and statement look.
Visible textures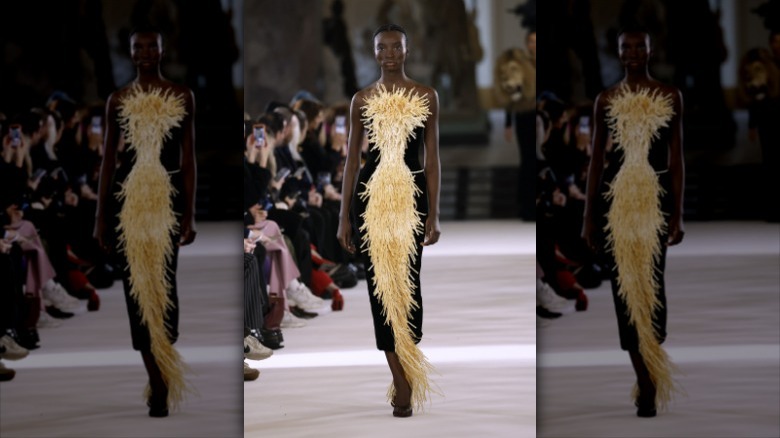 Estrop/Getty Images
Besides the typical velvet and sherpa you see on the runways, another fabric trend was noticeable — texture was the trend across most designers' minds as plenty of designs were seen donning various and unexpected textures. From rough spikes to soft and cozy materials, these details were enough to make a statement during the shows. At the Jean Paul Gaultier Spring/Summer Haute Couture 2023 collection, the designer experimented with all textures for our visual pleasure. Studs and feathers were in no shortage during the collection, which is the perfect reminder to always incorporate textures for a visually complete ensemble.
Statement jewelry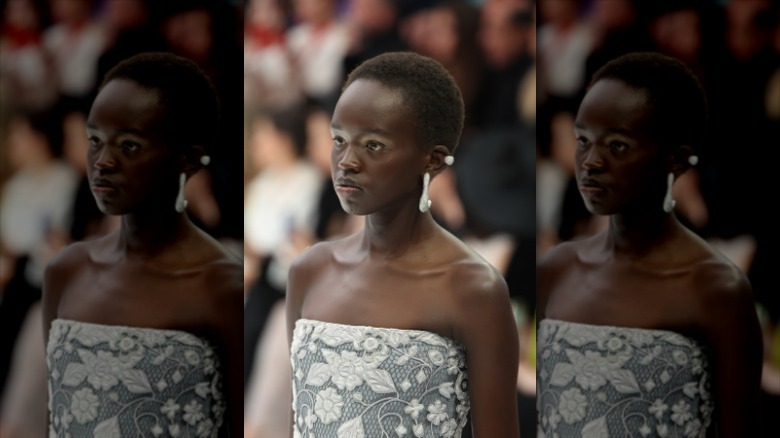 Daniele Venturelli/Getty Images
This season is about going bigger and better than ever, and this would include your jewelry. While no one doubts the timelessness and classiness of a dainty gold bracelet, this season's jewelry trend is about making a statement. Haute couture had no shortage of chunky and oversized jewelry pieces. From unmatched earrings to oversized metal bracelets, there was nothing subtle about the jewelry. Spring/Summer 2023 is about going bold, even if it means it looks unusual. Reach for that oversized statement necklace to add more interest, or opt for a chunky metal bracelet to slowly transition into the trend.
3D details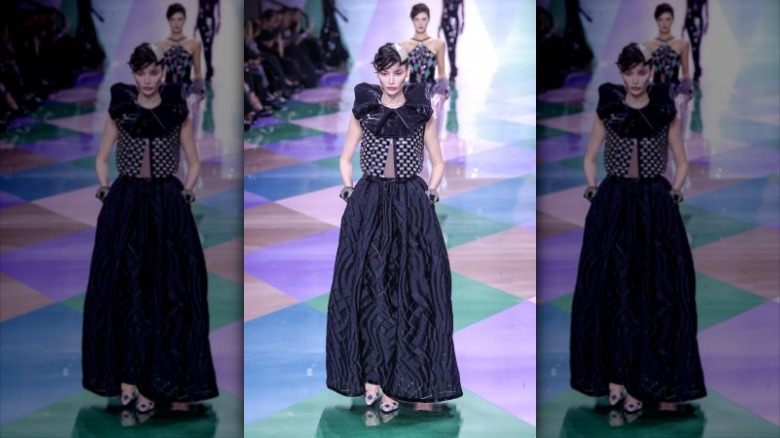 Peter White/Getty Images
It's not enough to wear a bold print or color anymore if haute couture is any example, the future of fashion trends is all about 3D details. During the Armani Privé Spring/Summer Haute Couture 2023 show, we saw how the designer incorporated many 3D flowers as part of their looks. While a small detail, this 3D effect adds another layer of interest to any look. Instead of reaching for a floral pattern, opt for a piece with 3D floral pieces to add dimension to your ensemble This simple change can help elevate and upgrade any outfit.
Lavish gloves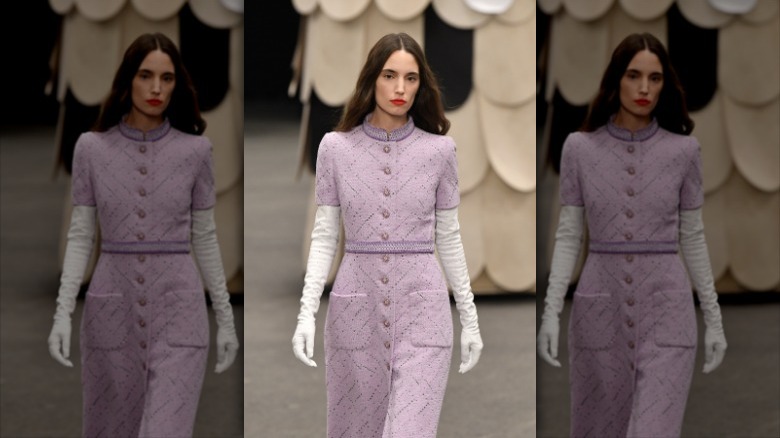 Kristy Sparow/Getty Images
Once the must-have accessory for the opera or theatre, gloves are again making a splash in fashion. While it's hard to think about wearing long white gloves on your next grocery trip, there's no doubt that you will start seeing them more in your daily life. From short to long gloves, there are plenty of ways to incorporate this trend to make it more casual. Ditch the white, long gloves and opt for short, leather options for an edgier accessory. You can also take this opportunity to add tulle and long sleeves for some extra whimsy to your look.
Sheer fabrics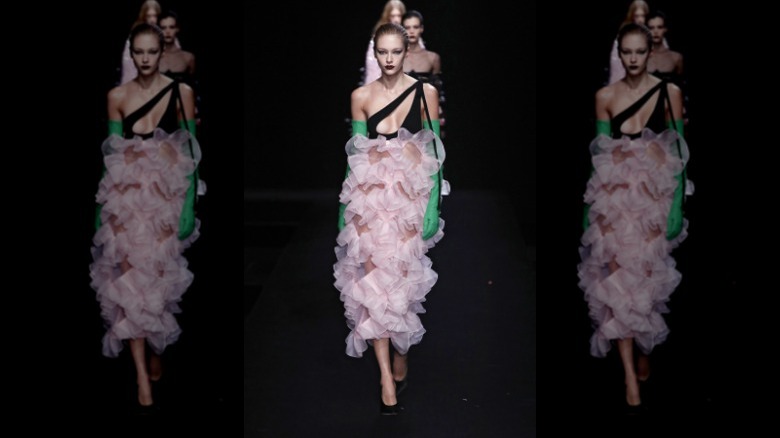 Estrop/Getty Images
Whether it's sheer detailing or a clothing piece, sheer fabrics like tulle are the perfect way to incorporate romanticism into any look. While sheer has silently become a popular fabric, this spring and summer seasons will see it explode as one of the newest trends. Valentino Spring/Summer Haute Couture 2023 shows how this fabric can be as versatile as it is fun. Use it to elevate your look with sheer ruffles or a sheer dress to create a statement. Not feeling risque? You can always add coverage under your sheer pieces for extra comfort.
Bold silhouettes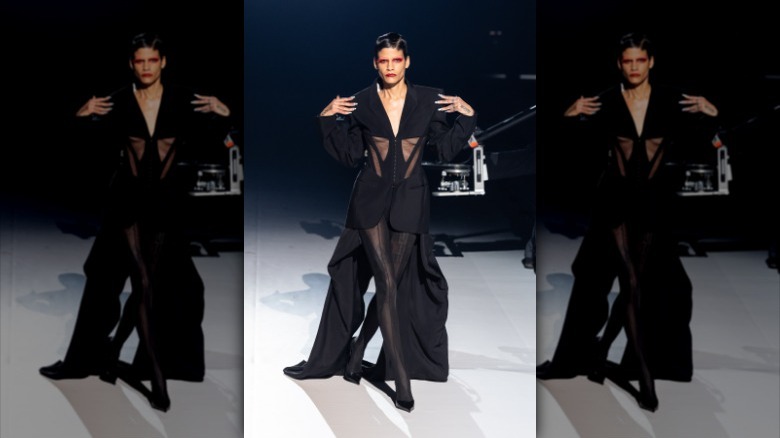 Victor Boyko/Getty Images
Long gone are your classic silhouettes like A-lines or fit and flares because this season will see the rise of unusual and bold silhouettes. From strong shoulders to asymmetrical silhouettes, there are no rules to the shapes of your outfits. If this season's haute couture shows have taught us anything, it's that there are no rules in fashion anymore. Embrace this era by picking out dresses or outfits in unexpected shapes like circular or asymmetrical lines. A simple way to incorporate this trend is by picking pieces with bubble hems or strong shoulder pads.
Metallic fabrics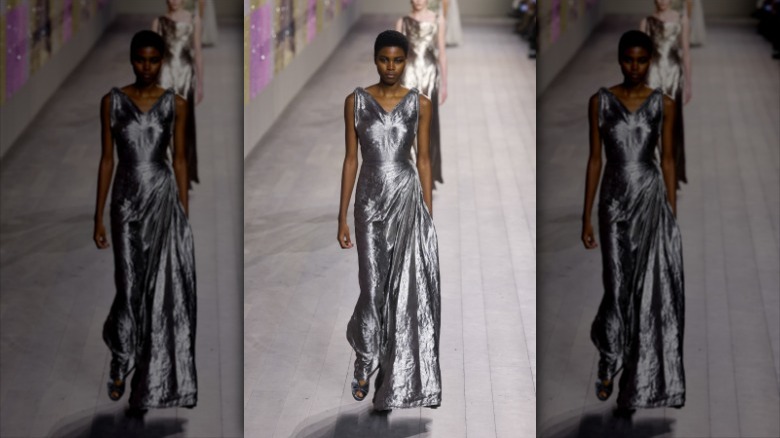 Victor Boyko/Getty Images
Although haute couture tends to show the more artistic and out-of-the-box fashion trends of the season, it still has room for some classic trends. At the Dior Spring/Summer Haute Couture 2023 collection, the historic fashion house displayed metallic fabrics to their fullest extent. While a traditional party fabric, metallic is perfect to add to your outfits in spring and summer for an extra flair in your ensembles. Whether you incorporate it into your skirts or dresses, metallics will be one of the must-have fabrics of the season.