The Late Paco Rabanne's Eye For The Eccentric Made Him An Icon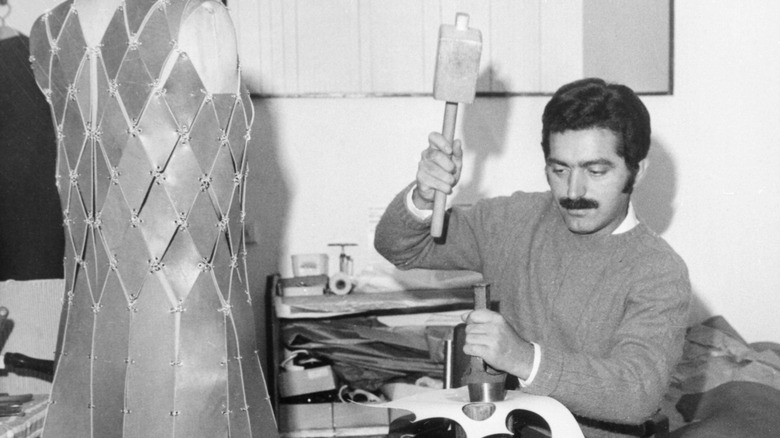 Keystone/Getty Images
Popular fashion designer Paco Rabanne, known for his eccentric designs and fragrant perfumes, died on Friday, February 3, at the age of 88. His namesake label announced his death via Instagram, stating that "his legacy will remain a constant source of inspiration." The label went on to express its gratitude towards Rabanne, adding, "We are grateful to Monsieur Rabanne for establishing our avant-garde heritage and defining a future of limitless possibilities," next to a black and white photo of the late fashion designer.
Born in Spain in 1934 as Francisco Rabaneda Cuervo, Rabanne was destined to become something great in the world of fashion. His mother was the chief seamstress at Balenciaga's first couture house, as well as one of his greatest inspirations. "She would tell me: 'Son, in fashion, you have all the freedom and liberty that you want, except one thing. You are not allowed to attack the beauty of women,'" Rabanne told The New York Times Magazine in 2002 when speaking about his designs. He craved to showcase the beauty and optimism of women through his clothing rather than showcasing them wearing sad and deconstructed pieces. After creating jewelry for Givenchy, Dior, and Balenciaga, he went on to create the namesake brand that would lead him to the success of a lifetime. Now, let's take a look at how he became a fashion icon.
Rabanne's career and unique aesthetic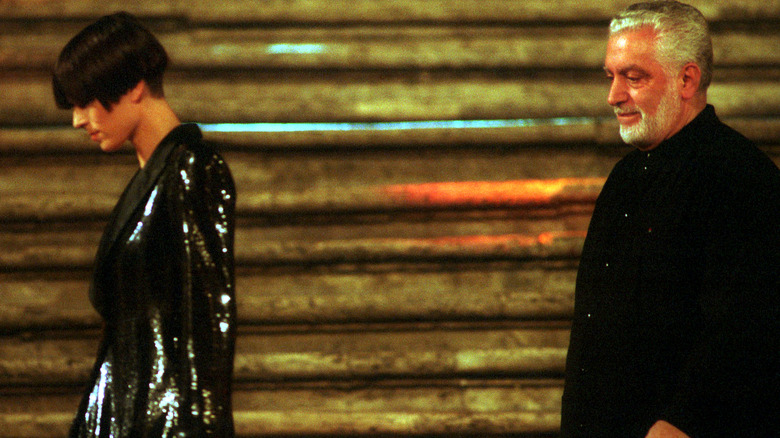 Franco Origlia/Getty Images
In 1966, Paco Rabanne opened his own fashion house, where he began taking unconventional materials and creating unique, futuristic designs. His first collection was even entitled "12 Unwearable Dresses in Contemporary Materials," which cemented him as the pioneer of futuristic fashion. He gained mainstream traction when he designed Jane Fonda's futuristic outfits for the 1986 film "Barbarella." After this, many other singers and celebrities were looking to wear his fashion-forward designs.
Aluminum chainmail dresses, bags, and more that sparkle and shine — what more could a girl ask for? "Who else could induce fashionable Parisian women to clamor for dresses made of plastic and metal? Who but Paco Rabanne could imagine a fragrance called Calandre — the word means 'automobile grill,' you know — and turn it into an icon of modern femininity?" asks José Manuel Albesa, the president of Puig's fashion and beauty division, to Women's Wear Daily when speaking on the Rabanne's impact.
The world-renowned designer Coco Chanel was appalled with his choice to work with aluminum chainmail, once completely disregarding him as a "metal worker" rather than a courtier. He proved Chanel and many others wrong as major distributors sold his products, people attended his shows, and celebrities continued to wear his unique designs. Though many doubted his ability to succeed with such a unique aesthetic, he went on to become one of the greatest designers of the 20th century.
His influence in modern fashion continues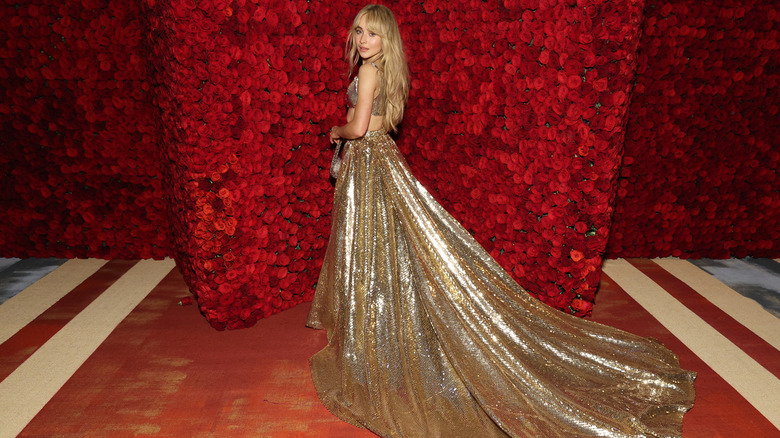 Cindy Ord/mg22/Getty Images
Paco Rabanne's unique space-age style is truly a trend that will never stop trending. Since he began creating aluminum chainmail designs in the 1960s, they've continuously been donned by celebs worldwide. In fact, he explained to The New York Times that he was looking to turn women into "modern warriors" with his clothing. This is something women are still looking to prove with their looks today. Fashion designers are still looking for ways to show women as sexy yet strong, powerful, and independent, but Rabanne figured it out decades earlier. He also showed the world that you can create fashion out of anything: metal, paper, and even plastic.
Rabanne's iconic aluminum chainmail bags and clothing are still sold today, though the brand has also added more everyday pieces to its collections. Popular retailers such as Neiman Marcus and Bergdorf Goodman still showcase his original chainmail design bags often, whereas celebrities can still be seen rocking chainmail clothing and accessories due to his impact. For instance, Sabrina Carpenter is just one celebrity who's chosen to sport Paco Rabanne's unique designs, doing so on her recent "Emails I Can't Send" album tour. Ultimately, Rabanne's sparkly, eccentric designs have a space-age staying power that causes them to live on in our minds forever, and he will surely be the fashion blueprint for years to come.