Can You Reverse Buccal Fat Removal?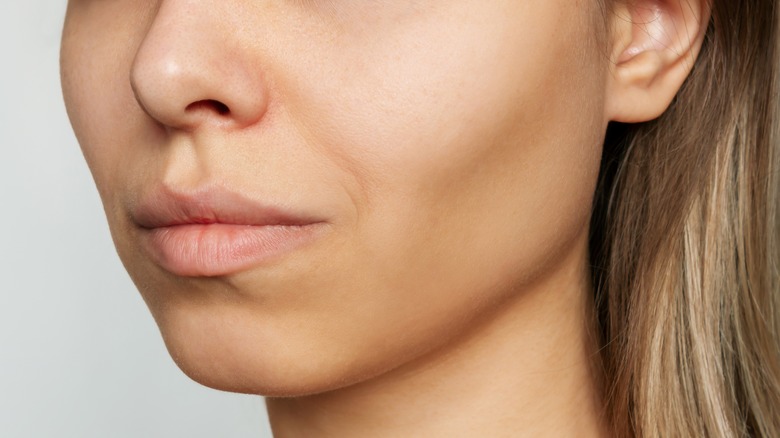 Marina Demeshko/Shutterstock
There may have been a time when you had never heard of buccal fat. Of course, that's likely changed ever since buccal fat removal surgery become a popular face-sculpting option. By taking out the pocket of fat that sits in the cheeks, some people are able to achieve a look that highlights their cheekbones and jawline. However, it's not for everyone. In fact, Dr. Sherrell J. Aston, a plastic surgeon in Manhattan, told The Kit, "I've sent many young people away saying, 'You'll like it now, but you won't like it as you get older.'"
Fellow plastic surgeon Dr. Steven A. Hanna also explained to The Kit why getting rid of the fat that fills out your cheeks might be problematic for the overall look of your face, saying, "There is evidence that the buccal fat pad is structural." Because of that, it might be what's needed to keep your face from sinking in as you age since you tend to already lose fat in that area when you get older. Without additional fat to plump up the face, you might experience loose skin and sagging cheeks earlier than expected and surely sooner than you wanted.
In order to avoid the aging effects of buccal fat removal, you can either avoid the surgery in the first place or look into ways to have it reversed.
You can repair buccal fat removal with injections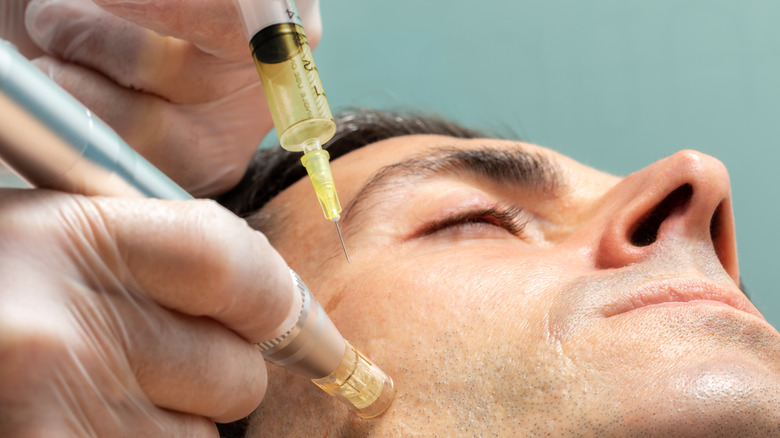 karelnoppe/Shutterstock
Anyone who wants to reverse the effects of buccal fat removal may be relieved to find out that you can definitely fix the situation. Granted, it might involve needles. That's due to the fact that you can get your face re-plumped by having hyaluronic acid fillers or bio-stimulatory injectables put in, which are meant to help you start growing new fat. Cosmetic dermatologist Dr. Paul Jarrod Frank told The Zoe Report, "These fillers work to restore the volume, but the problem is you're adding more maintenance and expense to someone's anti-aging routine because someone who is looking gaunt from a surgery at 30, is going to need a lot of filler at 50."
You should also know that you'll need to wait at least four to six weeks before you see the effects on top of the fact that you might need multiple injections over a period of time for this to work. That means that things could start adding up as Frank noted each treatment will cost in the range of $3,500. Fortunately, the outcome is meant to last so this isn't something that you'll have to endure (or pay for) every few years.
At the same time, if this doesn't sound like the option for you or you suspect that you might need a little more help, then there's another option that you can consider to make it seem like you never had your buccal fat removed.
Grafting can also replace buccal fat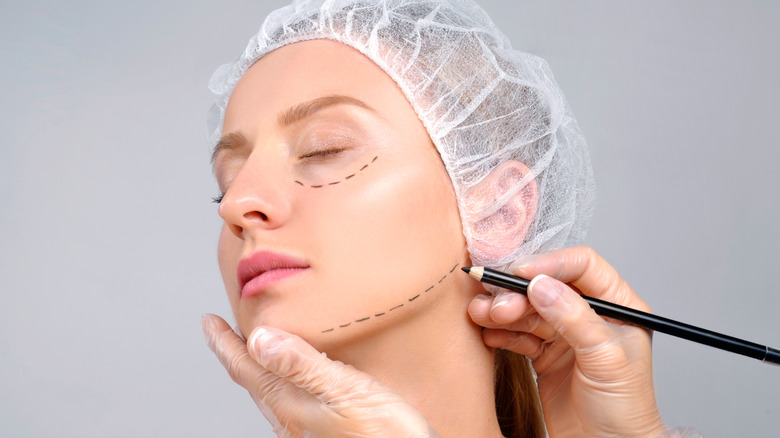 Dmytro Flisak/Shutterstock
When you talk to your doctor about reversing your buccal fat removal, you might want to ask about grafting. An option that can be done alongside other surgeries, such as a facelift, plastic surgeon Dr. Steven R. Cohen explained to RealSelf, "Even if a patient is not having surgery, I still prefer fat grafting the buccal hollow because that's what belongs there."
The procedure involves adding what's known as micro fat into the buccal fat area in your cheeks. Done by injections either inside the cheek through the mouth, the space can also be reached by injections through the corner of the lips. The amount of fat that will be added depends on how much is required to refill the sunken area while leaving enough of a contoured shape. Following this, you'll need to have a kind of nano-fat put in through more injections. This will give the texture of your skin a boost while addressing any issues with hyperpigmentation. While there are a couple of different ways for medical professionals to fully achieve the effect you're after, plastic surgeon Dr. Rod J. Rohrich told Real Self that he prefers to add fat into the depth of the area, admitting, "[T]his is a difficult thing to do [and requires an approach that is] very different from most grafting techniques."
Whatever method you opt for, in the end, you should be happy with your shapely, full, but not too full cheeks.