Micro-Bags Are Out And Giant Purses Are In This Spring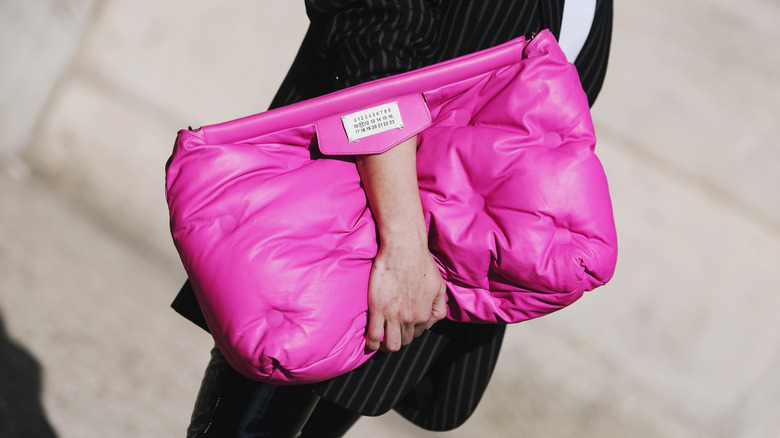 Creative Lab/Shutterstock
If you've struggled to fit all your necessary and not-so-necessary items into micro-bags during their reign over recent years, then rejoice, for the giant purse is back. The days of being overly prepared for any situation with what's essentially a Mary Poppins bag of magic will bring applause from many. Tablets, books, water bottles, chargers, makeup — you name it. You've got room for it all with spring's giant purses.
Advertisement
"With global restrictions dwindling and pent-up demand for travel prompting many to finally book that trip, consumers are planning vacations and bringing large functional and stylish accessories," Rebag's Chief Marketing Officer Elizabeth Layne told Marie Claire.
Totes, shoulder bags, leather, vintage — the net has been cast wide with this trend and the styling options are nearly endless (via Who What Wear). The functional accessory resembles something of a weekender bag, but you're likely to see this larger-than-life piece taking the stage at work, on errand runs, and in casual coffee shop outings.
Mix and match patterns
There's no reason to play it small when you're going big with your bag. Loud and vibrant outfits appropriately complement an oversized tote. From unusual fabrics to wild patterns, mixing and matching your favorite styles only enhances the energy of this look. Whether you're going to the beach, park, cafe, or even on a short hike — you'll be set with a patterned bag like this one.
Advertisement
Dream weaver
Nothing says carefree spring quite like a woven basket bag. It's the perfect way to romanticize your next picnic or stroll through the park with effortless grace. Plentiful in most thrift shops or second hand stores — and large enough to bring a literal picnic or just a book and blanket — these big raffia basket bags are likely to dominate the spring scene.
Advertisement
Sleek and simple muted colors
A big bag doesn't have to cancel out the minimalist style you may deeply adore. Keep it simple with a sharp shape and muted tone when it comes to your giant purse this spring. Great for the office or a quick weekend away, you'll likely be tempted to throw just about all your travel necessities into a sack this size. And you very well may be able to.
Advertisement
Larger than life tote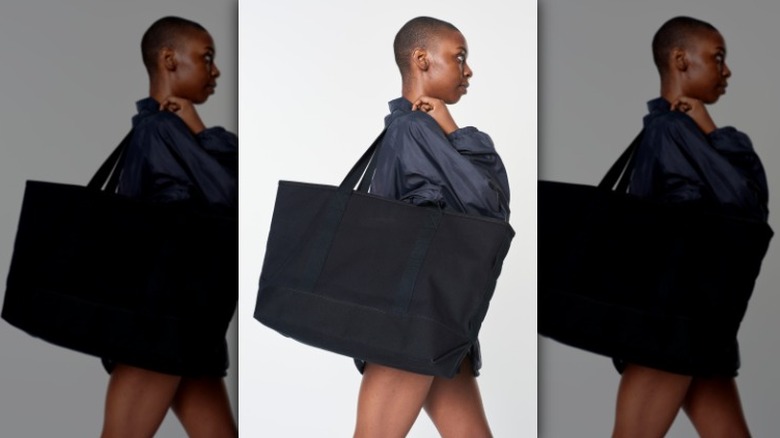 Rawpixel.com/Shutterstock
It almost seems as though the classic tote bag we all know and love never really went out of style, but either way, it'll be back big time this spring. Perfect for your tablet or laptop, this piece is an immediate go-to for the remote worker who may spend hours typing away in the corner of a coffee shop.
Advertisement
For the vintage lover
If you're a lover of all things tried and true, then an old, oversized, vintage purse will likely be your new best friend. With unique patterns and fabrics you probably won't be able to find just anywhere, a giant retro purse offers the individuality and unique eye-catching style we're all after.
Advertisement
The casual slouch
Back in a big way, oversized slouchy shoulder bags have us feeling all too nostalgic. Suede or satin, these casual, trendy purses bring a relaxed energy and effortless beauty to any outfit. Unstructured and as roomy as can be, they're great for just about any occasion and have the space to help you make the most of your springtime ventures.
Advertisement
Anytime weekender
Possibly bordering on actual luggage, these giant purses aren't necessarily here to replace your carry on, but there's not much you'd have to leave behind if you do opt for a catch-all like this. Hand-held or crossbody, you may switch up your handling from time to time as to not get any aches and pains, but the convenience of having it all in one spot is well worth it.
Advertisement