The Simple Hack That Makes Wearing A Sweater Over A Dress Look Smooth And Seamless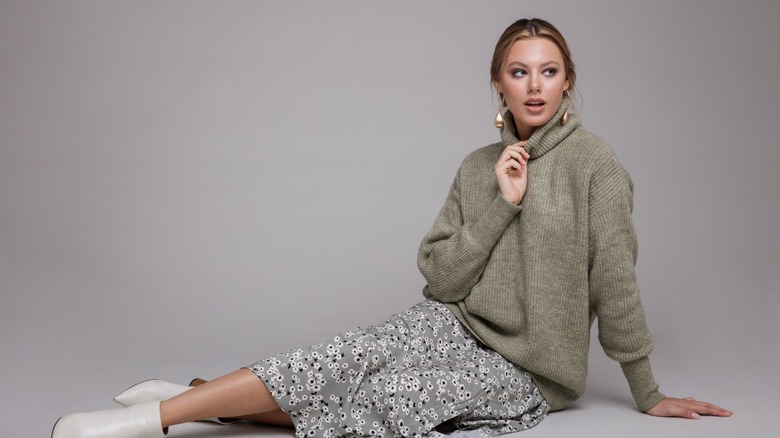 S.Bekhinov/Shutterstock
The latest trend for 2023 is the sweater-dress combo (not to be confused with the sweaterdress). It's very reminiscent of cottagecore, but you can totally style it to vibe with your aesthetic. This look is a great option if you live in an area where the weather is unpredictable. If temperatures are high during the day, you can take the sweater off, and if it gets chillier at night, you don't have to worry about freezing to death.
Similarly with wearing oversized tops, the downside with wearing a sweater over a dress is when you don't style it correctly and end up looking like a sack of potatoes. Luckily, we have a super simple hack to rocking the sweater-dress combo without looking sloppy. Anyone can rock this look, no matter your body type. To get some ideas on how to style sweaters and dresses together without looking frumpy, keep reading.
Dress it up for a night out
The key to achieving a smooth and seamless look is a cropped sweater. Normal sweaters can make you look frumpy because they cover up your figure. When you wear a cropped sweater, it hangs right at your waist, making you look thinner, according to Jeans & a Teacup.
Just because you're wearing a sweater, doesn't mean you have to play it safe. The key to dressing up the look is choosing a fancier dress, and styling the rest of the outfit around it. Mix and match patterns and materials to really amp up the wow factor. To finish off the fit, make sure you accessorize! Who says sweaters can't have a night out?
Keep it casual for chill days
If your style is more chill, neutrals are your best friend. Now, this doesn't mean you have to stick to solid colors only — we encourage you to wear patterns! One piece should have a print, and the other should be a solid color, just like the woman in the photo. Finally, chuck on your Converse or Vans so you're comfortable all day long.
Match the shoes to the dress (or the sweater)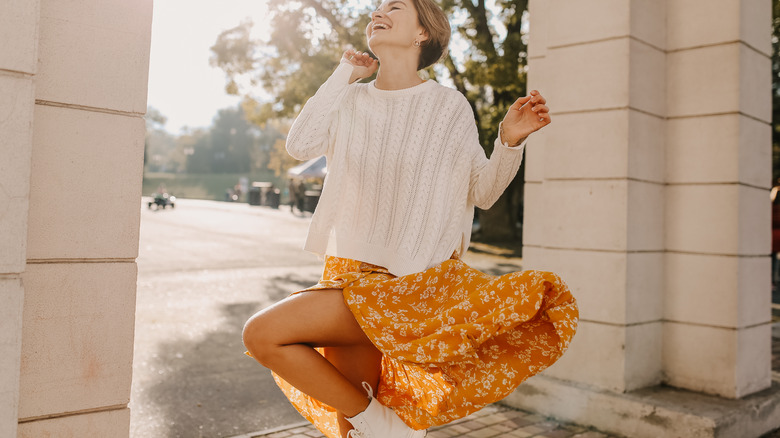 Maria Markevich/Shutterstock
Some may say not to match your shoes perfectly to your outfit, but we say, who cares! By choosing a pair of shoes the same color as your dress (or at least in the same color palette), the look is more cohesive, and it lets the sweater take the spotlight. The same rule applies if you match your sweater to your shoes. For this look, we recommend a dress with a shorter hem so you can show off those gorgeous shoes.
Don't be afraid to play with color
Tired of your basic neutrals? Now's your chance to add some color to your wardrobe! You don't have to go crazy with wacky, contrasting colors and patterns. If the sweater or dress has a print, choose one color to use as the focal point. As you can see in the photo, the woman went with green to match the flowers on her dress. Did we mention how much we love this look?
Show off your flirtatious side
A shorter dress is already playful, so really lean into your flirtatious side by choosing one with a lively color. Pair it with a neutral sweater, and if you really want to kick things up a notch, layer the sweater over a collared shirt, letting the collar peek through. As for shoes, anything with a heel will do, but we can't get enough of knee-high boots.