Red Velvet Hair Is The Sweet Color Trend To Embrace This Spring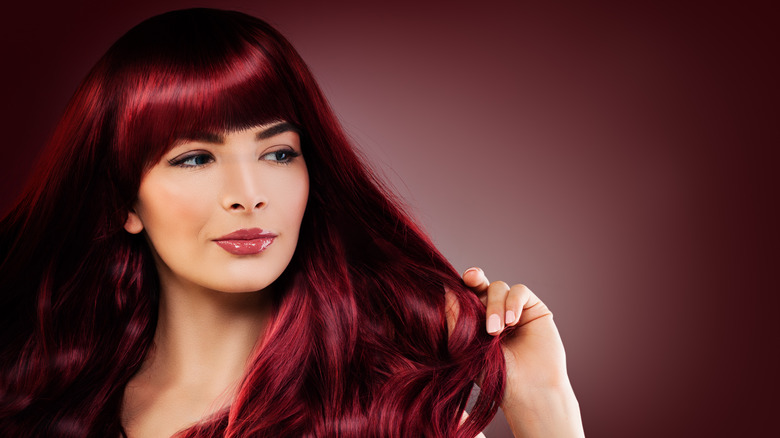 Jnemchinova/Getty Images
A change of season will always include a change in beauty trends. With the start of this new season, there are brand-new beauty trends that are set to make you stand out. Since this spring season is all about making a statement with bold and exciting new trends, the hair trends are not far behind. While there will always be classic shades like browns, blonds, and blacks, an exciting new hair color is exactly what you need for this upcoming spring season. Red velvet hair is the perfect way to make a bold entrance into the new season. Sweet like the dessert it's named after, this hair trend is equally bold and chic.
Advertisement
While bright red hues are exciting, this deeply rich red hue will help create more dimension and depth in your hair. L'Oréal Paris explains that this hue works by mixing a blend of red, violet, burgundy, and maroon tones to make a vibrant red tone. You can customize this color to better suit your skin tone by adding either more warm or cold tones to the dye. Although it is bold, this color can easily be worn by almost anyone. Because this color can be customized for your skin tone, the dramatic hue will easily enhance all of your beautiful facial features.
A dramatic and luxurious shade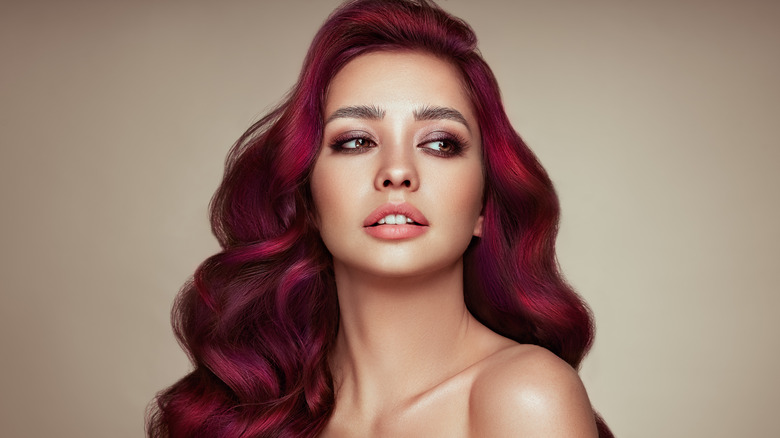 Heckmannoleg/Getty Images
Red color on its own is a beautiful way of adding a dramatic flair to your hair. The richness of the shade helps create a luxe hairstyle, no matter how you style the hair. The deep dark red-blue tone of this shade makes the hue even richer in detail. While an entire head of red velvet-colored hair might seem overwhelming at first, there's no denying that this shade is as sweet as the dessert it's named from. If you are looking for a bold color that still looks elegant and luxurious, you need to consider red velvet hair.
Advertisement
Mermaid-inspired hair
Mermaid core is one of the latest "cores" that have taken over both the beauty and fashion world. From the emergence of pearls and under-the-sea references, everyone is loving the mermaid look. There's no better way to jump on board with this trend than to take inspiration from everyone's favorite Disney mermaid. Like Ariel, the red velvet hair color is a stunning way to get a magical and fairy-like look in your daily life. As mysterious and mystical as a mermaid, the dark hue of this red shade will have you looking like a Disney princess.
Advertisement
Style it with an ombre
Getting a full head of red velvet hair might seem like a daunting task at first. If you're looking to change from brown or black to red velvet, the easiest technique is to create an ombre look. Since red velvet hair color has a dark tone to it, you can easily create an ombre look towards the ends of your hair. While this color isn't subtle, the ombre technique will make it look closer to a natural look than an all-over color. Going with ombre tips will also make maintenance much easier.
Advertisement
Red velvet adds something extra
When you compliment a new hairstyle with a bold hair color, you can get an even more glamorous look. One of the benefits of the red velvet color trend is that it will instantly highlight any haircut you decide to go with. Unlike other shades, red velvet will only emphasize your haircut and make your cut even more of a star. If you're already going for a statement hair color, it's the perfect time to add a stunning new haircut as well.
Advertisement
Short, red and sweet
If you're looking for an entirely new look, you can always opt for a shorter hairdo. Because the red velvet hair is a universally appealing look, you can pair it with any hair length. Cut it as a pixie cut or shoulder-length, as shorter hair will also look beautiful with this red hue. Since the red velvet color will look rich under the lights, this hue is perfect for those looking for fuller-looking hair. Pair the hue with a shorter hairdo and you can turn any flat hair into the appearance of thickness and volume.
Advertisement
Must-have color for the season
Since red velvet hair has a blue hue to it, this color can add dimension and depth to your hair, giving it a fuller, more voluminous appearance. Red is a bold, vibrant color that can instantly transform your look and make you stand out in a crowd. During the season, this rich red velvet hue will complement and contrast your facial features. Red velvet hair color tends to fade gradually, so you won't have to worry about harsh roots or noticeable regrowth. Because this hue is bold, it makes for the perfect way to contrast the brightness of the spring season.
Advertisement