Storing Your Knitwear Better Will Keep Them Stitched And Sturdy Longer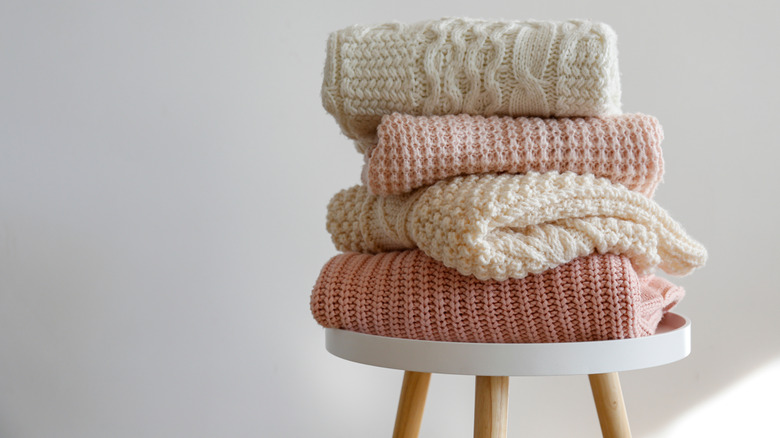 evrymmnt/Shutterstock
Cozy and comfortable knitwear is always a classic fashion trend. Even in warmer months, you can't escape the fact that knits will always be a good idea. The delicacy of a knit fabric can elevate and soften any look. Whether spring or winter, knitwear can be the perfect piece your closet is missing. Spirit Clothing explains that many of the newer knitwear trends are all about taking your knit pieces and using them year-round. Knit cardigans are becoming more of a warm season staple as it embodies the current Y2K fashion. Regardless of how you wear or style your knitwear, the most vital part of purchasing knitwear is taking care of it properly.
Because of its delicacy and gentleness, the knit fabric can easily fall apart or shrink. One part of caring for your knitwear is knowing how to wash your knits to maintain their structure and integrity. As well, storing your knitwear correctly is vital in ensuring that your knit pieces don't get holes or fall victim to bugs and dust. Like any article of clothing, proper care is essential if you want your pieces to last longer. However, when you are dealing with knitwear you have to be extra careful about taking care of this fine fabric as it can very easily lose its shape and fall apart before you get a chance to use it.
How to store your knitwear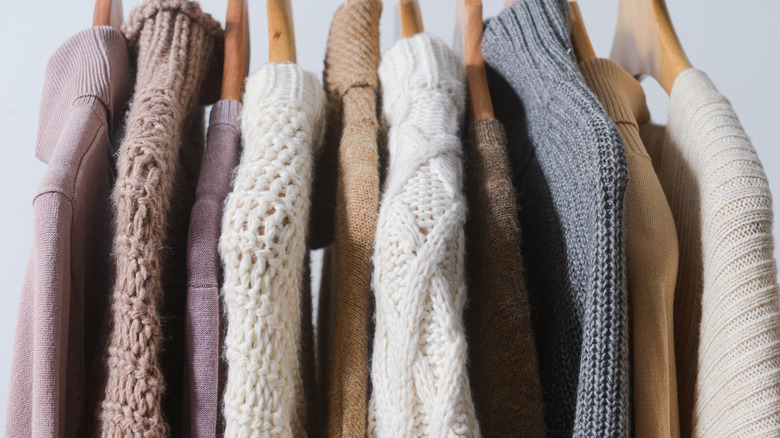 101imges/Shutterstock
Storing your knitwear is key for your piece to not lose its shape or get knawed away by dust and bugs. If you are storing your knitwear away for the season, Cable Melbourne recommends placing them folded in a fabric storage bin. Placing your knits in a fabric bin will help the fabric breathe and won't hold onto unwanted odors when you open them back up again next season. Regardless if you are storing your knits for the season or the day, you want to ensure to keep your pieces out of direct sunlight. If your pieces are exposed to direct sunlight, they are at risk of an unwanted color change.
Since not everyone has the space to tuck away knits for the season, you want to ensure you are folding and storing your knits in an organized fashion. Simply throwing your knits into a pile will lead to threads getting loose and caught on each other. The Closet Merchant recommends using drawer organizers to properly separate your knits and have them organized before your next use. When storing your knits, try to match similar fabrics with each other as they will hold the same materials and won't affect each other. While hanging knits is sometimes frowned upon, it's perfectly fine as long as you use the correct hangers. If you plan to hang your knits, use velvet or wooden hangers that won't crease or elongate your knits over time.
The best way to wash your knitwear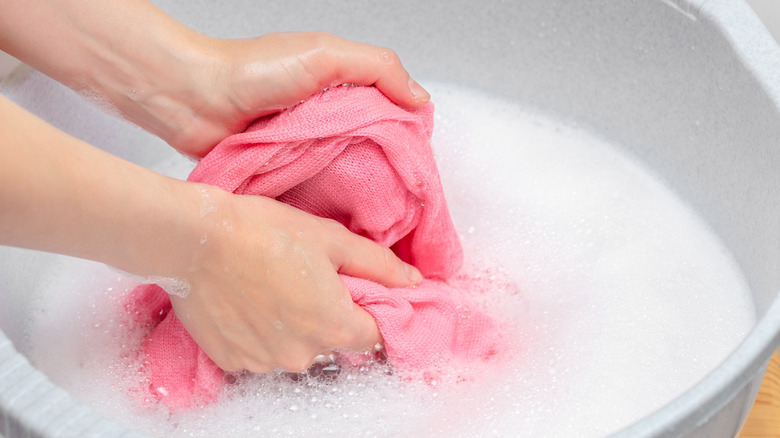 Gorloff-KV/Shutterstock
Another essential aspect of caring for your knitwear is washing it correctly. Washing your knits correctly will help lengthen their lifetime and shape. Net-A-Porter recommends taking a look at the type of knit before placing it in your wash. Depending on the materials of your knit, you will have to take extra steps to ensure the integrity of your knit. For knits made of wool or animal hair, the best way to wash these items is by hand washing them. Unless the fabric tag states otherwise, handwashing them is the only way to ensure the fabric doesn't fall apart in the wash. Cotton or synthetic fiber knits can be placed in the washing machine but be careful to not place it with any other piece that can hook or pull on it. To ensure the safety of these pieces, try to place your knits on the delicate cycle for the best care.
Martin & Harris Appliances adds that the best way to dry these knit pieces is to avoid putting them in the dryer. Heat will not only ruin your knit fabric but possibly shrink your piece. To dry your knits, place them out to air dry on a clothesline or drying rack. Avoid placing them in direct sunlight as that will also ruin your piece's coloring. Unless stated on the tag, try to be gentle with washing your pieces and avoid overwashing them to maintain the quality of the fabric.