Please Don't Blow Dry Your Lashes To Curl Them. Here's Why It's A Big No-No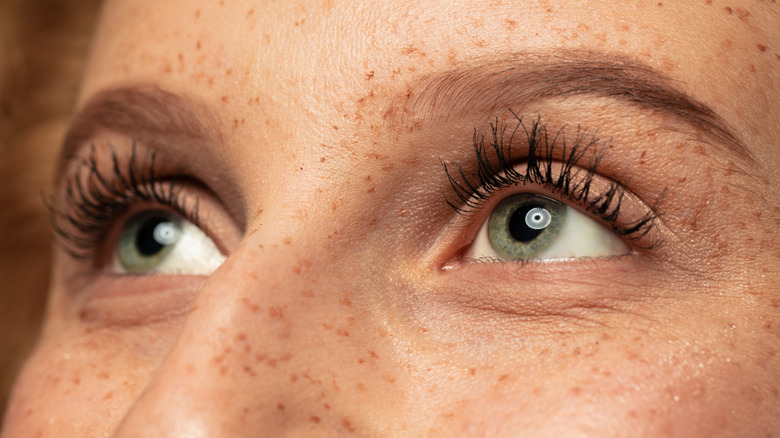 Master1305/Getty Images
Everyone knows that TikTok is a fun but dangerous place. Many times it can be a tool to teach you things that you didn't know before and give you plenty of inspiration. However, because of the wide access to TikTok, it's also been the birthplace of many bad ideas. When it comes to the beauty world, this is no exception. TikTok can help you find your newest skincare routine or products you've never heard of, but it can also show you many tips and tricks that will do more harm than good. Since its growth, we've seen many beauty hacks go viral without much evidence behind them. While it can be entertaining, some of these hacks can also cause you plenty of issues.
Recently, the newest lash trend calls for taking a blow dryer to your lashes to get the perfect curl. In a TikTok video, creator @mirandaalynn uses her blow dryer to create a dramatic curl without mascara or false lashes. The entire hack involves using the cool setting on your blow dryer on damp lashes to get them to curl upwards and stay in place. Other versions of this hack also include using the hot settings before along with your lash primer to get them ready for the cool settings. But, like some other popular beauty hacks, this trend will only cause more harm than good.
Why you need to stop blow-drying your lashes
Not only is blow drying bad for your lashes, but it can harm your eyes. Diane Hilal-Campo, MD, board-certified ophthalmologist told InStyle that drying your lashes is a bad idea, regardless of if you're using the cool setting or not. "Your eyes were not designed to have such forceful air directed at them, and even just a few seconds of using this technique can lead to significant dryness." Although you may get your ideal curl, dry eyes are not a suitable compromise. Because of the proximity to your eyes, there's little possibility of avoiding harming your eyes in the process. Apart from drying your eyes in that instance, prolonged use can lead to infections and other eye issues, including blindness.
While making sure your eyes are safe is vital, your eyelashes could also suffer. As dermatologist Dendy Engelman, M.D., explained to Hypebae, "If hot air is used, the eyelids or lashes could even get burned." Even if you're careful with avoiding contact with your eyes, the heat could burn parts of your lashes or your eyelid. If you're using extensions this could melt synthetic lashes and form a clump. The area surrounding your lashes is sensitive due to the closeness with your eyes, therefore, you need to be careful about how you care for the area. Exposing the area to extreme heat, even if you add a shot of cool air, is dangerous for the integrity of both your lashes and your eyes.
How to curl your lashes without damaging them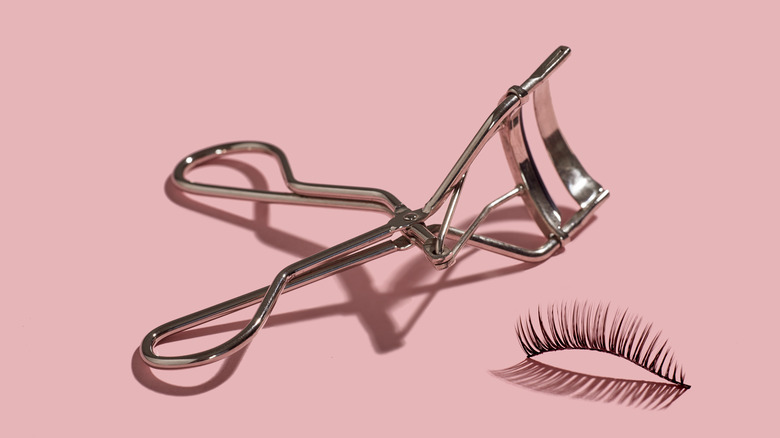 Beauty Stock/Shutterstock
If you're still wanting to curl stubborn lashes, there are plenty of safe ways to create a dramatic curl. Masterclass recommends using a heated eyelash curler to create the desired lift. Heated eyelash curlers are better than using a blow dryer as they are made to specifically target your lashes. This tool won't blow hot air into your eyes and is controlled to only hit a maximum degree of heat. These curlers are a great way to curl stubborn lashes without damaging the eyes or lashes. This technique can also be replicated by warming up a regular eyelash.
Lash Luxury also suggests taking a look at the specific eyelash curler you're using, as it might be the reason you aren't getting the right amount of curl. If you aren't using the correct eyelash curler for your eye shape, it's possible that you aren't curling enough your lash. To get the best curl, you need to be able to curl close to the root. If your eyelash curler isn't made for your eye shape, you aren't going to get the best curl for you. After getting the best eyelash curler for your eye shape, you want to curl your lashes before applying mascara. Mascara should be the last product to go on your eyes to hold your lashes in its shape.