Hollywood Stylists Are Indicating The Decline Of Necklaces As We Know Them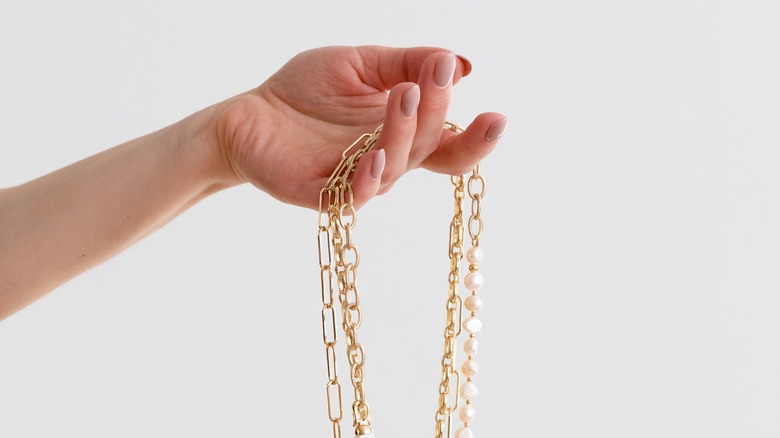 Alena_Kos/Shutterstock
We may receive a commission on purchases made from links.
Coco Chanel famously said, "Before you leave the house, look in the mirror and take at least one thing off" (via Beladora). And based on recent red carpet looks, that one thing may be a previously staple jewelry item, because necklaces are suddenly disappearing from mainstream fashion.
Historically, different eras have embraced all kinds of necklaces, from the super-gaudy pearls and neon costume jewelry of the '80s to the delicate, layered chains that have been on-trend more recently. So it's rare to think that this jewelry constant could ever go out of style. But now, Hollywood stylists are consistently leaving necklaces out of celebrity looks. Case in point, big names like Selena Gomez, Adele, and Daisy Edgar Jones have all been spotted on the red carpet with fabulous dresses and bare necklines, eschewing necklaces altogether (per Fashion North).
Of course, this all raises the bigger question: Why are fashion icons and celebs moving away from necklace-centric looks? As is so often the case, it seems this accessory trend is tied to bigger happenings in the cultural zeitgeist.
Why necklaces are out of style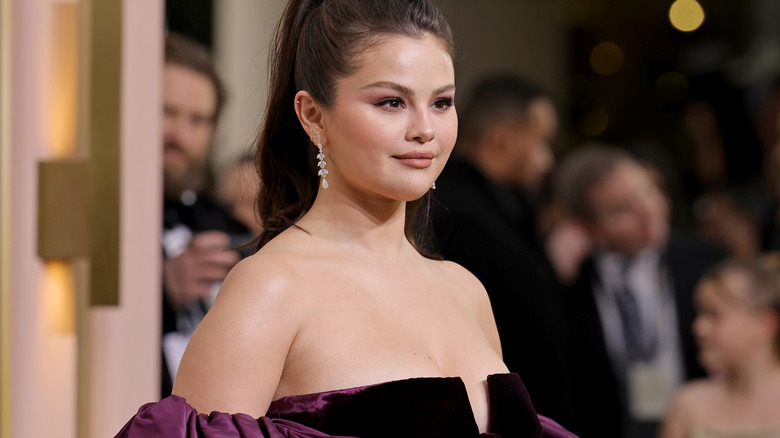 Amy Sussman/Getty Images
In recent years, the fashion and beauty space has seen a lot of movement away from ostentatious looks and a more-is-more mentality. Instead, the public is gravitating toward trends like barely-there eyeliner and retro '90s minimalism. For instance, the hashtag #barelytheremakeup has over 16 million views on TikTok. And it seems that this sense of restraint and balance is making its way into the realm of jewelry.
Speaking to Fashionista, stylist Mimi Cuttrell explains why she had Madelyn Cline attend the 2023 Critics Choice Awards sans necklace. "I wanted it to be more about the dress and thought the earrings were the perfect compliment to that. I did not want the jewelry to overpower or compete with the look, and a bare neck kept it feeling youthful and clean."
It has also been suggested that the vanishing of necklaces is tied to a trend called "recessioncore." As characterized by BeLatina, recessioncore is a style that embraces simplicity and quiet luxury to mirror the fiscally conservative lifestyle during an economic downturn. But not every star watcher appreciates this vibe on the red carpet. "I hate the no jewellery trend like come on they're the ones who can afford it," one Twitter user purportedly commented (via Honey). "The dresses are stunning but a nice necklace and earrings would elevate the looks so much."
Still, moving the emphasis away from necklaces offers an opportunity to style and celebrate other accessories. So why not hop on this fashion shift and let your other jewelry shine for a while? If you're interested in flaunting your collarbones by going necklace-free, here are some other pieces you can wear instead.
Accessories to prioritize over necklaces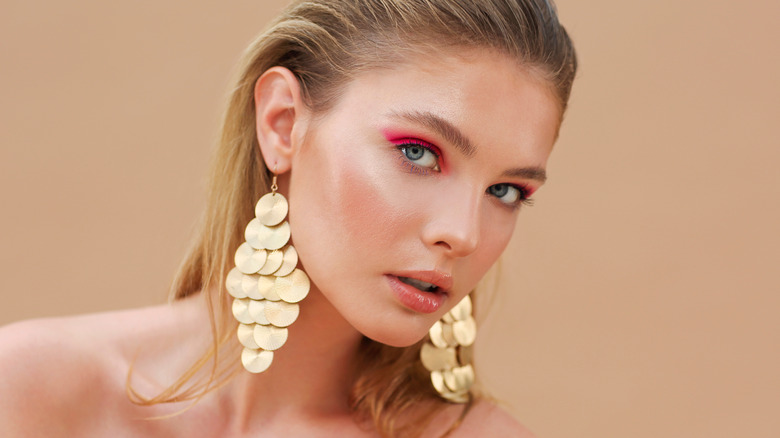 Dasha Petrenko/Shutterstock
One major trend to jump on in lieu of necklaces is the rise of statement earrings. As designer Brent Neale observes to Harper's Bazaar, "I think people have begun to wear earrings again. During the pandemic, we really saw that stop because of masks and people being less social. But recently, earrings sales have been coming back in a big way."
In particular, Neale notes the popularity of bold, eye-catching pieces — so if you've been holding back on a pair of gaudy chandelier earrings, now's the time to let yourself run wild. For budget-friendly options, try out chic metallics with some Basic Fringe Linear Drop Earrings from Guess, or go for a bright and bubbly look with a pair of colorful and inexpensive Rattan Ball Hoop Earrings.
Wrist adornments are also in vogue, from chunky bangles to piled-on bracelets. "Cuffs are back, so keep an eye out for wrist emphasis and the return of the bracelet stack. This trend is very versatile and meant to have fun with. You can stack cuffs in metallic and mix them with colorful options," Stephanie Roberson, Head of Buying at Shopbop, tells Who What Wear. Get the best of both worlds with a cuff bracelet stack set like the Tiana Cuff Bracelet Set from Kendra Scott, which is available in both silver and rose gold finishes.