11 Tips To Help Keep Your Blond Hair From Fading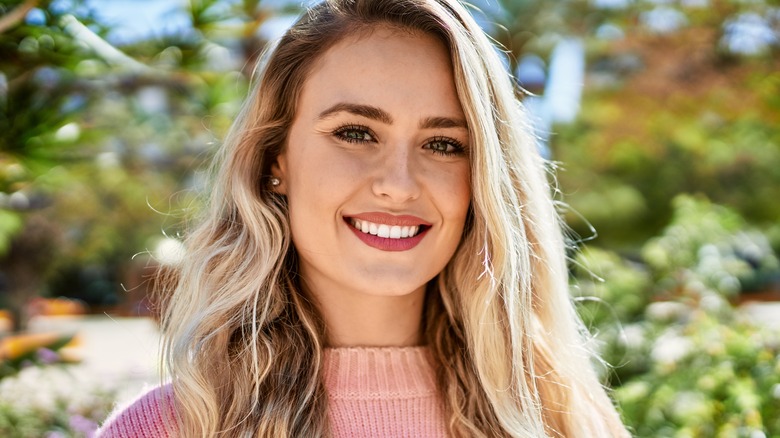 Krakenimages.com/Shutterstock
A glossy blond mane is truly the definition of hair goals. When it's healthy and vibrant, it exudes a fresh quality that's irresistible. Yet when those golden strands start to fade, your hair may take on a dull and lackluster appearance. Alas, there are a number of culprits that could be to blame for this gradual change, from sunlight exposure to chemicals in hard water. This makes matters challenging, as they're not always in your control.
Fortunately, there are several preventative measures that you can take to safeguard the color and prevent your blond hair from fading. Some of them are everyday steps that are relatively easy to incorporate into your routine. They may even benefit your hair in other ways, such as by adding moisture to dry strands or soaking up oil from your scalp.
No matter what your remedy is, it's important to take a comprehensive approach. Think of this as the ultimate way to not only protect your blond hair from fading but also transform your strands into the healthiest they can possibly be.
Minimize exposure to ultraviolet rays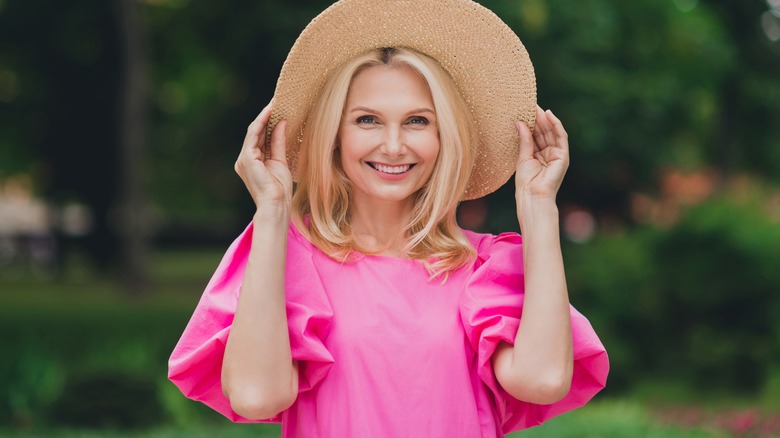 Roman Samborskyi/Shutterstock
Spending time in the sunshine (with plenty of sunscreen slathered on your skin, of course) is a wonderful way to relax, but it can also cause your blond hair to fade. For those who actually want the sun to bleach their strands, spending some time outside might be just what the doctor ordered. Otherwise, Healthline warns that all of those potent ultraviolet rays can actually have a detrimental impact on your hair's melanin, which is what is responsible for its light hue. Essentially, the rays have an oxidizing effect on your mane, leaving it lighter and less vibrant. That doesn't sound great to us!
One way to mitigate this issue is to apply sunscreen to your hair. Yes, it's a thing, and yes, it's just as important as applying SPF to your body. There are different ways you can shield your hair from the sun, of course, from wearing a hat to using a product that contains sun protection. Not only will this prevent your blond from fading, but it will also reduce the chances of suffering scalp damage, such as burns that could increase the risk of developing skin cancer.
There are many suitable options, like sprays that add sun protection while also infusing your strands with moisture and shine. If your hair is oily, applying a scalp powder with SPF is the way to go. It will soak up excess sebum and add some volume, too. Styling sunscreen creams are heavier products best suited for people with thick or unruly manes.
Make regular masking a priority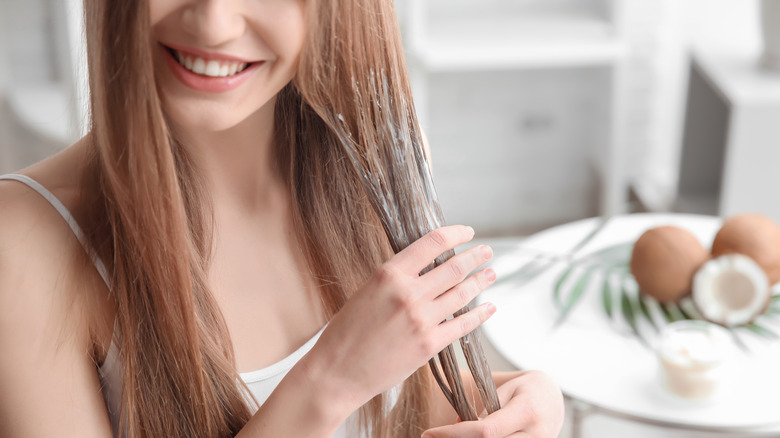 New Africa/Shutterstock
Whether you've got a solid haircare routine or would love to upgrade to something more nourishing, now's the time to consider using a hair mask on a frequent basis. This popular product could ultimately be the hero you didn't know your hair needed. Masks are formulated to really deliver the big guns where your hair's deepest and most urgent needs are concerned — like fading color.
Part of the reason they protect so well is that they strengthen your hair's ability to withstand the heat with potent ingredients like healing butters and botanical oils, shares Garnier. Potent ultraviolet rays can cause the color to break down, leading to the telltale fading that leaves your blond hair more of a dishwater color than the crisp, radiant hue you love so much. Moreover, a mask is like a security guard for hair that's exposed to chlorine in pool water. Whether you're a regular sun worshipper or love to swim, masks can make all the difference to your hair's color and condition.
Don't just grab the first hair mask you see, though. Take it a step further and choose one that's specially formulated for blond hair. They'll nourish while enhancing your color and neutralizing the unsightly oranges and yellows that otherwise leave blond hair looking brassy and discolored. The result is bright, healthy-looking hair that's fully replenished. For best results, you should aim to use a hair mask once or twice per week, and always remember that consistency is key with haircare.
Use a shower filter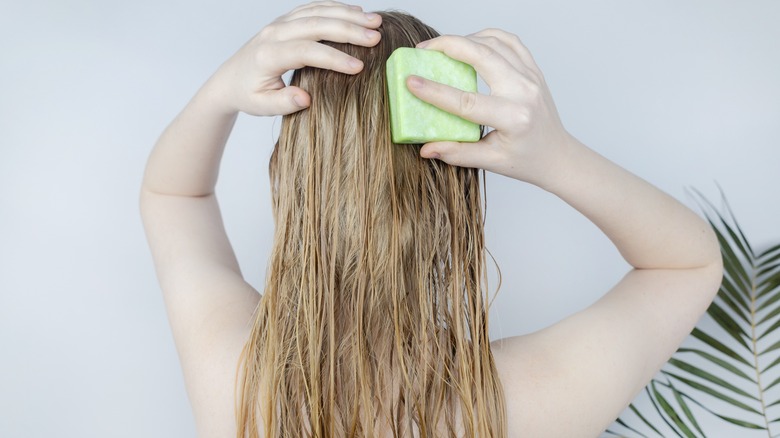 Alona Siniehina/Shutterstock
Crazy but true: It's not the hair care products that you use, but also the quality of your water that affects the integrity of your color. In fact, you might be surprised to learn that hard water can actually affect just how well your hue keeps over time. Specifically, the USGS defines hard water as an abundance of magnesium and calcium deposits in the water supply. These dissolved minerals can wreak havoc on everything from your plumbing fixtures to your hair and skin.
Health Guidance explains that this issue affects some 85% of households throughout the United States. There's a marked difference between washing in hard and soft water, and it's a tangible effect you can usually feel right away. Yet its impact on your color is something that can occur over time. If you dye your hair, for example, the hard water will cause it to fade prematurely and rob your mane of its luster at the same time.
A shower filter, says Amanda Buechner, a trichologist and member of the Function Hair Council, may be the best and most practical solution. In fact, she told CNN Underscored that it can lead to "fewer tangles, better manageability, more shine and moisture balance within the hair, better color absorption and longer-lasting color."
Monitor your pool behavior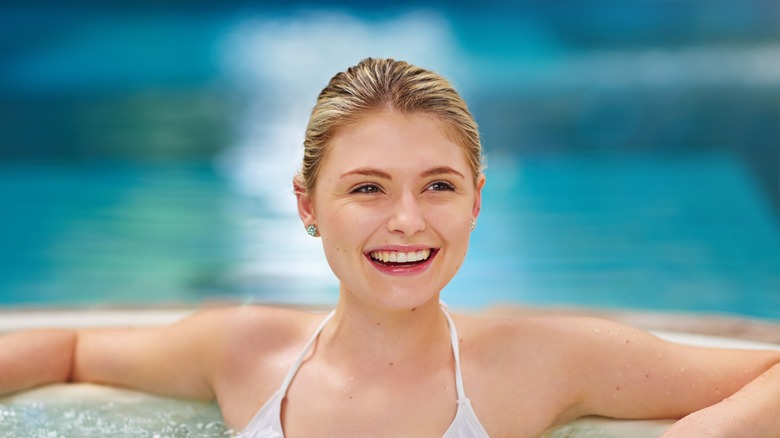 PeopleImages.com - Yuri A/Shutterstock
If you're a swimmer, you may already know that spending all of that quality time in the pool can do a number on your hair. In fact, excess exposure to the water could potentially leave your blond strands a completely different color in a worst-case scenario. Otherwise, the change could be gradual, stripping your blond hair of its eye-catching luster and leaving it looking drab and lifeless. Swim University attributes this unwelcome transformation to the presence of copper in the water. Just like a penny becomes green over time, hair, too, can develop a verdant tinge as the copper oxidizes. Copper can occur in a pool if it's present in algae killer or if the water is sourced from a well.
Fortunately, there are some effortless steps you can take to keep that blond looking its best without sacrificing your pool time. Wearing a swimming cap, according to Curl Centric, is a great way to safeguard both your hair's color and condition. They conform to your head, fitting snugly yet comfortably. You could also try wetting your hair with fresh water before getting in the pool. The idea is that by soaking up this plain water first, your hair is already saturated with something that's less damaging, which prevents it from absorbing the copper that's in the pool water. As an alternative, you can also smooth a leave-in conditioner through your wet hair. It creates a powerful barrier that will protect your blond from the pool's chemicals.
Be mindful of cleansing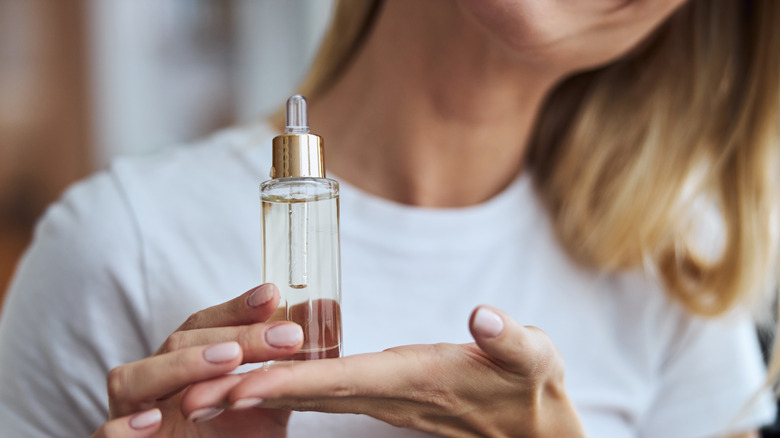 Svitlana Hulko/Shutterstock
Shampooing should be a staple step in any well-rounded haircare routine, but you may want to limit how often you wash if your blond is susceptible to fading. It's not just the shampoo itself that's to blame, either. Ni'Kita Wilson, a cosmetic chemist and vice president of research and innovation at Englewood LAB in New Jersey, told WebMD, "Plain water dilutes the pigment and causes it to fade faster." Yikes!
Another reason this happens is that the shampoo actually temporarily swells the hair, making it easier for small amounts of color to wash away every time you shower. An easy way around this is to shampoo your hair less frequently. While that may be a tall order if you've got a scalp that begs for regular cleansing, you can become better acquainted with dry shampoos and reap the many hair-enhancing rewards that they offer.
Dry shampoos soak up oil beautifully, but they can also add body and even impart moisture. Some are even infused with some extra color, so they could potentially liven up your blond color even more. Needless to say, if you use dry shampoo the right way, you can set your hair up for success. 
Watch the purple shampoo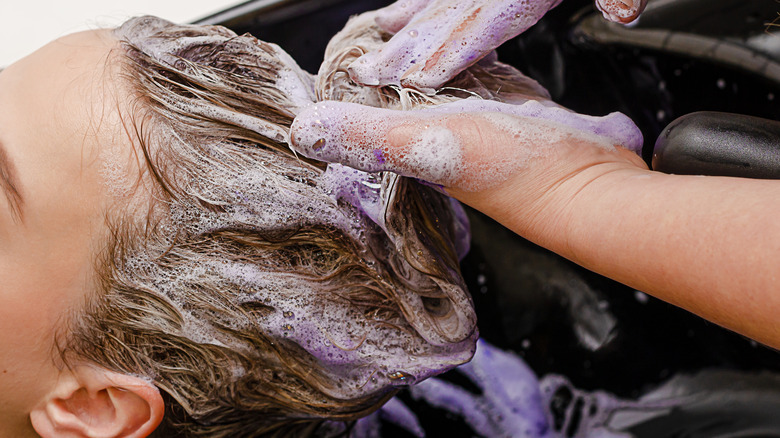 Tetiana Tychynska/Shutterstock
As someone with blond hair, you've likely stumbled across purple shampoo in the hair care aisle. They're formulated to combat brassiness and give your hair a freshly toned appearance. They can also maintain your color between appointments. Surprisingly, though, this vibrant shampoo could have a detrimental impact on your blond if you've got hard water loaded with minerals that build up on your scalp.
On this, Dell Miller, a master colorist at West Hollywood's Spoke & Weal Salon, tells The Zoe Report, "There are a significant amount of minerals in our shower water that can get lodged into the hair cuticle, giving the hair more of a yellow finish." If there's an excess of minerals in your household water supply, the toner in the purple shampoo will only add to the buildup on your scalp. That can transform your hair's color because it doesn't wash out properly.
Miller recommends using a clarifying shampoo to combat this common problem. There are also scalp scrubs that can effectively dislodge the buildup and leave your hair cleaner and your color brighter. Instead of relying solely on purple shampoos, you can try a hydrating spray to revive dull hair.
Love your hair gloss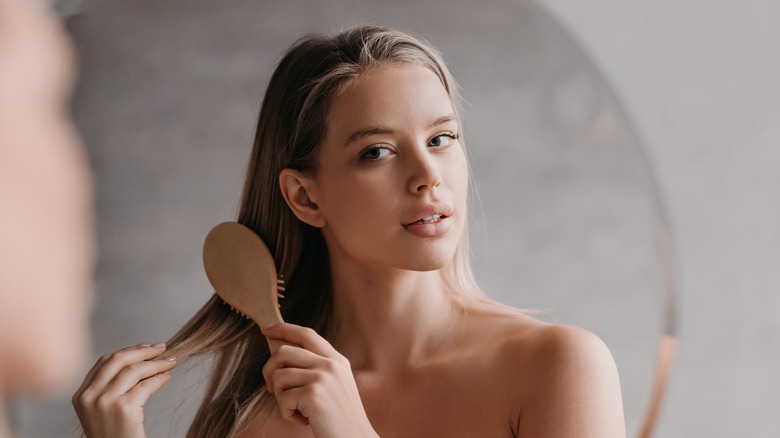 Prostock-studio/Shutterstock
A hair gloss may be one of those special treatments you reserve for a visit to the salon. Now it's a staple in many a blond's household, however, thanks to the way it prevents color fading and boosts shine. With regular use, your hair may feel healthier and more resilient, too. Glosses are available in both clear and tinted formulas, so you can either use them to maintain a healthy color or to revive your hair if it could do with a boost.
Tinted glosses play a vital role because your hair absorbs that color, leading to strands that are essentially stained. (Do you remember young people dying their hair with Kool-Aid back in the day? We do, and this seems much healthier!) Unlike permanent hair color, glosses don't open up the hair shaft; they just cling to the individual strands instead. By contrast, a clear gloss can revive a dull blond color by imparting a sun-catching shine that lends hair a healthier and more luminous look.
Glosses can even serve as an alternative to traditional hair color, something that might benefit you if you just want to perk up your existing shade of blond instead of putting your tresses through exposure to chemicals. Lucille Javier, a colorist at Mark Ryan Salon in New York, told Elle, "Blondes can get away with glossing their hair in different tones, even if it's just the ends. Also, if your hair is light enough, you can just deposit tone."
Give color a boost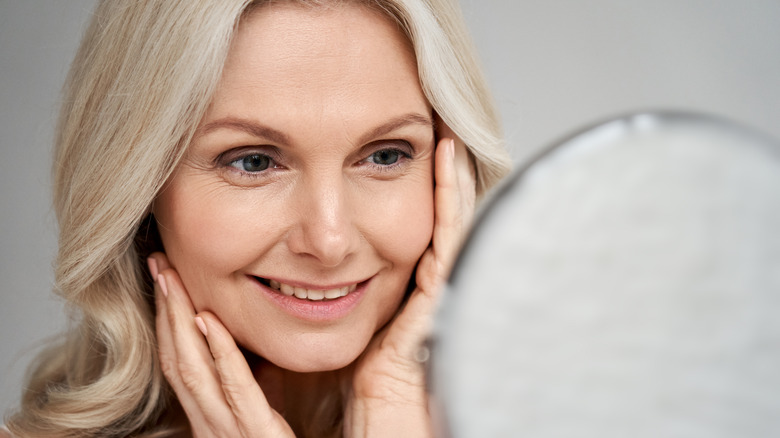 Ground Picture/Shutterstock
While using a hair mask is an obvious solution if you want to hydrate and protect your color, it can also be a useful tool if you need a quick-rescue tool in the event of a style emergency. Maybe you're headed to a special event and don't have time for a visit to the salon, or you want to quickly handle the issue yourself in the comfort of your own home before you head out of town or meet up with someone for a date night.
A color-boosting hair mask, like one from Mocroccanoil, could be the right choice. These masks provide the advantages of conventional hair masks because they're enriched with ingredients like nourishing oils and butters but offer color-depositing benefits at the same time. The difference between these and traditional hair dyes is that their effects are completely temporary.
They'll fade with time, but how long they last depend largely on how frequently you use shampoo and how porous your hair is in the first place. Moroccanoil states that if you regularly use heat-styling tools or hair color, your hair is likely porous. You can use a mask to instantly brighten up your fading blond, lending it a quick boost.
Switch to cool water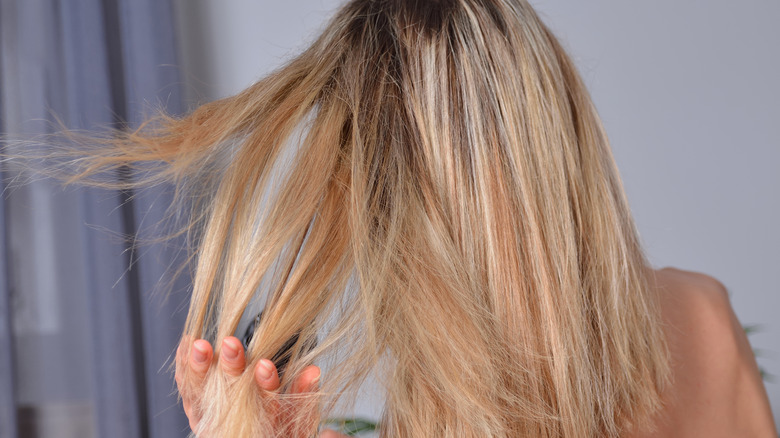 Emmily/Shutterstock
Hot showers may feel incredibly comforting, but they don't do your blond hair any favors. In fact, all of that heat can sap the vibrancy from your tresses, leaving them looking faded and lackluster. You can resolve this by dialing back the temperature whenever you plan to wet your hair. The reason is simple: Hot water essentially dissolves the protective sebum in your hair.
Hot water can even reduce the effects of the nourishing products you might use during your shower, like hair masks and conditioners. Using lukewarm or cold water, if you can tolerate it, will help your hair look its best while reducing the chances of color fading. It works by locking your hair's outer layer.
That's key to securing hair color, as it keeps your hair color stable. Think of cold water as an impenetrable barrier that offers multiple protective effects. Sealing your hair's cuticle safeguards the integrity of your color and keeps it looking fresh and consistent for longer. Because it also locks in the effects of your conditioner, it contributes to healthier, more resilient hair, too.
Use the right products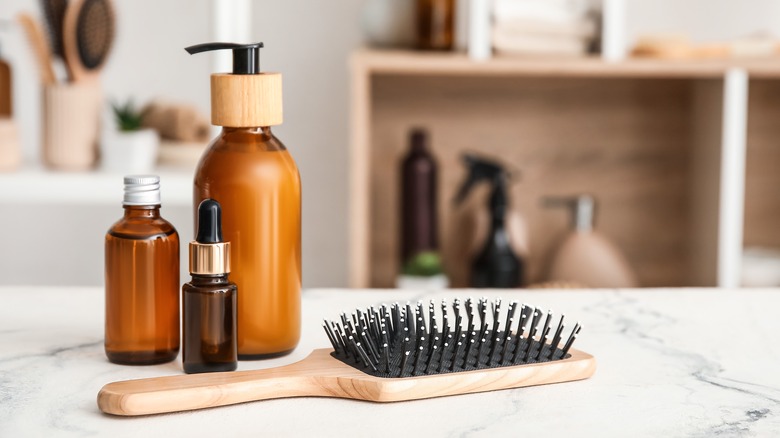 Pixel-Shot/Shutterstock
If you don't already examine the ingredient list on your hair-care products with a magnifying glass, now is the time to start! Alcohol not only dries out the hair but also can cause your blond color to fade. This will leave hair looking duller and duller with time until your once radiant and glowing blond is merely a shadow of its former self. Plus, according to Behind the Chair, ingredients commonly found in shampoo, like sodium laureth sulfate and sodium lauryl sulfate, can strip away your hair color.
Always seek out products that are specially formulated for your hair type. As someone with blond hair, it's imperative to use formulas that contain ingredients to combat brassiness and support freshness. Otherwise, there's a risk that warmer undertones like red, orange, and yellow may begin to peek out.
With the right products in your hair care collection, you can take steps every single day to protect the integrity of your blond hair. The right products also meet your hair's specific needs, combatting issues such as excess dryness, sun damage, oily scalp, or dandruff. By taking a comprehensive approach like this, you can be confident your blond color will look its best.
Air dry your strands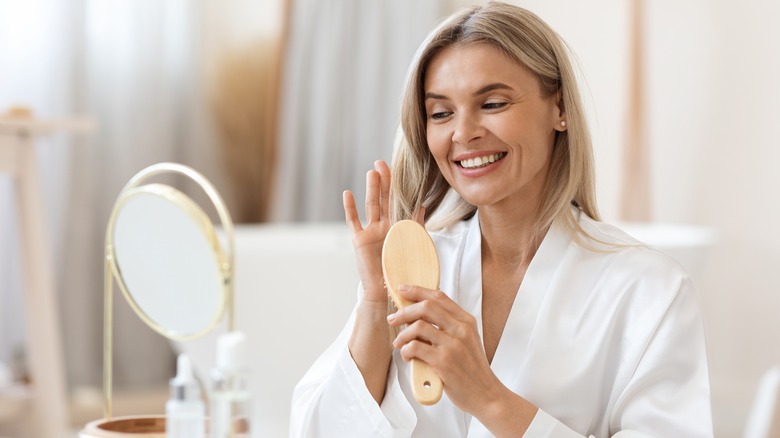 Prostock-studio/Shutterstock
As much as possible, do your best to air dry your hair instead of using heat-styling tools. While it's fine to use a blow dryer, a flat iron, a curling iron, or another hot tool on occasion, you don't want to do so too often. Heat can rob your hair of its natural shine and oils, which in turn can leave your previously vibrant strands looking dull and faded. If you're in the habit of using a dryer every day, cutting back could be your first line of defense against lackluster color.
Justin Anderson, a celebrity colorist who co-founded dpHUE, told Makeup.com, "These things can, unfortunately, cause your hair color to fade much faster, too." And, he added, your hair doesn't need to be colored for that to happen. "Even if you don't dye your hair at all, you always want to make sure to protect your hair prior to adding any type of styling heat."
It's helpful to use a heat-protectant product on your hair if you plan to use a heat-styling tool, as this can extend the life of your color and prevent premature fading. Thermal sprays and creams formulated for your hair type can also make it easier for you to achieve your desired style, improving manageability and strengthening your mane. You can experiment with flexible rods and even socks if you want to give your hair a little volume overnight. When you wake up, your hair should be bouncy — no heat necessary.