The Easiest Hack To Make Sure Blush Stays Put And Looks Natural On Oily Skin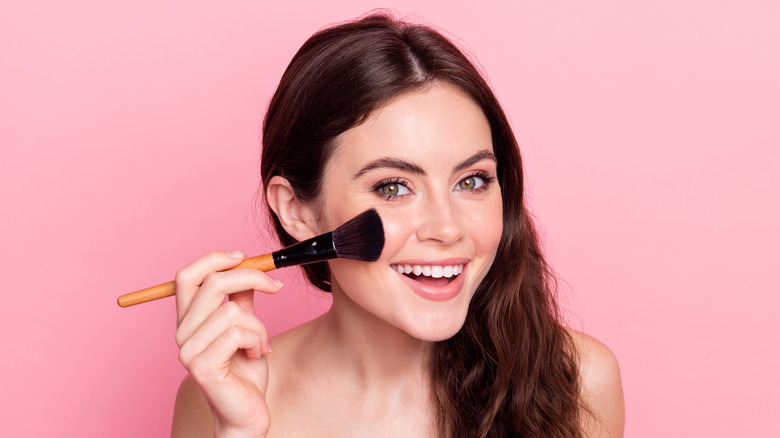 Roman Samborskyi/Shutterstock
If you want to add a gentle touch of warmth to your makeup, then you can always pop on just the right amount, tone, and formula of blush. A classic choice that can be as light and rosy or as deep and scarlet as you desire, you can change it up depending on your outfit or loyally stick to one consistently flattering option. Granted, while you're picking out the ideal shade, there are various things that you need to consider if you want the perfect blush that will look good for as long as possible. For instance, makeup artist Andreea Ali told Byrdie, "Just like with foundation, you need to tailor it to your own needs. You can have different finishes like matte, satin, or slightly shimmery, so it all depends on your preference."
Ali also pointed out that you need to keep your skin type in mind if you want your blush to do its job properly and stick around. She explained, "If you have oily skin, I suggest you use formulas that are a bit more intense in pigment. This is because oily skin tends to 'melt' all cream products."
Fortunately, you can still use blush — even the arguably unreliable cream-based versions — on oily skin. That is if you happen to know a few important tips when it comes to how to apply your blush so that it will be both natural-looking and long-lasting.
Blush and powder are a winning combination for oily skin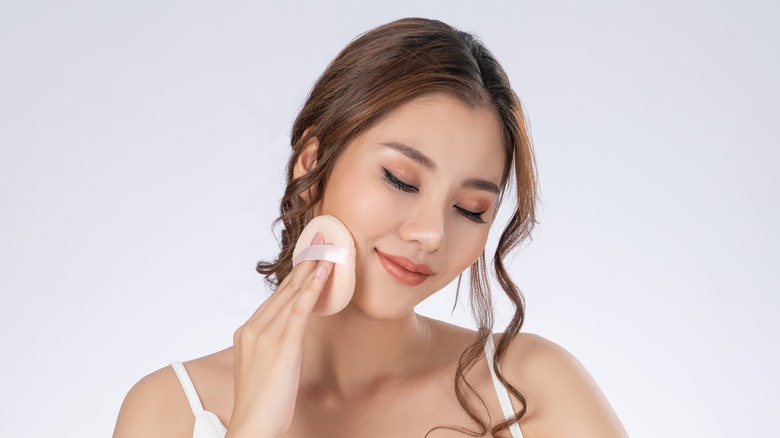 Blue Planet Studio/Shutterstock
Get ready to become an expert at applying blush to oily skin. All you need is a little know-how from RMS Beauty founder Rose-Marie Swift who told Net-a-Porter, "My pro tip is to really work a cream blush into the skin, creating a well-blended synergy, without it floating on top." Once you have your blush blended perfectly into your skin, then you can seal it in with the help of a powder. If you opt for just a light coating of a talc-free product, then you can avoid ending up with a matte complexion.
While talking to Bustle, Sonia Kashuk, a makeup artist and the founder of Sonia Kashuk Beauty, also suggested adding a powdery finish to your routine if you have oily skin. "Start with a creme blush to give a natural, translucent flush to the skin," she said while describing a layered technique. She also says, "the creme will have great adherence and give the skin a beautiful glow. Follow with a light dusting of powder blush in a corresponding color to set the product in place and add longevity to wear."
If you don't have a suitable setting powder available or prefer not to use it, then there's another way that you can help to prevent your blush from looking awkward and fading away.
You can blend your blush with concealer or foundation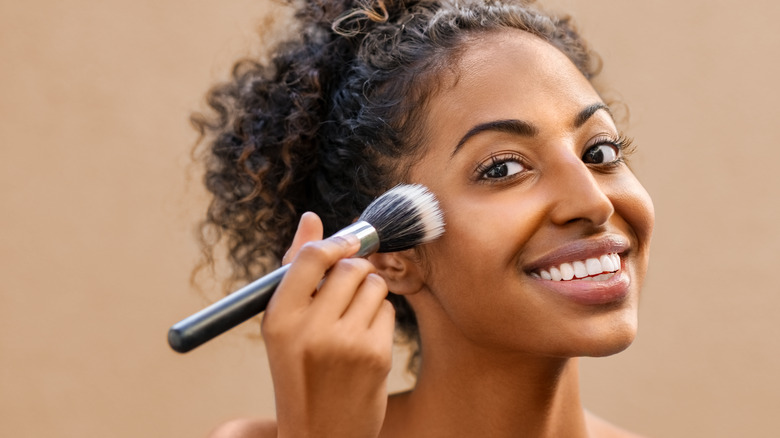 Ground Picture/Shutterstock
There's no doubt that oily skin can make it more than just a little difficult for your blush to stay where you want it to be for an extended period of time. Although powder may help to keep it set in place when applied on top, there are other quick and easy options that can keep your makeup in place without necessarily sealing it in. First, makeup artist Lisa Eldridge told Vogue Scandinavia, "Mix cream blush with concealer on oily skin." This will give the blush a better chance of adhering to your skin.
If you don't wear concealer, then Eldridge has another option that should work just as well. She explained to Vogue, "Alternatively, make sure you have a bit of foundation on your brush when applying cream blush." Then apply that combination in a few specific spots to firmly set both products in place.
Finally, Eldridge explains that you need to be sure to properly blend your blush and whatever it's mixed with in order to achieve a smooth look. She explained, "[This will] make sure all edges are covered." Although this is a tip that will be particularly useful for anyone who has oily skin, it's also something that can work for all kinds of skin types which is why it might become both your new favorite blush-related hack and your bestie's, too.