Nail Inner Corner Eyeliner With These Tips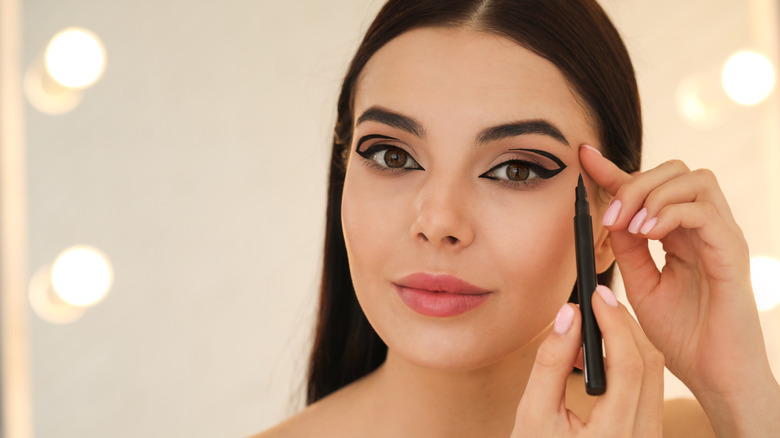 New Africa/Shutterstock
Eyeliner has been around for over 10,000 years, first appearing in ancient Egypt as a way to protect the skin around the eyes from the harsh sun (via History of Cosmetics). Throughout time, it evolved into a product used for both aesthetics and these functional purposes, eventually producing the cat eye we know and love today. As the centuries rolled along, it popped up in cultures globally, from India to Japan, but it took hold in Western culture thanks to silver screen starlets who opted for this look so their eyes would read better on camera.
Advertisement
Now, eyeliner is one of the most popular products used to define and draw attention to the eyes, being used for everything from subtle flicks to bold, graphic looks. In the past few months, however, a new trend has taken hold across the internet — inner corner liner. This look can be a bit of an adjustment if you're used to only working with the lid, but with these tips, you'll be rocking the defined inner corner in no time.
Map out with an eyeshadow first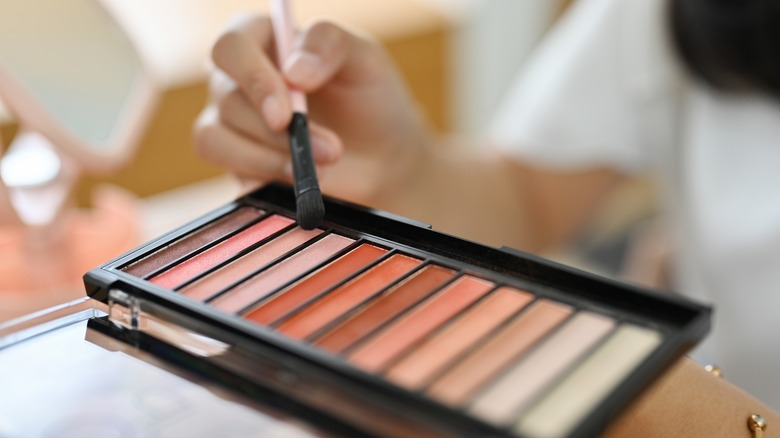 BongkarnGraphic/Shutterstock
If you're new to inner corner liner, finding the best placement for your eye can be a bit of a challenge. Instead of going straight in with a bold liner, first try mapping out exactly where you want your eyeliner to sit with an eyeshadow slightly darker than your skin. If you need to reposition, this shadow can easily be wiped or blended away so you don't have to completely wash away the rest of your eye look, avoiding having to add extra time to your getting ready process and irritating your eyes.
Advertisement
Once you figure out your placement, use this eyeshadow as a guide. Inner corner liner looks simple because it's such a small touch, but, because you're working with a bumpy area right on your tear ducts, an accidental slip is possible. By giving yourself an easy-to-follow path, you'll ensure that you stay on track and end up with a perfectly sharp, symmetrical eye look.
Nail down the best angle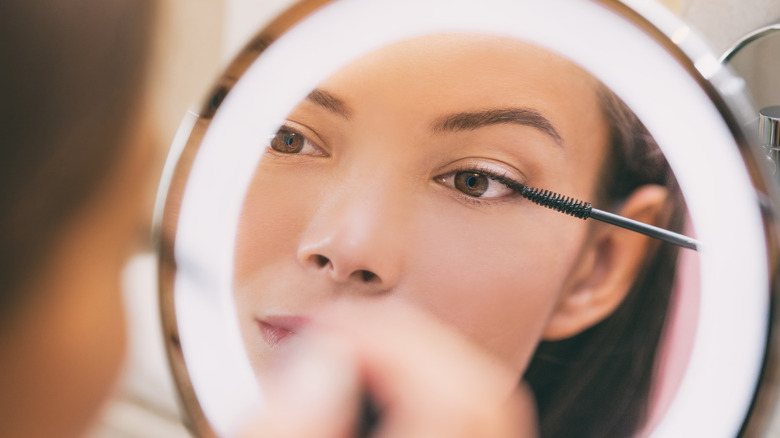 Maridav/Shutterstock
Inner corner liner is great if you want to extend your eye shape and create a cat eye effect, but this impact all lies in the angle. If your eyes are already naturally almond-shaped, this should be a fairly simple task — just follow the natural shape of your inner corner, adding a sharp point at the end. If your eyes are round or hooded, however, this can be a bit more of a challenge.
Advertisement
The inner corner of these eye shapes naturally points downward instead of straight out, so you need to create a bit of an illusion if you want that elongated, siren eye look. Start by following your bottom lash line and extending it a bit further towards your nose using a thin liner brush. From there, tightline your upper waterline, making sure to check how your liner looks with your eyes open. After, connect the two lines. If you have an epicanthal fold, you'll likely have to apply the product slightly further up than feels natural so it doesn't disappear when you open your eyes, but with a bit of trial and error, you'll find your perfect placement.
Try out a gel formula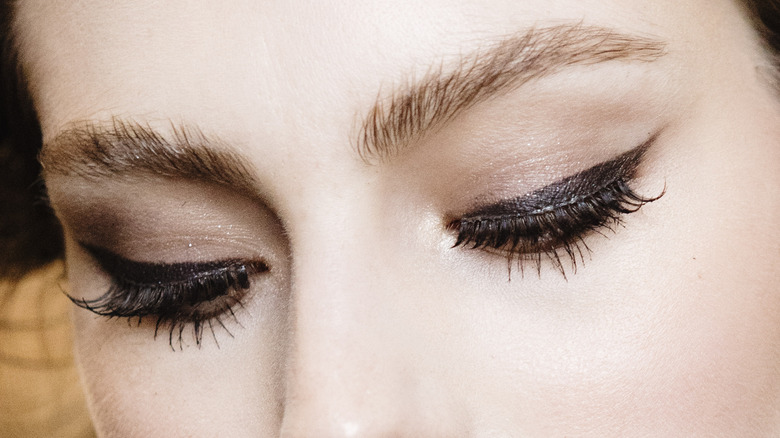 Rosdiana Ciaravolo/Getty Images
Runny liquid liner gives you much more flexibility in creating sharp, precise shapes on your lids, but when it comes to the inner corner, something a bit more controlled might be easier to start with. Gel liner on a sharp brush still allows you to draw out that perfect sharp triangle, but you're less likely to fall victim to an accidental slip or shaky hands.
Advertisement
Gel liner also tends to run less, something that's important when you're working with an area so close to your tear ducts. According to a 2022 study published in Skin Pharmacology and Physiology, 46.5% of women say they have sensitive eyes, so if you fall into this group, make sure to opt for something waterproof, too, so your hard work isn't swept away the second you're faced with wind or annoying allergies. Apply your product with an angled or pencil brush — the sharper the tip, the better — then clean up, if necessary, with a bit of concealer or makeup remover with a cotton swab.
Experiment with bold colors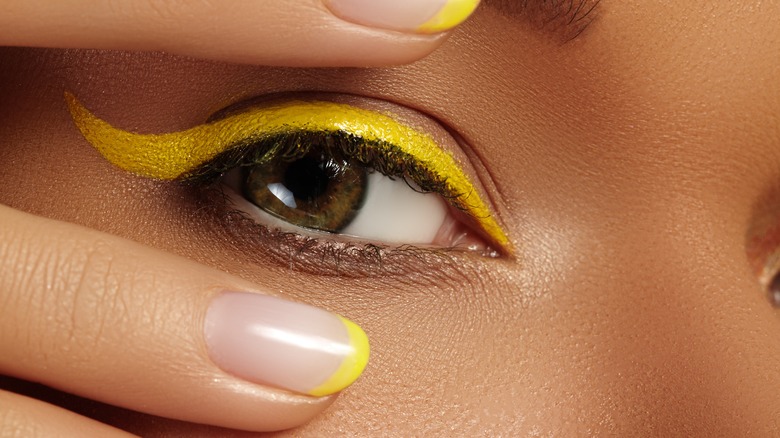 marinafrost/Shutterstock
After you've nailed down your placement and perfect application, it's time to have a little fun. Inner corner liner is a great way to bring in a bold accent that doesn't completely dominate the rest of your makeup look. Apply the rest of your liner normally, then switch to a bright color that matches your outfit or flatters your eye color in the inner corner. Something subtle like dark green or navy will seamlessly blend with another dark-colored liner you've chosen, but neons and even white can bring a fun twist to your everyday look.
Advertisement
If you want to draw even more attention to your eyes, go with a shade that's complementary to your eye color. Green eyes would stand out with red or pink liner, blue eyes would shine with orange, and brown eyes would pop with a splash of blue or purple. With drugstore brands like Colorpop, e.l.f., and NYX carrying a plethora of bold liquid and gel liners, the possibilities are endless with this look, even on a budget.
Add in some glitter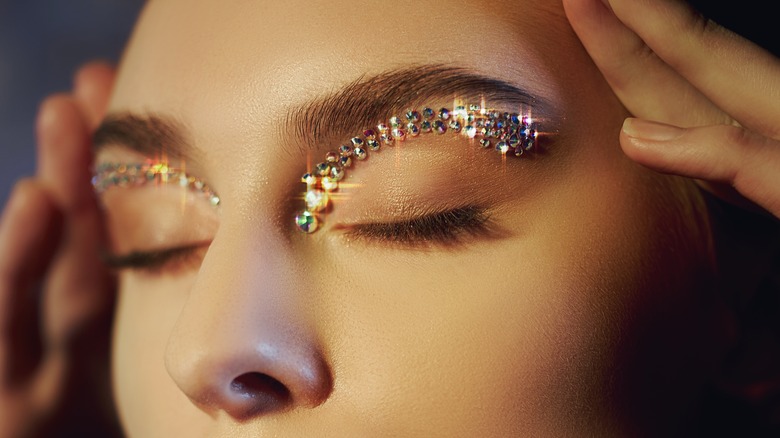 IvaFoto/Shutterstock
Alongside large selections of chromatic liners, many makeup brands are providing customers with the chance to bring a little glitz to their makeup looks, too. To spice up your every day look for a special event or night out, consider adding some glitter to your inner corner liner. Products that include chunky glitters or metallic pigments allow you to add in a bit of shimmer without sacrificing the precision you need to apply inner corner liner.
Advertisement
Your inner corner is the perfect spot to add a few rhinestones, too. Do your typical inner corner liner with a black or metallic base, then use lash glue to stick on a couple of rhinestones for a pop of eye-catching shimmer. Just make sure you're using a lash glue that doesn't irritate your eyes — your inner corner is usually more sensitive than the rest of your eye, so it's even more important to ensure the products you're using are safe.
Try out fun shapes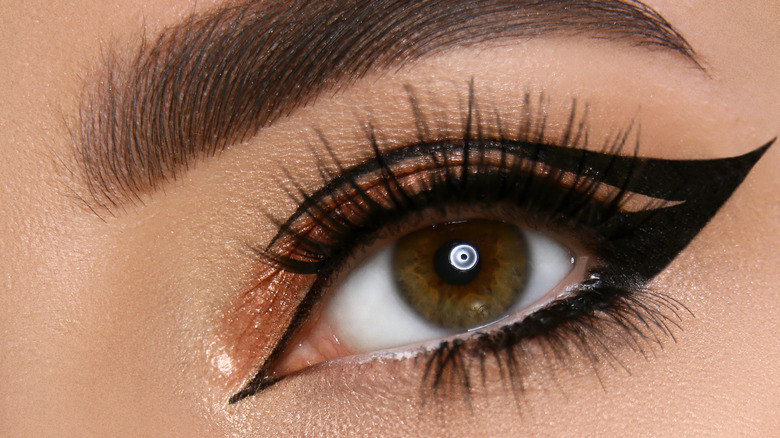 Veles Studio/Shutterstock
If you already consider yourself an eyeliner expert, you can use the inner corner as a way to finish off the rest of a graphic eye look. If you want your makeup to look more bright and youthful, skip this step or go for something glittery or pastel in the inner corner, but if you're looking for something that reads more sultry, extend your liner across the rest of your lash line to give yourself an extra dose of drama.
Advertisement
The jump from a classic wing to a full, '60s-inspired, double wing eyeliner look can be a bit intimidating, so if you want to dip your toes in the water, try extending your wing a bit longer than normal, then mark out slightly above your crease with a darker shadow. From there, go in with a liquid liner to sharpen this line you created. It might take a bit of trial and error to nail down your ideal placement and keep everything symmetrical, but this look can be just as easy as your classic flick with some practice.
Keep the rest of the look simple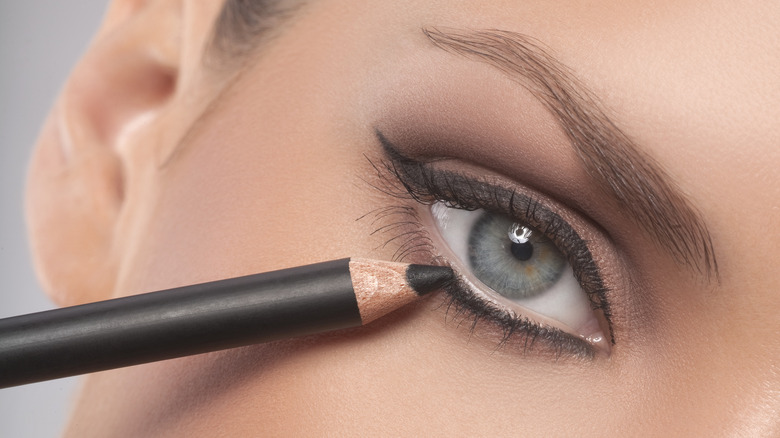 Altrendo Images/Shutterstock
If you're used to brightening your inner corner and keeping your darker products focused towards the crease of the eye, inner corner liner might feel a bit weird after your first application. Because of this, it's best to stick with an otherwise natural, neutral makeup look so your eyes can be the star of the show. This look is a simple change, but it can completely alter the look of your eye shape, so give yourself the space to adjust.
Advertisement
Of course, if you're a fan of full glam and a bold red lip, you don't have to sacrifice what you're comfortable with — just stick to what you consider your basics until you're ready to experiment a bit more with different colors and finishes. Try out inner corner liner right before you're about to hop into the shower for a zero-commitment perspective on how it looks on your eyes and with the rest of your makeup — opting for a new look right before a major event could leave you more stressed than confident while you're getting ready.
Go for the siren eye look
The rise in popularity of inner corner liner is likely due to the makeup look that TikTok has dubbed "siren eyes," a more elongated, dark-feminine take on the youthful "doe eye." Creators like Steph Hui have shared tutorials of their take on this look, so if you're wanting a more guided place to start, the siren eye might be for you. In her TikTok video that's now amassed over 5 million views, Hui shares her process for creating a subtle siren eye with only four simple products.
Advertisement
She begins by placing down a light brown eyeshadow with a fluffy brush only at the outer corner and along her lower lash line, then going in with a darker brown and a more dense brush closer to the lashes to deepen the look. From there, she grabs a pencil liner and creates a wing that extends from the corner of the eye, smoking this product out and darkening as she goes. Finally, she reaches the inner corner, tightlining then slightly extending the line she created to further elongate her eye. She finishes everything off with mascara, and she's left with a sultrier take on an everyday makeup look.