Leggings Vs. Yoga Pants: When Should You Wear Each Athleisure Style?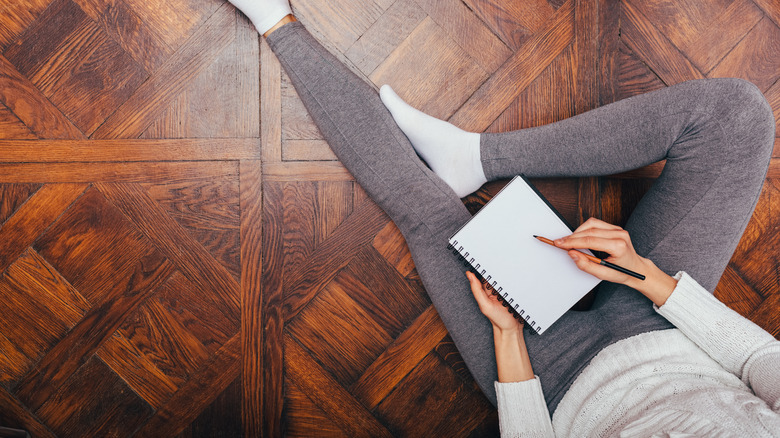 Iprogressman/Getty Images
We may receive a commission on purchases made from links.
Besides getting healthy, one of the best parts of working out is wearing gorgeous workout clothes. There's no denying that having your favorite workout sets and clothing is an added motivation to get your daily movement in. Whether you're a fan of cardio or pilates, a wardrobe filled with workout clothes is always appreciated. The various designs and styles we see in the workout world are partially due to the increase in popularity of athleisure fashion. This new style of fashion is about taking the comfort of your workout clothes into your daily life. According to Linchpin SEO, athleisure is the fastest-growing clothing segment and accounts for a significant portion of clothing purchased by teens and young adults. With brands like Adidas and Nike constantly releasing new styles of athleisure, it's hard not to give in to the comfort of some of these pieces. 
Two widely popular pieces of athleisure fashion are yoga pants and leggings. These two bottoms are not only popular active pieces but are also popular fashion pieces. While you may use both types daily, there's a difference between your yoga pants and leggings. While this difference won't stop you from wearing either one during your activities, they could help to make you feel more comfortable and secure.
What you need to know about leggings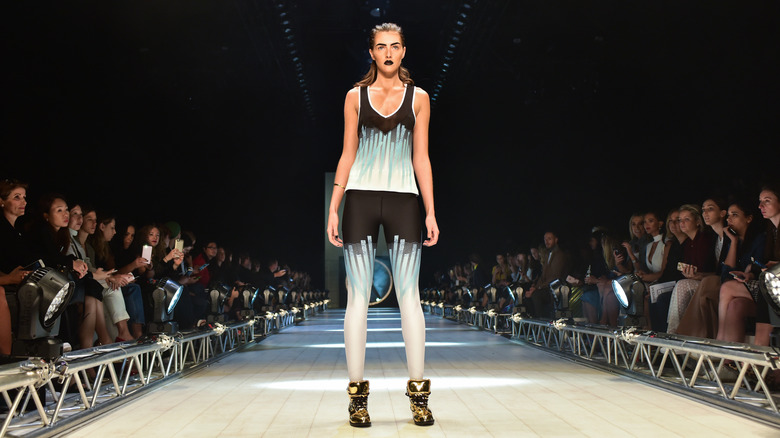 Marie-matata/Shutterstock
When picking between leggings and yoga pants, you need to be aware of what activities you will be doing. Leggings have long been the go-to option, no matter what you were doing. According to The Yoga Nomads, leggings are supposed to be a thicker option for tights and a thinner alternative to yoga pants. Leggings are known for being body-hugging and tight around the legs. This compression makes them ideal if you're exercising or moving as it's more lightweight and flexible. Nowadays, there are various options for leggings that you can pick from depending on what you seek. From polyester leggings for working out to leather leggings for a chic outfit, there are plenty of ways to wear leggings.
While leggings are the popular choice, it comes at a price. Freedom Genesis points out that one of the advantages of leggings is their accessibility. A lower-quality pair of leggings will only cost a few dollars as opposed to yoga pants. However, it's easy to make a mistake with leggings. If you're looking for active bottoms for days of high movement, leggings might not be the best choice. Unless you opt for higher-quality leggings, these bottoms are made of thinner materials and can become see-through during your activities. However, if you simply want options for comfortable bottoms, you can't go wrong with leggings.
When and how to wear yoga pants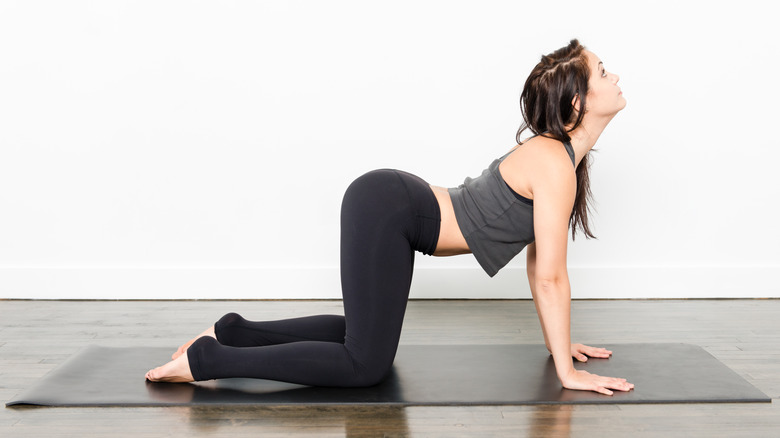 Jentakespictures/Getty Images
Unlike leggings, yoga pants are a thick bottom piece that is great for days you'll be moving around. Although more are opting for yoga pants over leggings for their thicker materials, there are only two popular options for yoga pants. If you're picking out yoga pants, the odds are that you will have to choose between flared or bootcut, as these are the typical styles. Macy's adds that yoga pants are a great option if you need a piece that works for moving from pose to pose or if you are looking for comfortable loungewear. The stretchiness and thickness of the material let you feel comfortable, secure, and free to move around.
If you are looking for which option gives you more support, yoga pants are your best choice. Most yoga pants will have a stretchier and more relaxed waistband, making them more comfortable for sitting, standing, and moving around. Unlike leggings, the soft tightness of yoga pants helps you feel comfortable without feeling constricted. To style your yoga pants, you want to keep in mind that balance is the key. To wear flared or wide-leg yoga pants, opt for a tighter-fitting top to keep the look casual but chic. On the other hand, if you are styling yoga leggings, which are the skinny-leg version of yoga pants, opt for a more oversized top or sweatshirt for the perfect athleisure look.