The Quick Way To Brighten Your Face Up With Minimal Makeup Lies In Your Eyes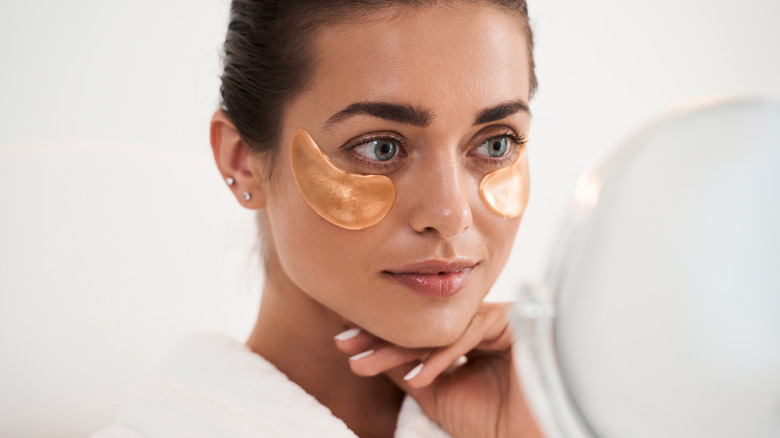 Olena Yakobchuk/Shutterstock
We may receive a commission on purchases made from links.
An increasing number of modern makeup trends revolve around the seemingly contradicting theme of achieving radiant skin with minimal makeup, with popular looks such as the "no-makeup" makeup look and the clean girl aesthetic quickly stealing the spotlight. These makeup trends focus on one goal: brightening. However, the clean girl aesthetic and no-makeup look seem to gloss over the essential area of your face that is responsible for appearing alert and ready to take on the day. The secret to a bright and rejuvenated face with minimal makeup lies in the eyes — specifically, your eye makeup.
Advertisement
Although foundation is often touted as an undeniable necessity for a radiant complexion, your eyes are the first part of your face that people hone in on. Upon first glance, the presence of dark circles or under-eye bags convey much more about your sleep patterns to others than your skin does. Regardless of whether your dull eyes are a result of an obsessive Netflix binge-fest or catching up on overdue work, tired eyes will sap the life out of your face. To address your zombie complexion and brighten your face without packing on the products, take a look at these two essential makeup tips.
Prep and conceal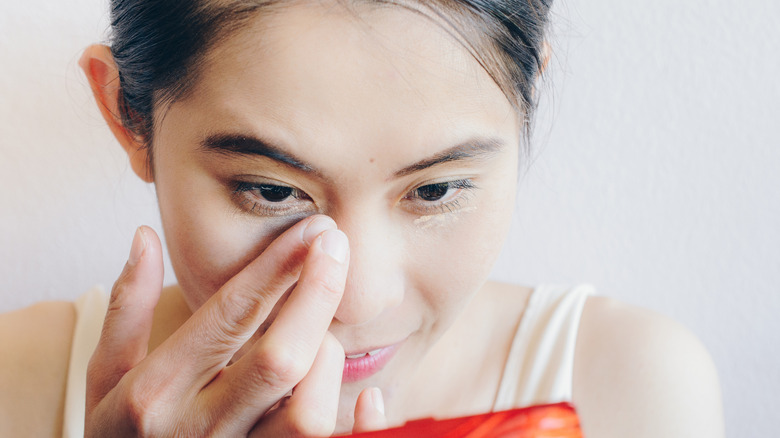 Boyloso/Shutterstock
First things first, you can go ahead and toss that foundation back into your makeup bag because you won't be needing it for this minimal makeup hack. And before you whip out your under-eye concealer, you need to backtrack and take a good look at your skin. The key to a brightened complexion with minimal makeup is healthy skin. People often neglect the under-eye area, but a dab of brightening eye cream goes a long way, especially for those with dark circles, puffiness, and dryness. Opt for an eye cream with brightening ingredients such as the Origins Ginzing Vitamin C Eye Cream which contains a potent combination of vitamin C, niacinamide, ginseng, and caffeine to energize the skin.
Advertisement
Now that your under-eye area is hydrated and prepped, it's time for concealer. The trick to applying concealer is intentional spot concealing and selecting the right instrument. Only apply concealer under your eyes and to cover blemishes or redness. You want your concealer to blend in with your skin to avoid a full-coverage look. For runny concealers, a beauty blender does the job. If you have a cream concealer, then a small makeup brush allows even application. However, the best way to apply under-eye concealer is, undoubtedly, with your fingers as your natural body heat allows the product to better absorb into your skin (via Subtl Beauty).
Add your finishing touches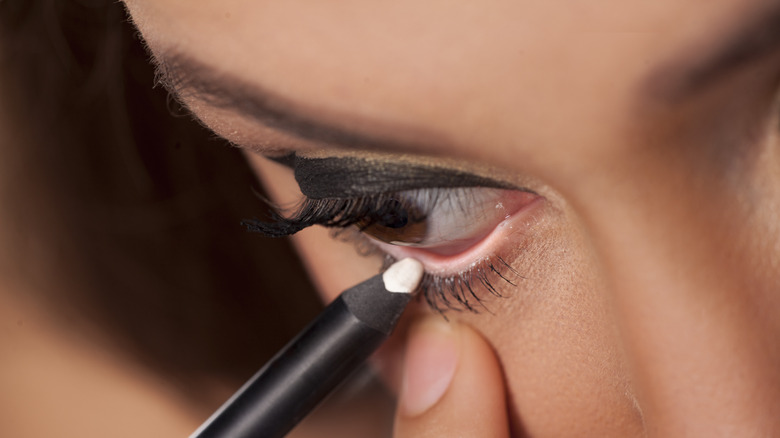 Vladimirfloyd/Getty Images
After a light application of concealer, it's time to return to regular scheduled programming with your faithful glam trio of eyeshadow, mascara, and eyeliner. You can experiment with using one, two, or even all three of these eye products to achieve the bright eye effect that you are looking for while still maintaining the no-makeup look. There's a trick to applying each of these products tactfully, however. For instance, if you apply eyeshadow, stick to a neutral shade that is lighter than your skin tone and apply it to the inner corners of your eyes, blending outward, similar to how you would apply a shimmery highlighter. The inner corners of the eyes tend to appear darker due to shadows from your nose and brow bone which, in tandem with dark circles, can enhance the dullness around your eyes.
Advertisement
Eyeliner can also make your eyes appear bright and alert, especially if you apply a white eyeliner to the waterline of your bottom lids. Dark eyeliner can make your eyes appear smaller if applied to the waterline, so if you decide to use dark eyeliner then opt for a lighter shade and restrict application to the eyelids. Lastly, curl your eyelashes and apply a generous coating of mascara to achieve wide and striking eyes. Add a light dusting of powder to prevent creasing under the eyes and your brightening minimal makeup look is complete.