Mascara Colors That Make Brown Eyes Pop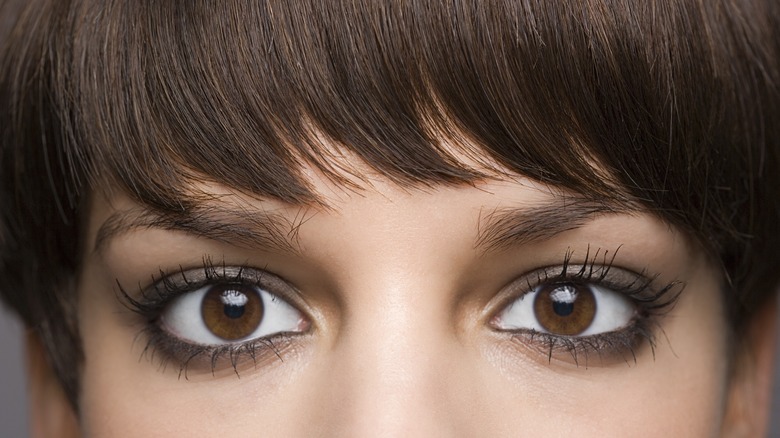 Image Source/Getty Images
There's a reason the Van Morrison song "Brown Eyed Girl" still gets played at so many weddings and parties. Though blue eyes are often talked about, brown eyes not only have their own song, but they are the most popular eye color in the world. In fact, according to the American Academy of Ophthalmology, just 10,000 years ago, every person alive had brown eyes. Now about 70-79 percent of the world has brown eyes and about half of all Americans, as per MedicalNewsToday. Interestingly, brown eyes have more protection from certain health conditions. Those with brown eyes have lower incidences of eye cancer, macular degeneration, and diabetic retinopathy.
Advertisement
While brown eyes may be the majority, they are anything but boring. Every eye color is unique to the person. Brown has a multitude of shades, from light caramel and amber to deep chocolate and onyx. To further enhance brown eyes, mascara can not only highlight natural elegance but make brown eyes pop.
Try purple mascara for brown eyes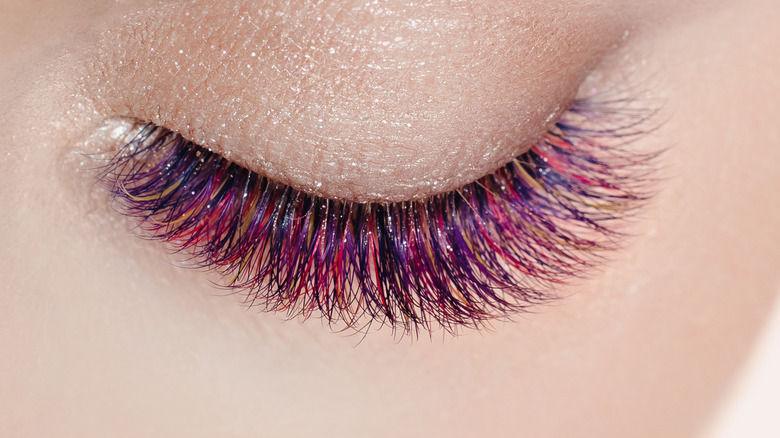 Parilov/Shutterstock
While black or brown mascara is hands-down the most popular color that most people reach for when doing their eye makeup, brighter colors can really bring out the beauty of brown eyes. "A blackened-brown mascara can give a smoky hue to the iris," New York City-based celebrity makeup artist Mia Jones tells Elite Daily. "And anything purple will make [the eyes] pop, as that's a complementary color to brown eyes."
Advertisement
A deep purple mascara has a lot of pigment and the stark contrast between the eyes and the lashes helps to illuminate brown eyes, as per Makeup.com. A subtle rich purple that borders on black cherry or burgundy can help give a natural look, especially when paired with more subdued eyeliner and lips. However, if you want to go bold, a grape or violet purple is perfect for a party, club, or another nighttime event. Just make sure to balance the rest of your makeup with the bright mascara.
Go blue with brown eyes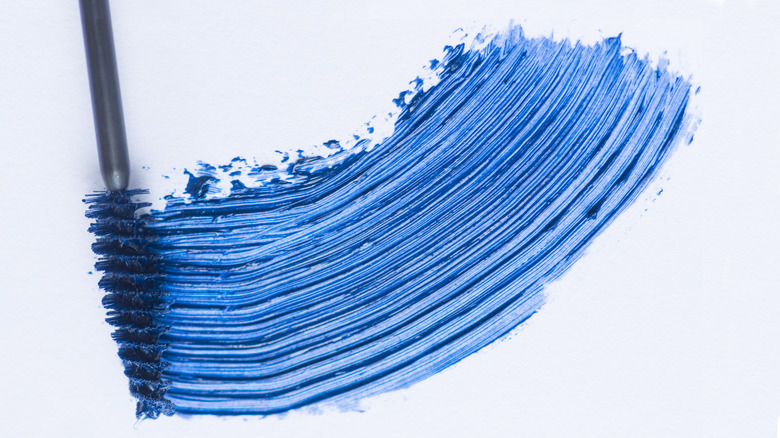 Kryssia Campos/Getty Images
Brown eyes are not only popular but versatile. According to Luxe Luminous, if you have brown eyes, you have a bevy of options since brown eyes seemingly pair well with a variety of colors. Besides a nice purple, crisp blue mascara can also brighten up brown eyes. An eye-catching bright blue will naturally dull any redness or signs of bloodshot while simultaneously making them look whiter.
Advertisement
If you feel that blue on the top and bottom lashes look too bold, try using blue on only the top lashes, or vice versa. Then use a basic black or brown on the other lashline. As with any bold color, you want to make sure the rest of your makeup doesn't clash. Good Housekeeping suggests using a neutral lip when you go bold with blue mascara. That not only prevents you from looking garish and clown-like but puts the attention right where it belongs, on your gorgeous brown eyes.