The Lip Liner Hack That Gives You Plenty Of Pouty, Plumping Benefits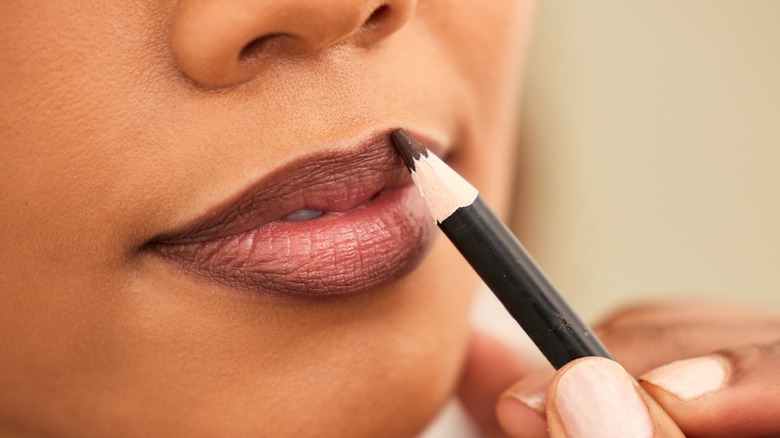 PeopleImages.com - Yuri A/Shutterstock
We may receive a commission on purchases made from links.
TikTok is continually bursting at the seams with new beauty trends, making tips and techniques readily available to the masses. While some gain more traction than others, some of the most notable lip trends discovered through TikTok include the glossy '90s and cherub lips. Some beauty hacks have even become so powerful on the platform that they've helped brands sell incredibly high levels of lip products, with some even selling out. One great example of this is Lady Gaga's Atomic Shake liquid lipstick, which quickly sold out after becoming a viral trend on the video-sharing platform.
Advertisement
One current beauty trend that is taking the platform by storm is the "inner-lining" trend. Like many other lip trends and hacks, this trick aims to plump the lips and give the appearance of a "fuller" look. In true TikTok style, many have tested and tried it, so you may have even seen this trend before without knowing it. Thankfully, it's incredibly easy to replicate. All you need is your favorite lip liner, and you're ready to go. So, how do you achieve the look?
Apply lip liner to the center of your lips
If done correctly, this nifty TikTok lip hack should help to create the illusion of fuller, plumper lips. So, how can you achieve the #innerlining look? First, you should prep your lips to get them in good condition. An easy way to do this is to apply a hydrating lip balm to your lips. This will help to create a smooth and moisturized base for your lip liner to glide on easily.
Advertisement
Begin the process by lining your lips as you traditionally would, along the outside edges of your lips. You can start at the top or the bottom, whichever way works best for you. Now for the best part. Using the same lip liner, apply some in the center of your lips in a small circular shape. It should almost look as though you've drawn a mini version of your lips in the center of them.
To complete the look, simply fill in your lips with the shade of your choice. Alternatively, for a more natural spin on the trend, you can gently rub or press your lips together to blend the lip liner in with your lips. Applying products in a certain order can help this look stay in place. This is handy if you're going to a special event or have something social planned. Not only will your lips stay plumper looking for longer, but you'll also know how to get the best longevity out of your makeup.
Advertisement
Use nude shades for a natural look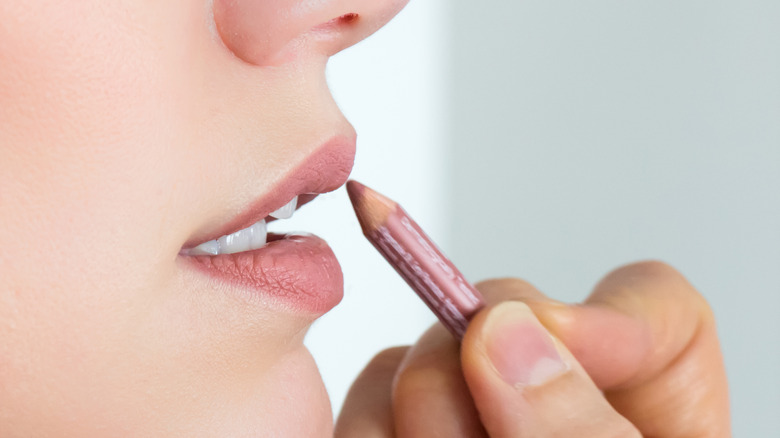 Natalija Rajsic/Getty Images
If you want to take this lip trend to the next level and make your lips appear even fuller, try pairing your new lip-lining technique with a nude shade close to your skin tone, suggests senior makeup artist Daniela Rother (via Artdeco). Not only will using a nude shade create a natural look, but it will also help to give the illusion that you have bigger and plumper lips.
Advertisement
Nude shades are colors in makeup that closely resemble your natural skin tone or the natural color of your lips. Some can look so natural that it may not even look like you're wearing any lip product at all. Of course, the inner lip lining trend can be rocked with a bold and fierce color too. You could try a fiery red or perhaps a dark and enticing plum. The choice is ultimately down to you. Now all that's left to do is to go and try out this trendy look yourself and get pout-ready!