The Case For Using Different Types Of Mascara For Your Top And Bottom Lashes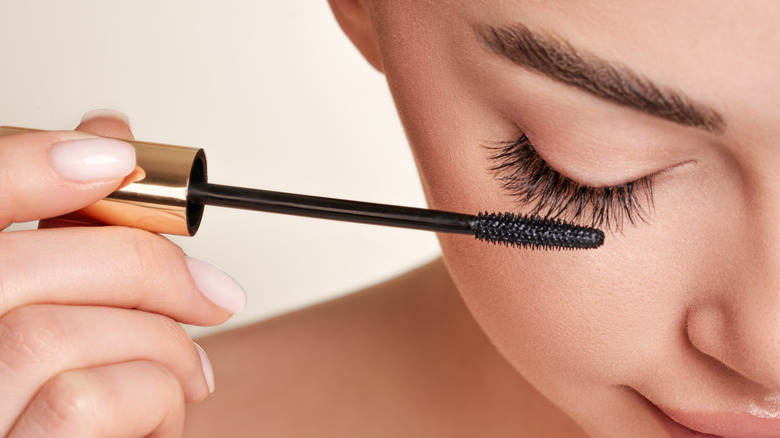 Heckmannoleg/Getty Images
Everybody knows that mascara is a key aspect of many makeup trends. Whether your look calls for a natural makeup application or something more dramatic, your mascara will play a key role in achieving it. No matter how you use the eye-popping product, mascara can help give a dramatic effect to your look and provide varying results depending on the formula. Your traditional mascara can help define your lashes, giving them a strong contrast that can frame your eyes to perfection. Other mascaras can help curl your lashes or lengthen them to provide a more intense, dramatic look. Or, you can combine all the formulas and use mascara mixology to get your best lashes. Regardless of what mascara you choose, it can be an incredible asset in your beauty routine.
Advertisement
While many people know how to apply mascara without any problem, others are unaware of its importance to the bottom lashes. Although they're smaller, the eyelashes on the bottom are equally significant as the ones on top. Putting mascara on your bottom lashes will give your look the full effect and further highlight your eyes. However, doing so isn't as easy as swiping on the same mascara you used on the top lashes. Your bottom eyelashes have different needs and characteristics from the top ones and need their own unique mascara. Even though it requires another product, having a mascara that's specific to your bottom lashes is well worth the investment, as it will help elevate any beauty look.
Advertisement
The reason you need different mascaras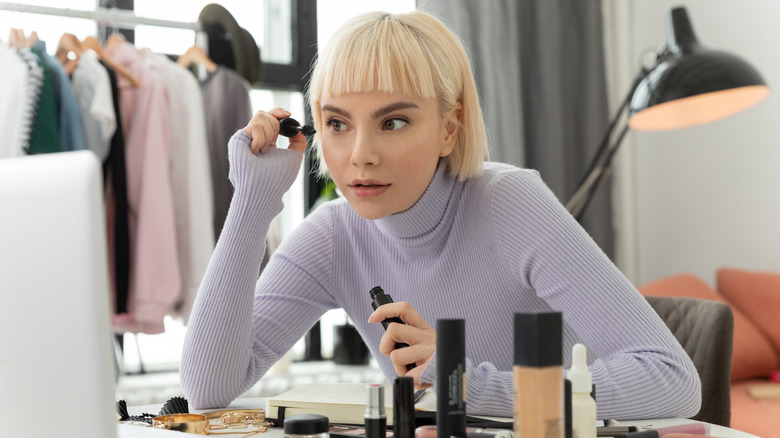 popcorner/Shutterstock
As unpleasant as it may be to purchase another product, your lashes need two different mascaras. The reason? There are differences in size and length. Because your bottom lashes are shorter, you can't get the same effect with traditional mascara. ​​Vincent Ford, a global makeup artist for Nars, explains to Net-A-Porter, "Don't use the same mascara on top and bottom lashes — it always looks prettier to have more feathery lashes on the bottom lid. Either use a mascara specifically for bottom lashes (the brushes are smaller) or use a liner brush (thin and flat-ended) or a small fan brush rather than the wand."
Advertisement
According to Ford, getting the look is simple, "as you literally paint it onto the roots," he said. "You get great, intense coverage this way – especially if you have very fair, blonde or red lashes, and you always get that gap of light hair right at the root." A mascara made for bottom lashes has everything you need to get the right intensity.
Apart from needing a smaller wand, your bottom lash mascara needs to be waterproof. Because the bottom lashes are close to your waterline, you need to ensure that your mascara won't smear or run after just a few moments. Bottom lash mascara not only includes the smaller wand or spoolie but is formulated for this area, something that isn't always included in mascara for your top lashes.
Advertisement
How to apply mascara on your top and bottom lashes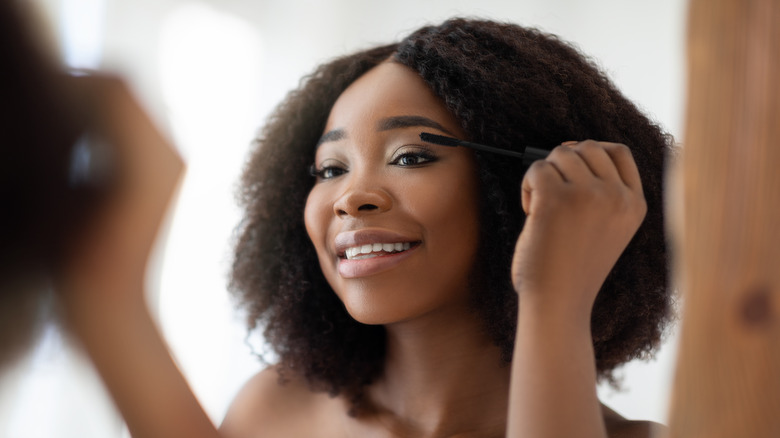 Prostock-studio/Shutterstock
Once you have the right mascara for each of your lashes, you have to apply it correctly. For the best application on your bottom lashes, you want to apply your mascara in a zig-zag pattern instead of vertically. This technique is best, as it will avoid clumps and smears when applying it. If you need to apply more coats of mascara, wait around 10 seconds after the initial coat before reapplying. This dry-down period will prevent smearing and rubbing any product off your lashes before you are done. If you want a precise application, only use the tip of your mascara wand; however, this may be difficult if you are just learning how to do it.
Advertisement
When it comes to your top lashes, you want to ensure that you follow a similar technique for a flawless application. You should always start at the root of your lashes and work your way to the ends. This will coat your entire lashes with even coverage for a balanced look. You also will want to keep your mascara coats to a maximum of three, as any more will start flaking and clumping together. Because accidents inevitably happen, instead of immediately wiping off any mascara that may have smeared on your makeup, wait for it to dry. Dried mascara will wipe off easier and without residue with a simple damp wipe or cotton swab.