Granny Panties Are 2023's Most Improbable Fashion Trend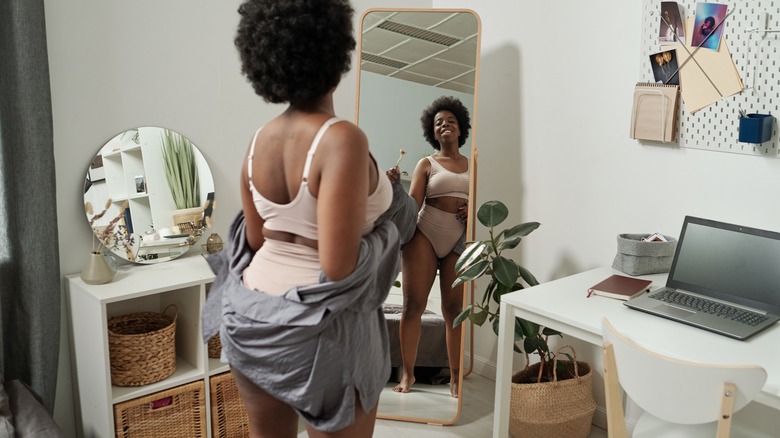 Pressmaster/Shutterstock
Fashion has seen plenty of curious trends in the past. From low-rise jeans to cut-outs, there are a plethora of fashion trends that have caused more than one to question where the looks are headed. However, as unique as many of these fashion flights might be they have caused many to get creative with their styling. One of the latest trends to cause some waves is the return of granny panties. While unbelievable to many, these underwear pieces are becoming the newest staple to fashion icons.
While granny panties may have once been taboo to showcase out in public, this newest trend is all about bearing it all. With Y2K in full effect, many are turning back to using granny panties for comfort and style. Being much more comfortable than other types of underwear, many are choosing to make their granny panties chicer rather than sacrifice comfort for style. With low-rise jeans and crop tops coming back into style, granny panties are starting to play a larger role in how we style our entire outfits. Nowadays, even our undergarments are becoming part of our ensembles rather than something we hide from the public eye. Although this trend may not immediately be for you, there are ways you can style your underwear to become another chic layer of your outfit, without having to expose too much of yourself.
Make it into an outfit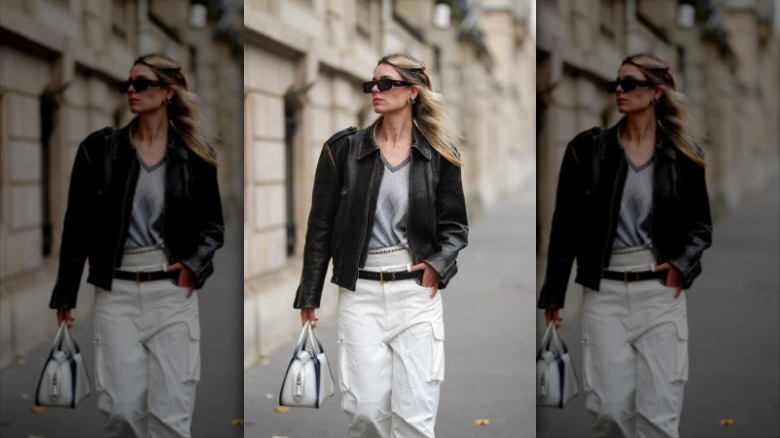 Edward Berthelot/Getty Images
The easiest way to style your granny panties this year is by incorporating them into your look. Instead of feeling forced to hide any evidence of your underwear, raise it to showcase it as another layer of your look. Tuck your granny panties over your top and raise it just enough to showcase your print or logo. Instead of tucking your top into your jeans, use your undies as another layer you are wearing on your bottoms. While it may seem odd at first, an easy way to ease into the trend is by wearing granny panties with a noticeable logo or print that can easily blend into your outfit.
Statement granny panties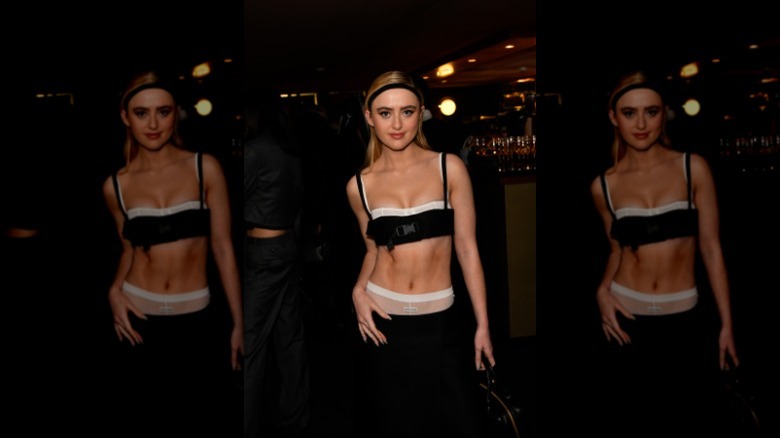 David M. Benett/Getty Images
The key to wearing this trend is to incorporate your granny panties seamlessly as if they were another article of clothing. Using them as a contrasting piece in a monochrome outfit will help elevate them into another chic layering piece. Play with contrasting colors to emphasize your granny panties in a way that is both chic and modern. Use prints or bold colors to play against a neutral outfit for an extra pop of color that no one will expect.
Subtle but chic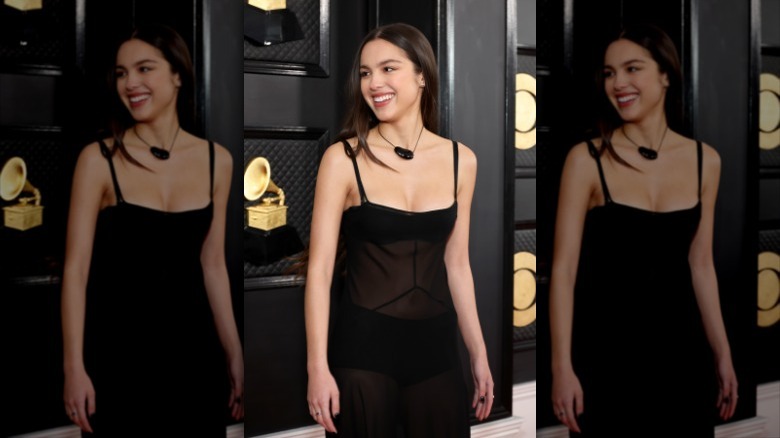 Amy Sussman/Getty Images
Emphasizing your underwear to the world may not be your go-to way of easing into the trend, however, you can also opt for subtly adding them. Instead of using them as a pop of color, play with sheer and solid fabrics to add subtlety to your granny panties. With trends like 'no-pants' becoming more popular, use this opportunity to add a matching color underneath your tights for an ultra-chic and trendy look. You can also wear a matching sheer skirt with granny panties underneath to showcase both trend pieces without feeling too exposed.
Make it feminine and fun
Granny panties get their name because they have always been considered an older woman's choice in an undergarment. Because of this, many granny panties often come in feminine and girly prints and colors. Use this opportunity to add some playfulness to your looks, especially during the spring and summer seasons. Create ultra-feminine looks and aesthetics in your outfits by going with your classic baby pinks and blues. Play up this trend by embracing what it means to wear granny panties.
Play with fabrics and textures
Along with colors, there are plenty of options when it comes to granny panties. Since more brands and companies are leaning into the trend of comfort and style, more designs and options are being released. While we are typically used to seeing cotton granny panties as the norm, other fabrics like satin are being released to help elevate your undergarments. Along with fabric choices, you can also add details such as bows or frills to your granny panties, to give them a more stylish look.
Amplify your sheer pieces
Along with granny panties, sheer clothing pieces are becoming one of the staple trends of 2023. As we've already explored, sheer skirts are one way you can incorporate granny panties, by matching their colors and creating a cohesive look. However, another way to make a statement this year is by using your sheer piece to amplify the look of your granny panties. Instead of a matching color, opt for a different bold color for a contrasting look. Sheer dresses and skirts are the perfect outer layer to display your bold granny panties and confidence.
Match your outfit pieces
If you are a fanatic of monochrome pieces, matching your granny panties to your top or bottom is a no-brainer. With your granny panties, you have a third layer available to create a head-to-toe monochrome look. Use this opportunity to match your underwear to either piece or both, for a bold statement look. This styling would best serve by matching your top and granny panties as they would give a great contrast to your bottoms. Whichever way you plan to match your pieces, the key is to wear them with pride and confidence.