Net-A-Porter Predicts The Fashion Trends That Will Define 2023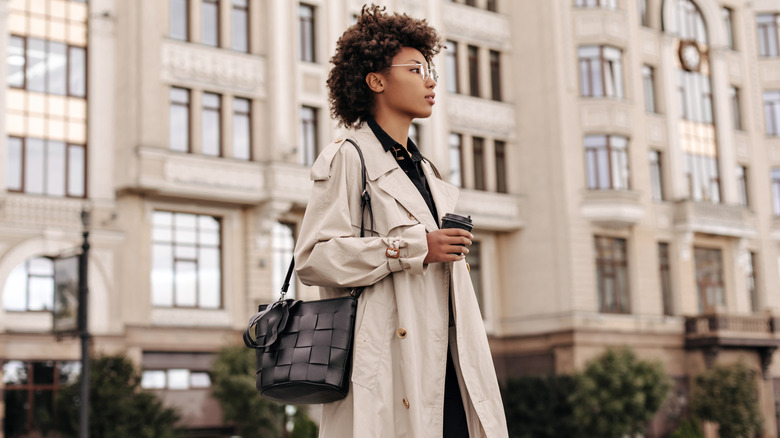 Sun Shock/Shutterstock
Net-A-Porter has been curating and selling designer fashions online since they were founded over two decades ago, so it's clear that they know a thing or two about upcoming trends. Each year, they release a collection of themes and items they expect to take over in the following months based off what's been making repeat appearances on the runways. Last year, the brand's selections included sharp tailoring, miniskirts, modern Y2K aesthetics, and bold colors, but this year, there's a whole new group of fresh picks they expect to hit shelves and take over our social media feeds throughout 2023 (via Net-A-Porter).
This year's trends showcase two contrasting sides of fashion — both fun, maximalist glam, and subtle, understated luxury — all with a bit of a vintage inspired twist. Keep reading to find out what the popular retailer is predicting for the new year, and learn how you can incorporate these fresh trends into your everyday looks.
Vintage '90s grunge
Women's '90s grunge styles were marked by a mix of edgy accents and feminine silhouettes, and after the rise in popularity of utilitarian details on runways, Net-A-Porter is predicting a resurgence of this iconic era. Expect to see slip dresses paired with chunky boots, lacy tops contrasted with cargo pants, and oversized menswear thrown over an otherwise skin-baring outfit.
This isn't the first time we've seen this flash from the past dominate store shelves. The early 2010s were awash with homages to this popular look — think flannels tied around the waist, tattoo choker necklaces, and distressed tights under denim shorts — but this trend is being revamped for 2023 with more military-inspired and utilitarian accents. If you're looking to try out this look with pieces you already have, just swap the high heels for platform boots on your next night out, or try pairing a going-out top with something more fit for military service than the club. The '90s was an era that prioritized high-quality basics, so it should be fairly simple to pull off this trend with your own wardrobe.
Understated luxury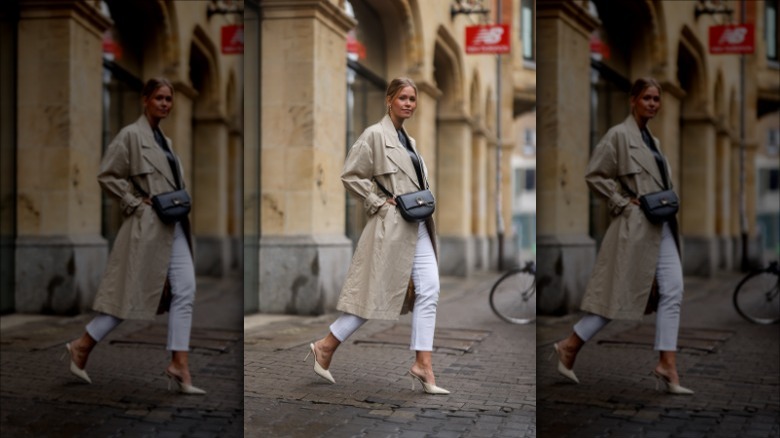 Jeremy Moeller/Getty Images
When you think of luxury brands, the first thing that might come to mind is a flurry of iconic logos. This year, however, Net-A-Porter says we'll likely see more subtle flexes than head-to-toe branding. Instead of buying designer for the express purpose of flashing a brand name, many people are instead investing in high-quality, simple picks from luxury brands that whisper rather than scream.
While a large portion of this trend is likely just an attempt to avoid looking "tacky," it could also mark the beginning of a more sustainable approach to fashion. Understated luxury prioritizes impeccable tailoring, classic silhouettes, and quality construction, so, instead of buying a more expensive piece just to show off a brand name, people are making investments that will last them for years to come, even through the constantly-evolving trend cycle. This movement obviously focuses on luxury brands, but prioritizing quality pieces can apply at any price point. Instead of buying five trendy tops from a fast-fashion retailer, consider taking a more slow-fashion approach to your wardrobe. You might even save a few bucks in the long run.
Florals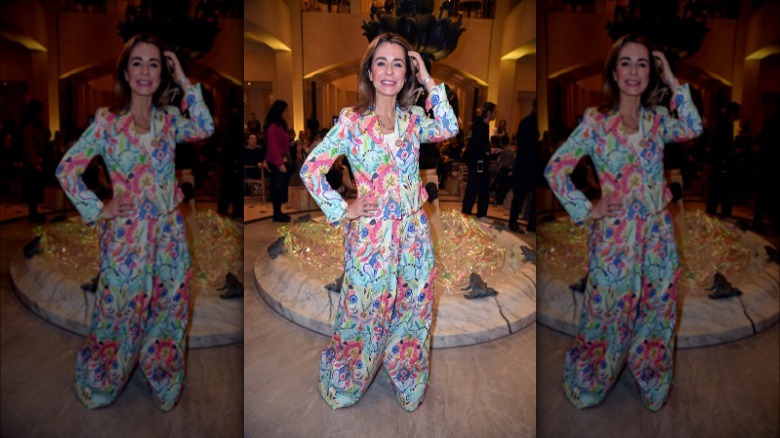 Tristar Media/Getty Images
A simple floral print is something that will never go out of style, but this year, Net-A-Porter predicts that this springy look will come back in a big way. Runways were awash with head-to-toe flower patterns, botanical accents, and even the occasional three-dimensional adornment, and this year's designs were proof that florals for spring can be groundbreaking. Take that, Miranda Priestly. 
Instead of teeny-tiny daises or structured, wallpaper-like patterns, however, most designers took a more abstract approach to the traditional floral print, opting for something that more closely resembles paint strokes or watercolor instead. While an entirely floral suit might be a bit busy for your day-to-day look, you can expect this trend to show up in a variety of intensity levels, from a simple sweater all the way up to garden party-ready red carpet looks. Try out a patterned take on the evening gown for your next big event, or take it more literal with a floral choker, pulled directly from your early aughts prom inspiration photos.
All black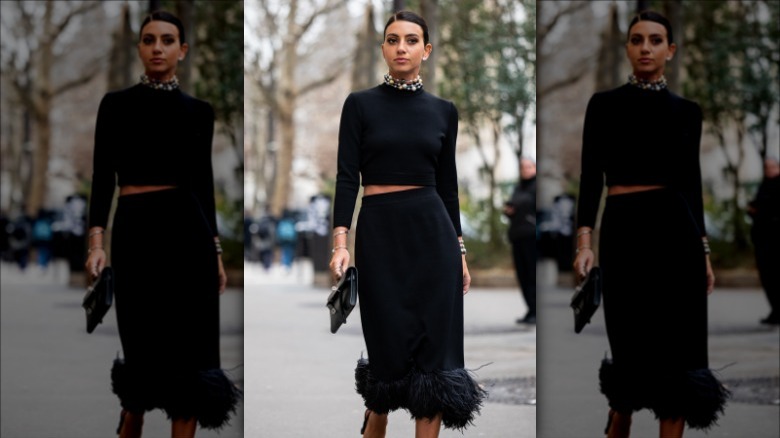 Claudio Lavenia/Getty Images
If you're not ready to give up your moody wardrobe in favor of more breezy colors once summer weather starts rolling in, you're in luck. Net-A-Porter is predicting a rise of monochromatic black looks this summer, lending a classic, sleek quality to even the most casual pieces. All black everything is one of the easiest looks to pull off, so it makes sense that a trend this simple will catch on in the coming months.
Unless you're a true devotee of the vanilla girl aesthetic, you likely have a solid collection of black in your wardrobe. Sticking to one color gives you more freedom to play with silhouettes and unique pieces while still looking cohesive, so go wild with your look. If you're afraid of your outfits looking too matchy-matchy, try mixing a variety of fabrics and textures to break it up a bit. Pair a satiny top with something heavier like denim, or, once temperatures begin to peak, try out linen and mesh accents to keep you cool, even while you're wearing a darker color.
Sequins, glitter, and crystals
Understated luxury and more simple pieces might be trending, but that doesn't mean we're sacrificing glamor. According to Net-A-Porter, sequins, glitter, and jewels dominated fashion week, and looks ranging from shimmery bags to head-to-toe bedazzled gowns made their mark as they sparkled down the runway. Adding a bit of glitz is no longer limited to special events or New Year's Eve — bring that prom-ready metallic purse to the grocery store, too.
This look is obviously easiest to style in a party or holiday setting, but it can also act as a great way to break up an otherwise-simple or monochromatic look during the day. Start slow with a few accessories if you're not quite sold on the look yet, or go all out with a bold sequined dress, à la Hannah Montana. It's easy to get stuck in a fashion rut and start dressing out of necessity, but something as simple as a shimmery shoe could be just the dose of extra fun you need.