5 Shoulder Bag Trends You'll Want To Carry With You Everywhere In 2023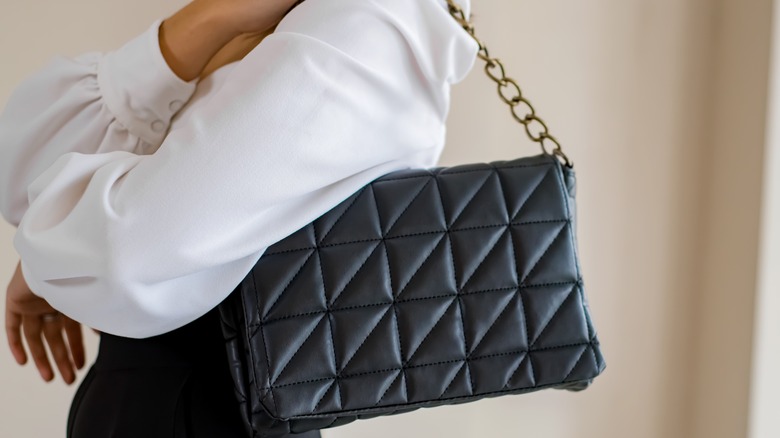 Chernova Yuliia/Shutterstock
Your outfit is only as good as your accessories. It's a known fact that fashion accessories can elevate or ruin your look. That's why it's essential to pick out your must-have accessories carefully. The shoulder bag is one of the best accessories you can add to any outfit. Even though there are various bags to go with your looks, the shoulder bag is super on-trend, popular partially due to the Y2K and the early 2000s comeback in fashion. 
Not only is the shoulder bag a fashion-forward statement, but it's a practical accessory that you can carry with you anywhere. Although practicality might not be the first thing you concern yourself with when thinking of fashion trends, it's recently become a requirement for consumers. Kendall Becker, a fashion and beauty trends editor at Trendalytics, tells Byrdie, "Last year was certainly a year of celebration as our rejuvenated social calendars and bucket list trips were top of mind. Looking forward to 2023, there's a notion of familiarity in the air once again, as normalcy and a sense of routine settle in, all of which calls for practicality in the way we dress." So while these shoulder bag trends might seem bold in some cases, they're the perfect way of dressing up your day.
Beautiful and bold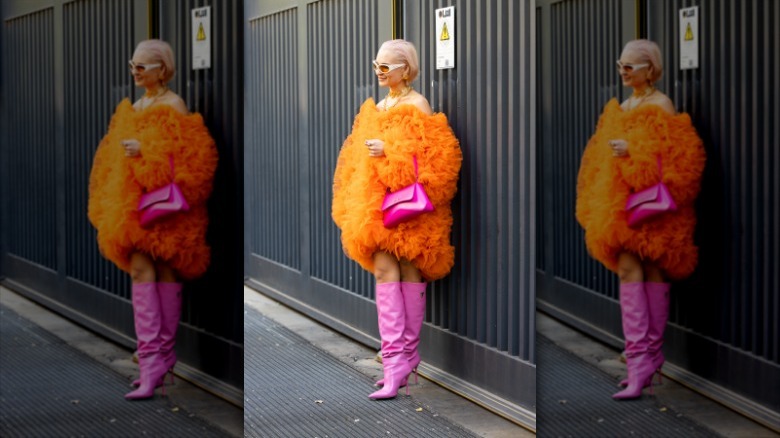 Valentina Frugiuele/Getty Images
While everyone is still on board with dopamine dressing, now is a great time to invest in a bold, vibrant shoulder bag. Some key colors for shoulder bags include rich citrus colors like orange and green. Even if color isn't in your wardrobe, a stylish bold shoulder bag is the perfect way to inject a pop of color into your outfits this year. Typically, it can be risky to splurge on a trendy color, but in 2023 it will be all about these magnetic hues. Colors like bright pink and green have also been noted as trending winter and spring hues, meaning you can use these colors year-round.
Baguette bag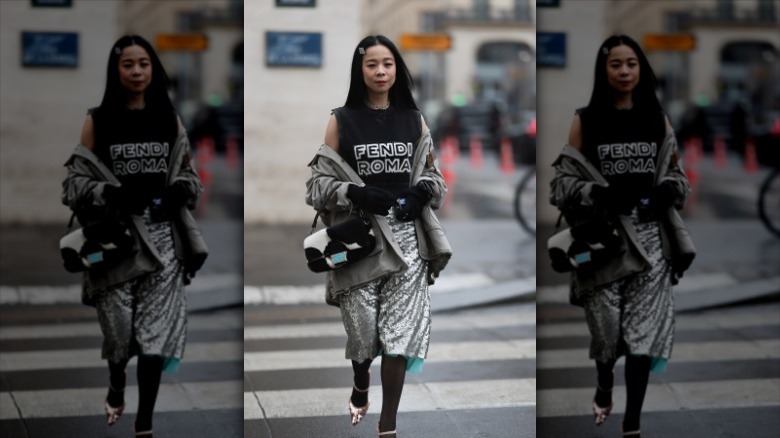 Jeremy Moeller/Getty Images
There was no bag as iconic in the '90s as the baguette bag. The baguette bag has come a long way since its first appearance in fashion. While they might not be able to hold everything you could in a tote, they're a stylish way to hold the essentials. Fashion content creator Chloé Allain showed off via Instagram how her classic YSL baguette is the perfect mix of Y2K and modern. While you don't need to go as high-end with your pick, newer baguette bags will still give you a sleek design with a retro style.
Oversized shoulder bag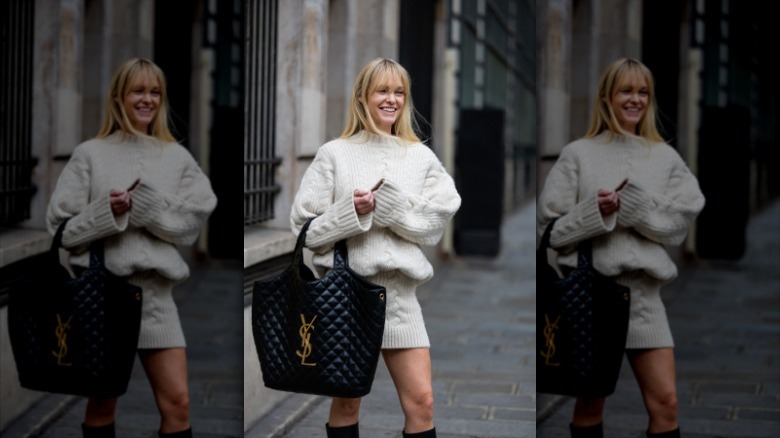 Christian Vierig/Getty Images
Although it may seem like a juxtaposition, the oversized shoulder bag is everything practical fashion should be. While we usually see shoulder bags in smaller sizes, one of the recent trends calls for an exaggerated size. These larger sizes can help accommodate those who might need to carry more items, but still give the chicness of a shoulder bag. A large shoulder bag might be a better option than a tote since a shoulder bag rests under your arm, something the tote bag cannot do. The oversized shoulder bag gives you better access to your items without sacrificing space.
Chain straps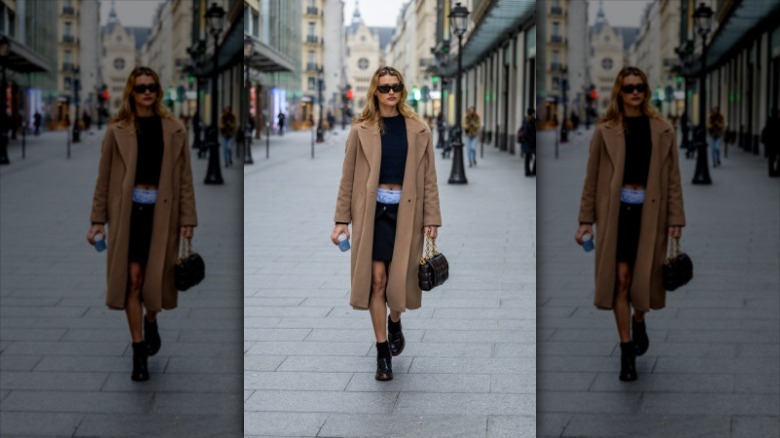 Christian Vierig/Getty Images
When it comes to what hardware you should add to your shoulder bag, you can't go wrong with a chainmail. Chains are the new go-to strap for your shoulder bag since they can add a bit of edginess and glamour to your accessory. Like fashion influencer Chloe Rose showcased on Instagram, the classic Chanel flap bag is the perfect example of how this combination will never fade in style. This small detail of metal can help add another layer and texture to your look, making it more sleek and modern.
Minimalism mania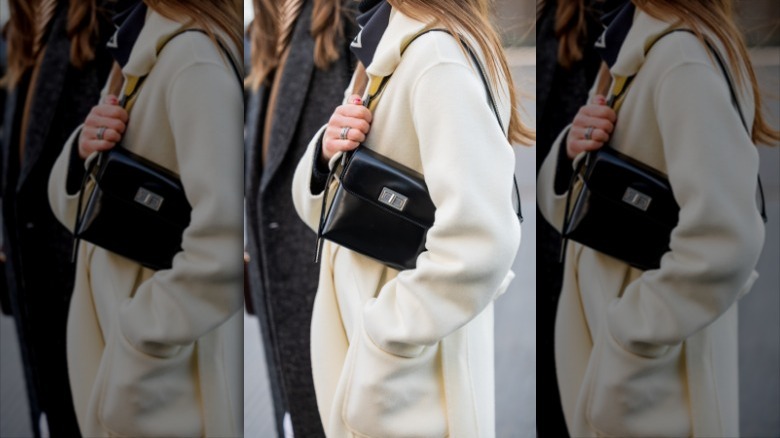 Christian Vierig/Getty Images
Even though many fashion trends call for over-the-top styles, there's still something to be said for a sleek and minimalist design. That's why one of the latest shoulder bag trends is all about sticking with the bare minimum. Minimalist shoulder bags have no prints or logos. The hardware is also kept subtle in gold or silver. With few or no added accessories, this shoulder bag trend is about keeping it basic. Derived from workwear attire, this type of shoulder bag can work for any errand or event you may have. Its flexibility and practicality mean that it can go with any outfit and elevate your look.