Tips To Build A Wedding Registry Of Items You'll Love Long-Term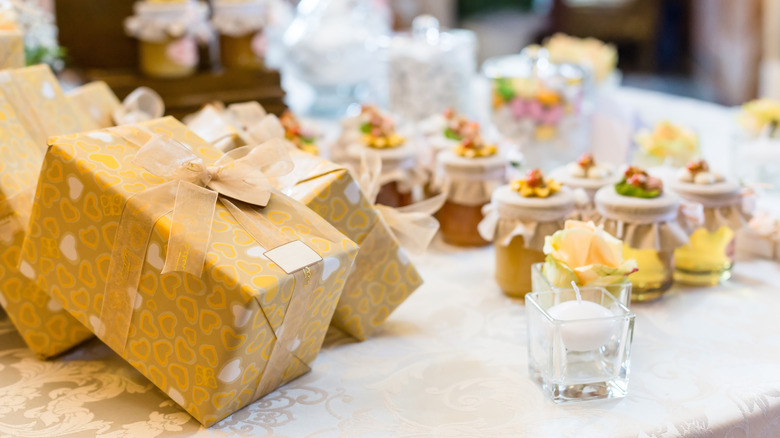 Eli77/Getty Images
Love is in the air and the ring is on THAT finger. Before the wedding details are even close to finalized it's time for one of the most enjoyable nuptial chores of all — setting up the wedding registry. Although it might seem a little money-grabby to some, registering is actually something of a service to guests, as well. It takes all of the guesswork out of shopping, and allows them to select a gift that you'll definitely use and enjoy.
Advertisement
Now that pretty much all shopping is done online, it's also a simple experience, as the gift can be selected, wrapped, and delivered from the comfort of the giver's home, no excursion necessary. In fact, according to a recent survey by The Knot, 84% of couples set up wedding registries, a significant chunk of the U.S. wedding industry, which is valued at $70.3 billion, per IBISWorld. Now that the world at large is hopefully bouncing back from the COVID-19 pandemic, it's likely that number will only continue to grow.
Hone your registry options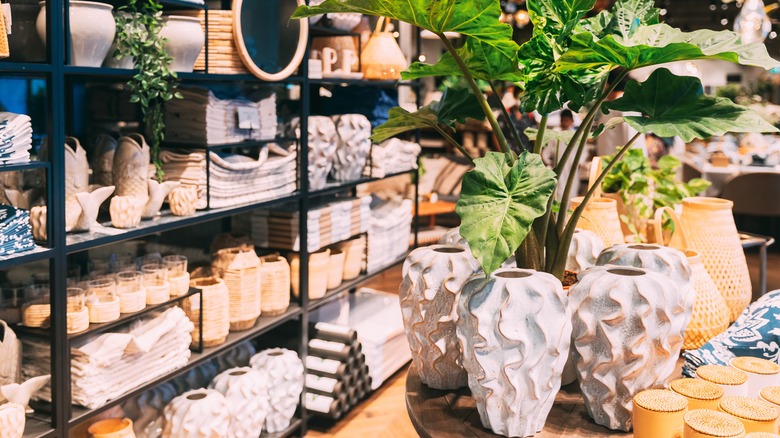 Grisha Bruev/Shutterstock
In the nearly 100 years since retailer Marshall Field's (now Macy's) created the very first known bridal registry in 1924, things have changed a bit (via Washington Post). Betrothed couples used to have to haul to their store(s) of choice to select items to include on the registry. These days, much of the process is handled online. Whereas it used to be the norm to have multiple registries at different stores, the practice is shifting toward all-in-one registry options. For example, Bed Bath & Beyond, once a juggernaut of the registry industry, saw its market share decline to 30% in the fourth quarter of 2021, while Amazon's piece of the pie ramped up to 45%, per Business Insider.
Advertisement
Each couple's registry needs vary, however, so take a look at what you're hoping to get, and select registries accordingly. This may be an all-in-one option like Amazon, or a service like Zola, which allows couples to link multiple registries and also offers a zero-fee cash gift option (not to mention free shipping, which is often why people lean toward Amazon). Or, maybe you want to kick it old school and register at Target, The Home Depot, and Crate & Barrel individually. The choice is yours. Options, as they say, are always a good thing.
Research for the best items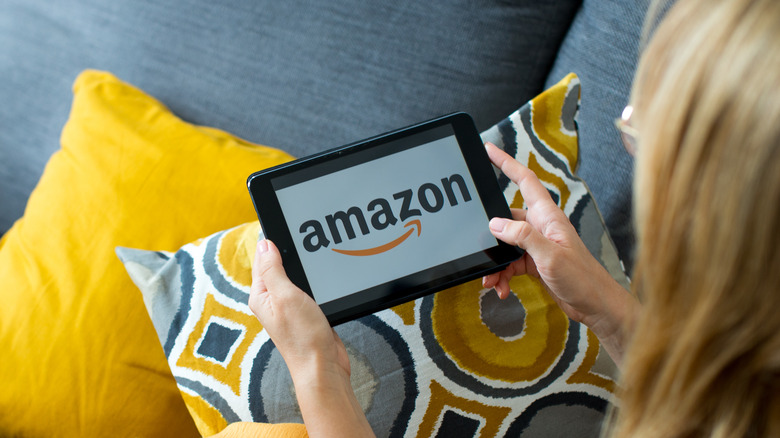 Quisquilia/Shutterstock
It's never been easier to get real-time reviews on just about every product out there. Sure, some of the testimonies might be bots or paid for, but a lot are legit. So if you're torn about which sheets to register for, or aren't sure whether a pricier version of a product is worth the extra dough, dig around a little to find out what people really think.
Advertisement
Consumer Reports is a tried-and-true favorite for product reviews, however there is a $10 monthly service charge, which can be canceled at any time. Then, of course, there's Amazon, which usually has thousands of starred ratings plus comments on popular products. Even if you're not registering there, it's worth a look to see what people think about the items on your list. And of course, poll like-minded friends and family for their input. If you're a whiz in the kitchen and your mom's expensive stand mixer is still whirring after 30 years of use, it probably does merit inclusion on the registry. If you're more of the takeout and bakery type, maybe pick a less expensive hand-mixer version (or none at all).
Advertisement
Keep pricey pieces neutral in color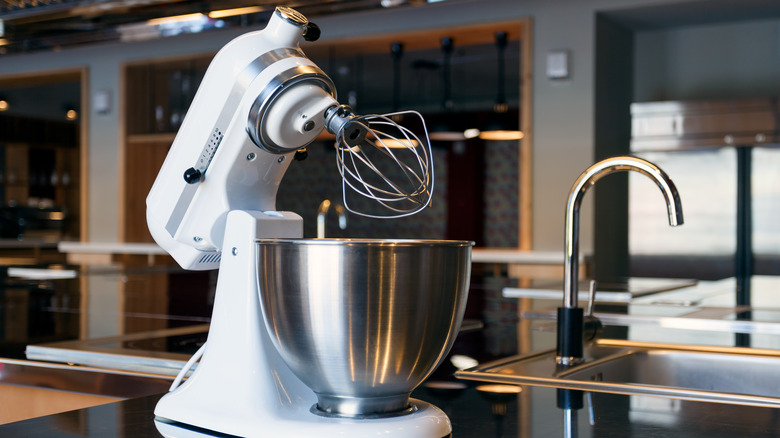 Everyonephoto Studio/Shutterstock
The idea behind wedding registry items (especially the expensive ones) is that you'll have them for many years to come. So resist the urge to choose a kitchen appliance in a shade that might not mesh well with all decor and styles over time. Sure, a baby pink air fryer is adorable, but if you move or otherwise remodel, such a hue will stick out like a sore thumb. Think along the same lines with other big-ticket items, like rugs, artwork, side tables, and such. Speaking to Brides, Rachel Zoe of The Zoe Report recommends keep these in shades like taupe, black, gray, white, and beige so that they have the most longevity possible.
Advertisement
Instead, add pops of color with accent pieces like throw pillows, kitchen canisters, and table lamps. These can be moved around the house or apartment with ease or otherwise replaced if your personal style changes, at little expense to you. No one's saying you have to keep absolutely every registry item until the day you die, but the most expensive pieces should last a decade or two, ideally.
Include items at all price points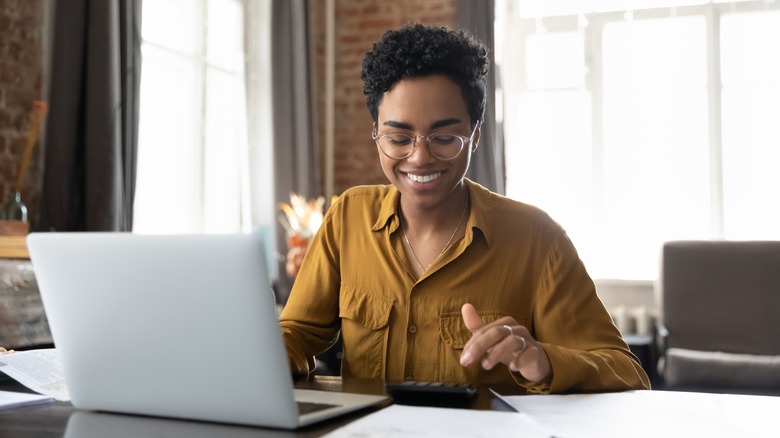 fizkes/Shutterstock
Your nuptials are likely to be a coming-together of all types of people. So make sure the registry reflects their varying budgets, as well. The Knot says that the average amount spent on a wedding gift was $120 in 2019, but that number varies widely depending on the relationship the guest has with the betrothed, as well as their personal means. Grandma is more likely to drop big bucks, for example, than that co-worker who just joined your team. 
Advertisement
Make sure that everyone can pick out a quality gift by registering for a wide range of items starting at around $25. Be sure to include some higher-end options for those loved ones who really want to start your marriage off with a luxe gift (but maybe don't be surprised if all of those aren't purchased). By providing a wide range of registry items you're giving guests the flexibility to work within their means, especially since they may also be budgeting other wedding-related expenses, like travel or evening wear.
Be practical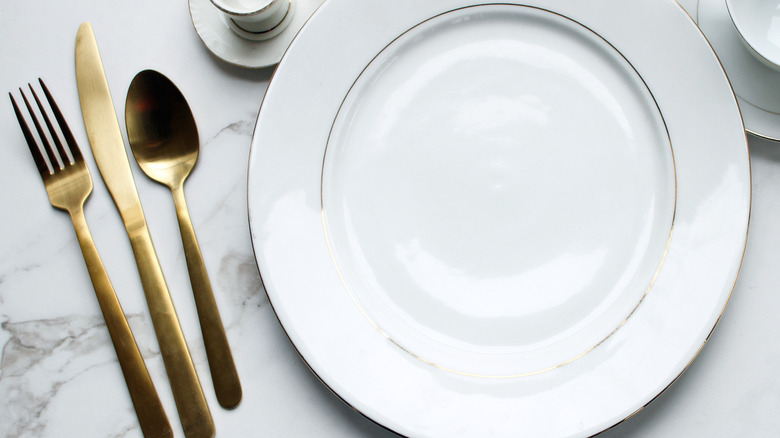 Michelle Patrick/Shutterstock
Most households have similar needs, like sheets, towels, kitchen items, and so on. Start with a standard checklist and work through those, but don't succumb to pressure to replace perfectly good stuff. For example, if you've been living with your betrothed for a couple of years and have like-new silverware, skip that on the list.
Advertisement
Also, if you don't ever see yourself hosting a formal dinner then refrain from registering for the traditional china and crystal standard, which are well-known dust-collectors. Odds are that your parents will try to gift you theirs down the line, anyway! Along the same lines, don't register for possible future scenarios, either. If you don't have room or a use for something now or in the VERY near future (as in, you're moving into a larger place imminently), leave it off the list. Few newlyweds have a huge amount of space to work with.
But also have some fun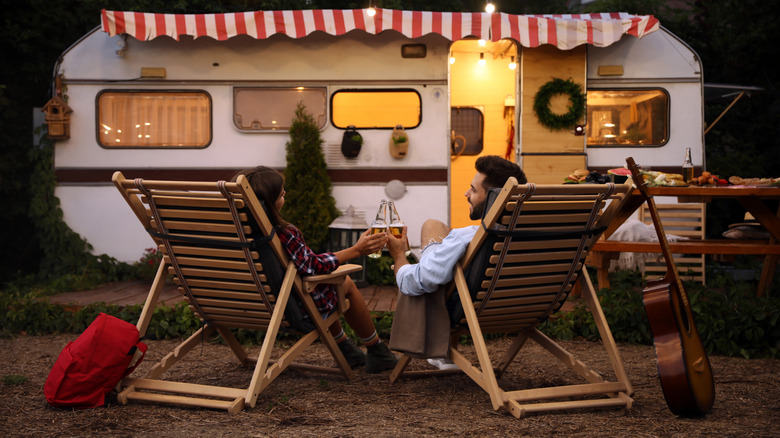 New Africa/Shutterstock
The beauty of so many registry options is that a couple can really embrace their personal needs and interests. The couple who loves to camp, fish, or otherwise be outdoorsy, for example, can register for everything from new tents to fishing poles or a kayak. Or, kitchen wizards might opt to make those items extra swank, like high-end knives, mixer attachments, or a name-brand Dutch oven. Amateur mechanics or woodworkers can include tools and/or materials on their wish list. Clothing, hair and shaving appliances, and other such items are showing up more and more. A wedding registry doesn't have to be all about boring old table linens and towels. In fact, since many couples live together prior to marriage these days, they often have those staples already. So the perfect way to fill a registry is by considering wants, in addition to needs.
Advertisement
Many couples these days also include a cash option to help them foot the bill for the honeymoon, future renovations, or even the wedding itself. This is another way to have fun with the gifting process, especially if storage space is none too plentiful.
Practice regular registry maintenance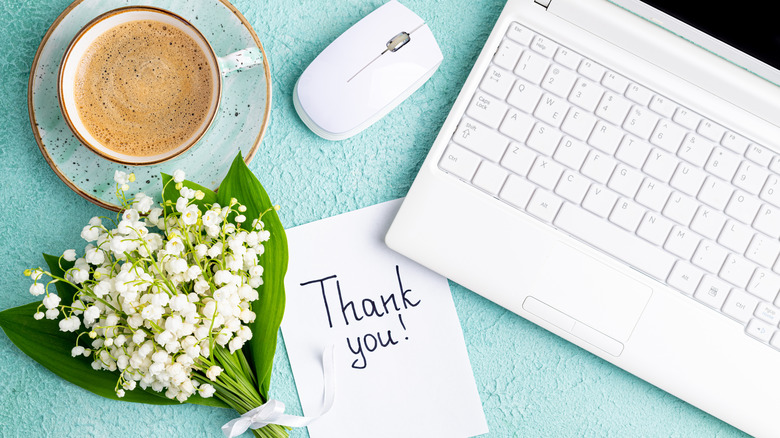 LanaSweet/Shutterstock
It's not unusual for there to be a year or two between the engagement and wedding. Regularly visit registries and refresh or add items. It's better to have too many good choices on your registry list than too few. If 150 guests are invited, register for at least that number of gifts. If you get closer to the day and notice that only very expensive items are left, add some more at the lower price point. Don't forget to check the registry in the days after the event, as many people wait until the marriage is finalized to send gifts.
Advertisement
Above all else, remember to maintain your friendships and family relationships by sending simple thank you notes in a timely fashion. Nothing is legally requiring them to celebrate your big day, so any gesture, be it travel, a gift, or both, is coming from the heart. Be sure to include details on how you plan to use the item, so they know that you really appreciate the effort and expense.