The Easy Graphic Liner Trick That's NYFW Runway-Approved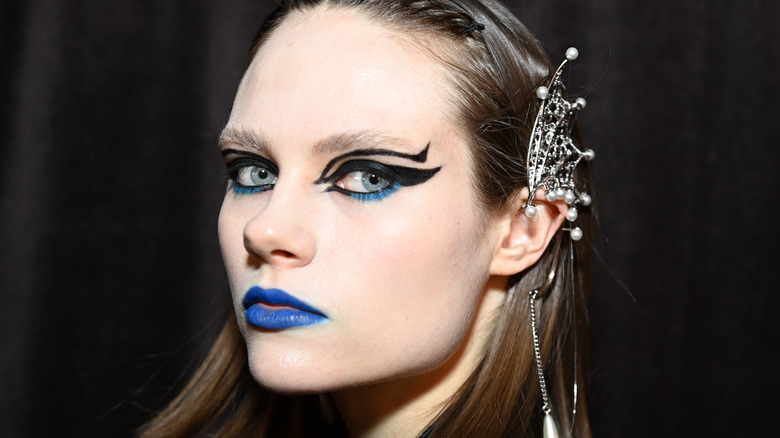 Dave Kotinsky/Getty Images
If you love graphic liner, you aren't alone. A look that seems to take winged liner to the extreme and gives you the opportunity to play with a wide range of designs, this is a trend that's been around for longer than you might have realized.
"Graphic eyeliner has made many appearances through the decades, traced all the way back to ancient Egypt," makeup artist and director of artistry and education at Kevyn Aucoin Beauty Nick Lujan told Glamour. However, there have been numerous instances in pop culture that have boosted the popularity of the look since then, including Twiggy in the 1960s, and modern TV shows. "'Euphoria' has inspired a lot of makeup trends recently with its use of color, glitter, and graphic eye shapes, but the beauty TikTok community has also made graphic eyeliner a big trend, allowing people to have fun with eyeliner," global makeup artist for Urban Decay Cosmetics Steve Kassajikian explained to the publication.
Meanwhile, brand trainer at Code8 Sasha Ghodstinat emphasized the widespread appeal of the look: "From the catwalk to movies to everyday makeup, graphic eyeliner allows you to experiment with your makeup and look by using striking colors and geometric shapes to make your eyes the focus." 
That's definitely why you may have spotted graphic liner on the runway during 2023's New York Fashion Week. You may also be interested in how you can capture this look for yourself. Fortunately, there's a simple liner hack that can help you do just that.
Trace over a pre-drawn shape for your graphic liner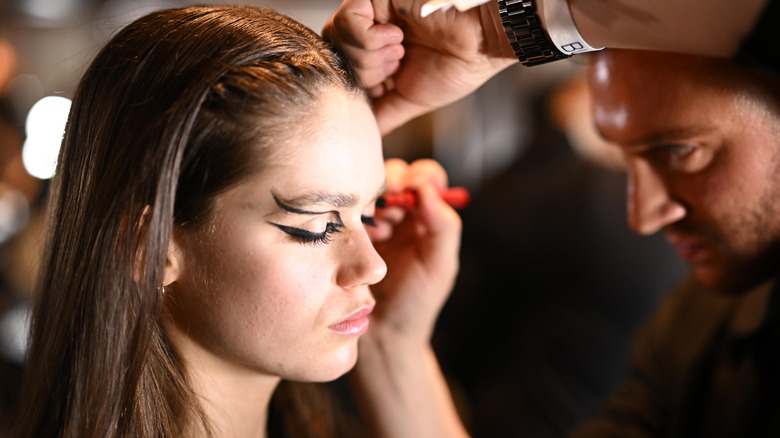 Dave Kotinsky/Getty Images
The Rodarte Fall 2023 Ready-to-Wear fashion show featured models in striking makeup and while you might be interested in trying it out for yourself, there's one reason why that might not be a straightforward task. "People are usually asymmetrical, so getting the balance right, sometimes you have to adjust and all of that," the makeup artist behind the look, James Kaliardos for Nars, told Fashionista.
To address that issue as well as achieve the sharp effect that's necessary for the look, Kaliardos and his team first used a brow pencil in a light shade to draw on the desired design. Next, they would do the lines again with a darker and more intense liner. Apparently, a liquid liner will do the trick. Kaliardos admitted, "I've never done that — I've always free-handed every eyeliner look I've ever done, so I was kind of like, 'Oh, I didn't even know you could do that,' but it makes sense."
If you want to take the look a step or two further, you can add a few more details that are inspired by the Rodarte show.
How to enhance graphic liner with your look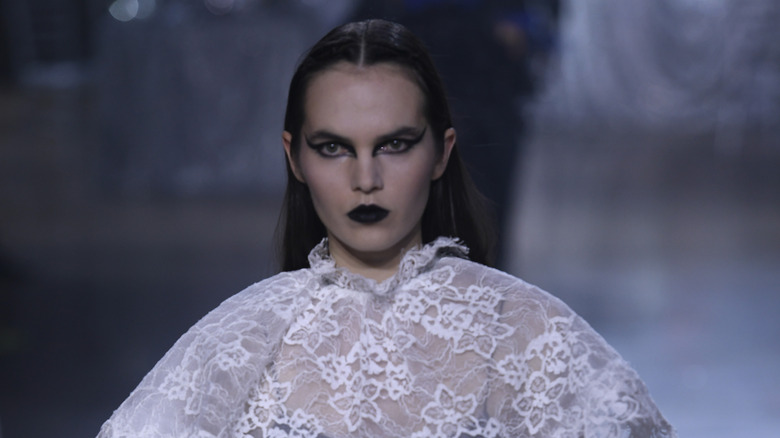 Fernanda Calfat/Getty Images
When the models sauntered through an elegantly decorated room during Rodarte's 2023 New York Fashion Week show, their eye makeup was just one aspect of a look that would suit none other than Wednesday Addams. That is, if she were in the mood to dress up and bust a move as she famously did in the Netflix series. 
If you want to try out this look for yourself, you can start with the graphic liner trick. From there, you can imitate the Rodarte models by adding dark lipstick and wearing hair extensions that are both long and straight as well as parted in the middle. If you prefer a full-on wig, then you may want to opt for something dramatic, like one that's a midnight black or deep scarlet shade. As for your outfit, allow yourself to be inspired by Victorian fashion — think long gowns, lace-filled ruffles, and extravagant embellishments — but feel free to put a modern spin on the overall ensemble. Finally, don't forget to pop on a few accessories. Perhaps a whimsical ear cuff, vintage necklace, and even a top hat or bonnet.
While that might sound like a lot, don't worry about going overboard. Thanks to the dramatic nature of your graphic liner, it will only be enhanced by each addition you make.