A Makeup Artist's Easy Hack For A Perfect Winged Liner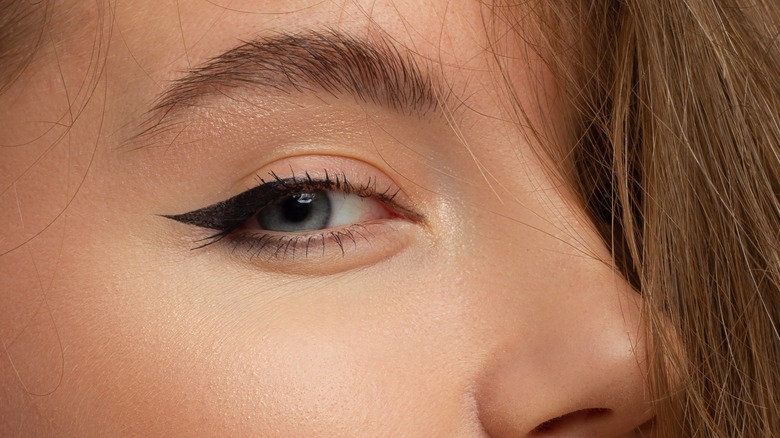 Shtennikova Evgenia/Shutterstock
No matter how creative you might get with your eye makeup, there is one detail that's a major feature of almost every look: the perfect winged liner. Adding a wing to your eyeliner can help draw more attention to your eyes and add even more style to your makeup look. The purpose is to enhance the eye shape. A versatile technique, the wing can be bold and dramatic or sexy and sultry. Regardless of the look you're going for, though, it's important that the two wings are symmetrical — which can be hard to achieve when doing your makeup yourself. The key is knowing your eye shape and knowing the right technique.
Advertisement
Krysta Lewis is a makeup artist and founder of Aisling Organics, a high-performance and organic makeup line created by a holistic esthetician and professional makeup artist. With a focus on both purpose and profit, Lewis was inspired to launch Aisling Organics when she realized unregulated chemicals in our cosmetics were causing chronic illness and there were no effective alternatives on the market. As a makeup artist, she knows how to create the perfect wing, and you can use her tips to make your wings bold, sharp, and sexy.
Create the bottom line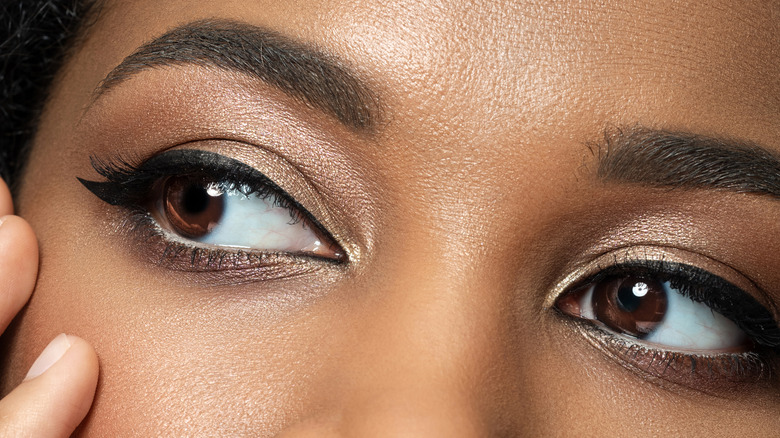 ldutko/Shutterstock
You'll want to start with a guide on both eyes. "Draw a line with a thin liquid eyeliner from the bottom of the lash line about half an inch out heading towards the tail of your eyebrow," says Krysta Lewis. "Complete on both sides and ensure the angle is the same on both eyes." You may want to consider the shape of your eyes when creating a winged eyeliner look. For example, upturned eyes may want an angle that highlights the outer corners, says Ipsy, while downturned eyes would want to lengthen and lift the eye, so you may have to have a sharper increase on the outer corners.
Advertisement
As you get more comfortable with drawing your eyeliner, you can play around with the style, creating larger and bolder wings to pair with your eyeshadow. Larger wings typically start with a longer bottom line. In general, you'll probably want to stop the liner before it passes your eyebrows to keep the whole makeup look proportional to your features.
Complete the outline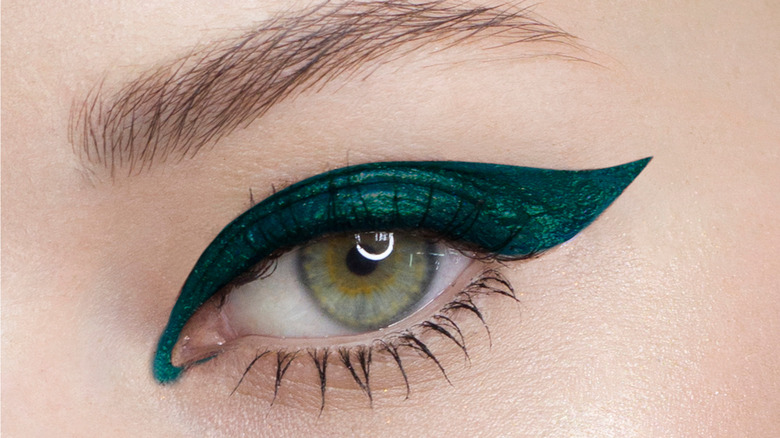 Shtennikova Evgenia/Shutterstock
Next, you'll want to draw the triangle that creates the winged look on the island. "Connect the end of the bottom line to the top of your eyelid," explains Krysta Lewis. "You can either stop there if you want a more natural look or continue lining the eyes until you reach the inner corner of the eye. Again, complete on both sides and ensure they look symmetrical before proceeding." Whether you take the eyeliner to the inner corner, center of the eye, or the outer corner, you'll want the line coming off the wing to taper off, so it doesn't look like it abruptly stopped.
Advertisement
Creating this top line of the outline is also where you'll create the shape of the wing. It can be long and narrow or larger and bolder. Here's where you can get creative with graphic lines or eyeliner that follows the top curve of the eye. Don't be afraid to try new shapes and unique styles.
Fill in the outline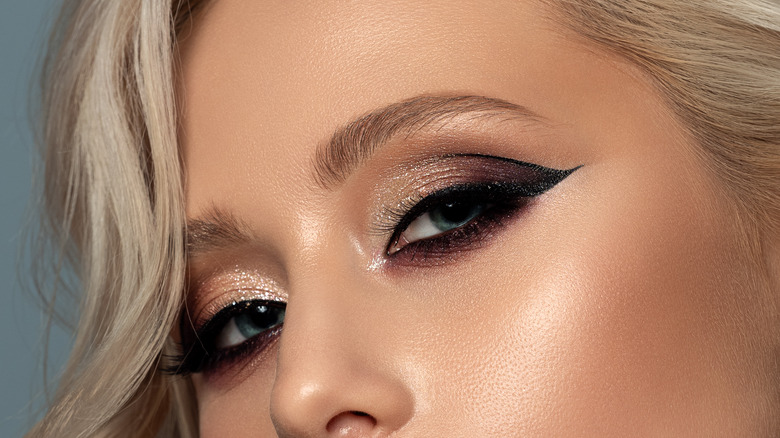 ldutko/Shutterstock
With the shape of your eyeliner outlined, you'll next want to fill the wing in. "Fill in the outline: Use your liquid eyeliner to fill in the shapes you just created," says Krysta Lewis. Using a liquid eyeliner or a fine-tipped eyeliner pen will give you a more solid look. But using an eyeliner pencil can make it look more smudgy and smoky. The look you want will help determine the tools to use. However, using a liquid liner or fine-tipped eyeliner pen provides clean, crisp lines that can be easier when first learning how to create eyeliner looks.
Advertisement
You don't have to stop at filling in the wing. Lewis suggests, "To add more definition to the eyes, continue lining the bottom until you reach the middle of the lash line." Lining your eyes helps to connect the wing and gives you a bolder and more sultry look. You can also carry the liner all the way to the other corners and connect the top and bottom at your eyes' inner corners.
Complete the look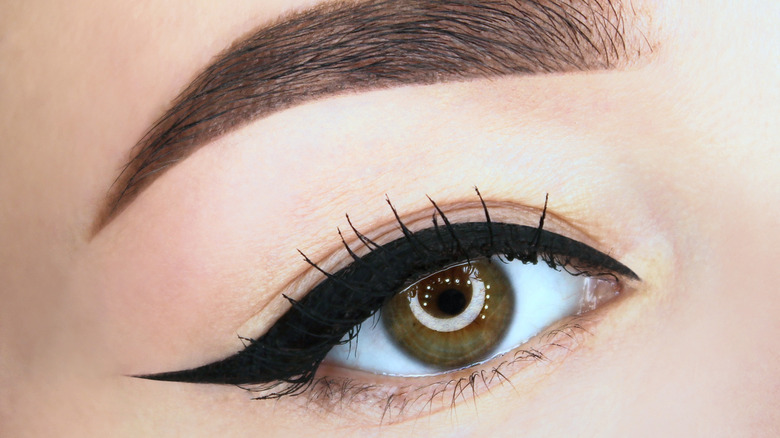 Donec Natalia/Shutterstock
You don't want to stop at doing a winged eyeliner for your makeup look. Krysta Lewis explains how to finish an eye look. "Curl your lashes and apply a deep black and voluminous mascara to add to the drama you created." Curling your lashes gives the appearance of elongated lashes by making them point upwards rather than out. Adding mascara on top will make them look longer and fuller.
Advertisement
The trick to bold lashes is all in the mascara wand. Use a thick brush for curled lashes, or use a spike ball brush to help create volume and definition in small sections. You should also opt for two to three coats if you're looking for something bold and voluminous. But if you want to be more natural, opt for a single coat — or two coats at most. If you want to go even more dramatic, you can apply a pair of false eyelashes. Now look in the mirror at the stunning look you created. "Voila! You did it!"