TikTok Has A Hack For Everything, Including An Easy Way To Apply False Lashes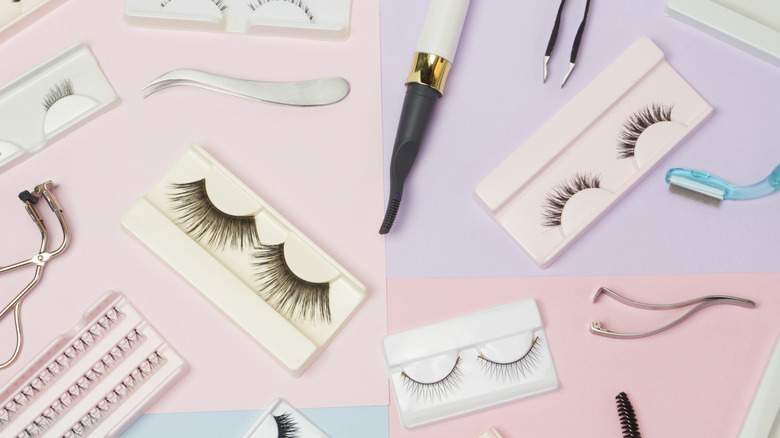 Mimi Lee/Getty Images
When applying false eyelashes, practice makes perfect — until the realization sets in that lash glue dries quickly. Then, applying them can feel more like a race against the clock. There is no shortage of information out there about how to put on false eyelashes. Lash Envy Beauty even has a tutorial aptly titled, "Guide: Why Won't My False Eyelashes Stick?" while BuzzFeed has a piece called, "You Need to Stop Thinking it's Impossible to Wear False Eyelashes."
Luckily, the application process doesn't have to be as much of a hassle as it might seem — and it's all thanks to a viral TikTok hack from creator Adrián Ríos, who shared his full tutorial with viewers. Spoiler alert: This helpful trick doesn't involve much more than most folks likely already have available. In addition to a set of false eyelashes and eyelash glue, it requires eyebrow wax and an eyelash curler. Although Ríos tagged the TikTok video with a reference to drag makeup, the technique is one that could be used for any style of makeup.
Apply fake eyelashes with a lash curler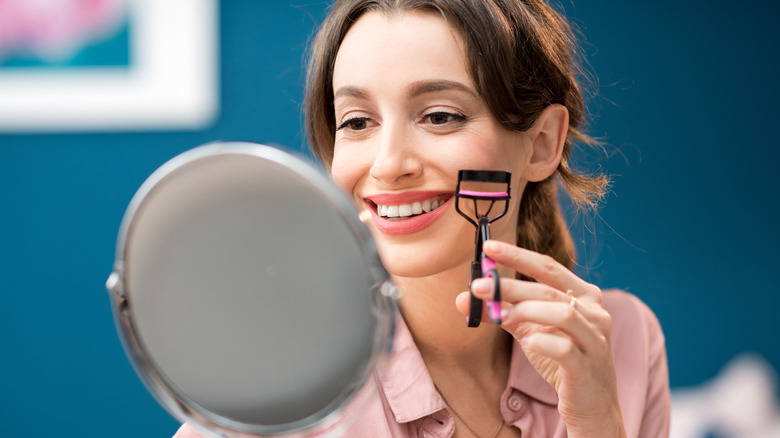 Rosshelen/Getty Images
As Ríos shared on TikTok, there's a much easier way to apply false eyelashes. In just 56 seconds, he walks viewers through the process, starting out with a brow wax that he applies to the lower part of a metal eyelash curler. The point of the brow wax, as Ríos explains, is to hold the weight of the false eyelash when placed on the eyelash curler. After advising viewers to curl their lashes first if they have straight eyelashes, Ríos gets down to business and places a false eyelash on the curler where the metal would normally press down on real lashes.
Ríos cautions viewers to use only a small amount of glue on their natural lashes and then proceeds to place the false eyelash on his natural lash line, saying, "And this is not something you do every day — just on occasion — but basically get it over the lash at the base and give it a good little crimp." That's all it takes. With the benefit of no additional stress, viewers like Klaudia have thanked Ríos alongside their own videos replicating his tutorial.
TikTok users are stunned by the simplicity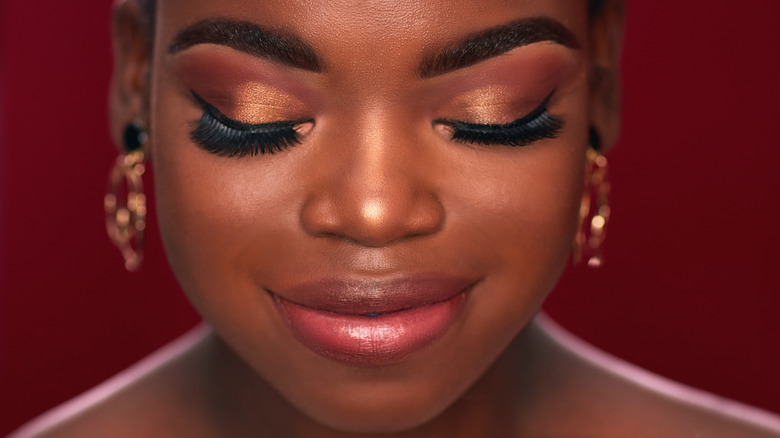 Olesiabilkei/Getty Images
Other TikTokers have also praised Ríos for his eye-opening tutorial. Remarked user Yana in response to his original video, "That looked way too easy. I have to try this right now." Sure enough, Yana keeps recording, follows Ríos' tutorial, and is shocked by the almost flawless end result. Similarly, after following Ríos' instructions, user Maysaa admitted with a voiceover narration, "Okay, guys, I didn't expect it to work."
For those looking to replicate Ríos' technique with the same products, he mentioned in his TikTok video that he used a brow wax from Fenty and eyelash glue, which applies like mascara, from KISS Falscara. More specifically, the product in question appears to be the False Eyelash Bond & Seal from KISS and is available for purchase from Ulta. It can be seen in the first TikTok video Ríos posted about his genius false eyelashes hack prior to posting the full, step-by-step tutorial.