Peekaboo Bangs Are A Versatile Look With A Hint Of Edge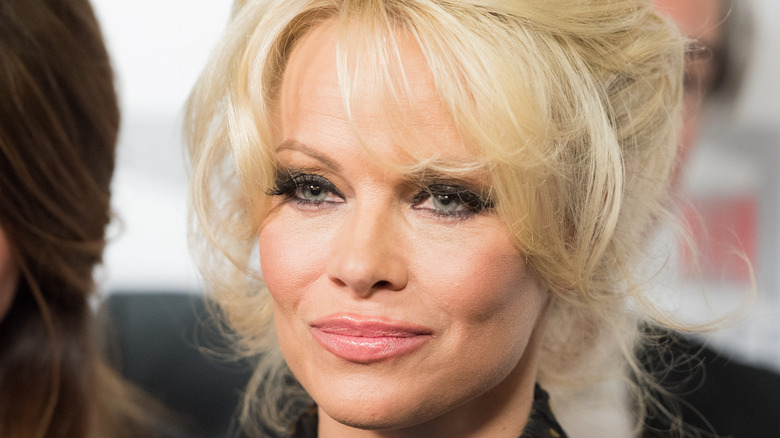 Frederic Legrand - COMEO/Shutterstock
Now is a better time than ever to try bangs, as they're super trendy in 2023. We're noticing people rocking bangs everywhere; this fun, youthful hairstyle is undoubtedly having a moment and is here to stay. But the prominent issue holding bang-curious people back from making the chop is the fear of commitment and maintenance. After all, bangs are typically a drastic change to your face and can take a while to grow out, so if you don't like them, you could be in trouble. Before committing to this hair change, many people want to know what they're getting into.
Advertisement
Anyone considering getting bangs but isn't sure about committing to an ultra-bold change with excessive maintenance should think about getting a peekaboo style instead. "They're noncommittal ... You can wear them up, wear them down, and even push them out of the way if you decide that you don't want to wear them one day," celebrity hairstylist and global creative director for Milbon Anh Co Tran told Glamour. Peekaboo bangs aren't nearly as daunting as blunt full or short micro bangs, so the peekaboo style is excellent for anyone wanting to dip their toes in the bangs pool.
Try the wispy Jenna Ortega look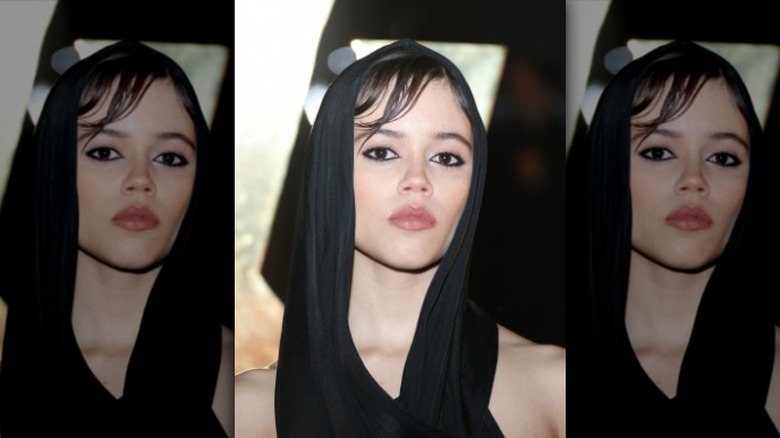 Pascal Le Segretain/Getty Images
The talented Jenna Ortega is the queen of edgy-chic fashion — and the queen of bangs. Ortega inspired many "Wednesday" viewers to wear more black and get bangs, and the actor looks just as striking with her real-life wispy peekaboo bangs as she does with her more intense on-screen hairstyle. So, if Ortega has you feeling the desire to try bangs without too much commitment, consider rocking a wispy look like the actor.
Advertisement
Go for choppy length
As mentioned earlier, peekaboo bangs are your best bet if you don't want your bangs to appear too drastic. This type of bang can add even more dimension to your look when the ends are choppy. The light strands of hair lying over your forehead create a soft style that won't appear overpowering.
Advertisement
Pair peekaboo bangs with glasses
Your eyewear is always something to consider when thinking about getting a new hairstyle. For instance, full, thick bangs might clash with big glasses or sunglasses, drawing too much attention to the top half of your face for an unbalanced look. However, light peekaboo bangs won't interfere with your eyewear and will graze your glasses more naturally. It's even worth wearing glasses purely as an accessory because they pair so well together.
Advertisement
They look great with curls, too
Peekaboo bangs aren't just for people with straight or wavy hair! Light, wispy bangs are an excellent choice for people with curls, as a few dainty curls on your forehead frame your face and create a soft, beautiful appearance. So, why not flaunt a few of your curls as peekaboo bangs?
Advertisement
Use pops of non-traditional hues to make the bangs edgier
A super fun way to make your bangs look significantly edgier and bolder is to add hints of vibrant colors. The colorful effect will add to the peekaboo style, as slight hints of colors from the rainbow will make your bangs seem unique and eye-catching. Try rocking pops of purple, green, both, or any other unconventional hues you enjoy.
Advertisement
Wispy bangs don't have to be long
While most examples of peekaboo bangs you'll find online and on social media are on the longer side, you shouldn't assume that these light bangs can only be long. If you want a bolder look to make more of a statement, short peekaboo bangs will exude a more intense vibe but still won't appear as drastic as thicker, fuller bangs. You'll likely need more maintenance with shorter lengths, and you'll be making more of a commitment, but if you think it's worth it, you'll probably love the results.
Advertisement
But they always look good long
No, wispy bangs don't have to be long, but we all know they always look great long. There's something effortlessly elegant and chic about dainty peekaboo strands that lie right beneath your eyebrows, so you can't go wrong with somewhat long wispy bangs. When in doubt, the longer, the better — you can always go back to the salon and ask to make them slightly shorter, which is better than getting them too short for your taste and having to wait for the hair length to grow back.
Advertisement