For A Glowy Look, Try Mixing Your Favorite Serum With Foundation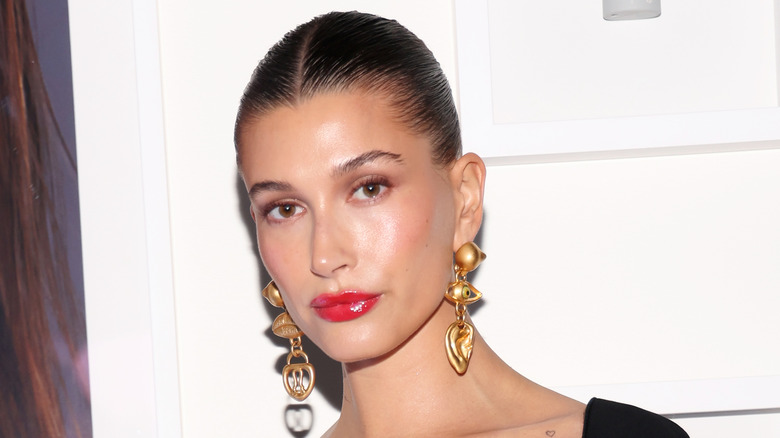 Jerritt Clark/Getty Images
Hailey Bieber is no stranger to the spotlight, and followers love her tips when it comes to makeup and self care. She is known for having the glazed donut finish nailed, and her videos show fans how to get a quick glow on the go, as well as offer hacks for contouring or anything else they might want to try.
One tip that this famous TikTokker offers is ideal if you want to successfully copy her glow, and it might just be one of the best hacks on the internet. Hailey Bieber isn't the only person who has tried this trend, and many find it to be one of the most effective ways to get dewy, bright skin. The trick is to combine your foundation with a serum, preferably one of your favorites, to create a soft, moisturizing mixture that will leave your complexion glowing. So how does this trend work, and will it give you the results people say it does?
How to get the look
Skincare is the best way to keep your complexion looking fresh and youthful, which is why so many companies have a huge product line filled with serums and creams to fight the signs of aging and protect users from harmful elements. By incorporating serums into your routine, you're giving your skin the nutrients it needs to thrive, and options that include vitamin C, E, or antioxidants are ideal for keeping your look bright. Usually, professionals and experts recommend that people apply serums before moisturizers and makeup in order to let them absorb into the skin properly. However, this popular trend made viral by Bieber is changing up the order of things by suggesting individuals mix these two products together.
By adding a nutrient and vitamin-rich serum to your foundation, you are creating a hydrating liquid that will nourish your skin while it provides coverage. In Bieber's TikTok video where she shows off this trick, viewers can see as she adds her Rhode Peptide Glazing Serum to a pump of foundation and mixes the two together. As the brush applies the mixture, her skin exudes a glowy finish that looks light and airy with just enough coverage to even everything out and produce a solid finish. According to L'Oréal Paris, this trick is not only beneficial thanks to the hydrating properties of the serum, but it produces a natural looking glaze that is glowy without being too shiny.
Tips for getting the best results
Adding serum to your foundation essentially creates a more sheer effect, lightening the formula of the makeup so your skin can still be seen underneath. To ensure this combination looks flawless, it is important to pay attention to the ingredients in both the serum and foundation. 
According to Belo, serums come with both water and oil bases, and these will mix differently with different foundation bases. Stick with products that are made with the same base, like oil and oil, or water and water. This will give you a clean application that lasts and won't cause separation or an uneven finish. The best part of this hack is that you can pick your two products, as long as they will complement one another when combined. The freedom to use your favorite serum and foundation means less fuss for your face, because both items already complement your skin type. Try it for yourself and show off your glow!