Sharp, Graphic Makeup Lines Can Be Unforgiving. Here's Why A Little Blending Is Key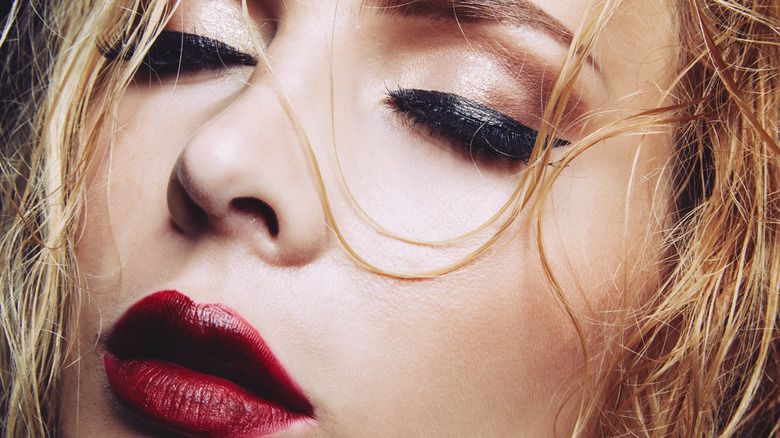 Dragonimages/Getty Images
Eyeliner is one of the greatest inventions. The first recorded practice of darkening around the eyes can be traced back to Ancient Egypt. In those days, men and women used kohl to emphasize the shapes of their eyes, as well as to reduce sun glare. Since then, technology has allowed us to redefine eyeliners into many shapes and forms while making them safe to use on a daily basis. There's even a slew of vegan and cruelty-free products for animal-loving makeup users.
Eyeliner is one of the most versatile makeup products out there. Not only does it come in various types, but it can be used to change the shape of your eyes, add depth, or draw them out. One of the most popular ways to emphasize the eyes is to create a winged effect. It lifts and elongates the eye shape, giving it a seductive look. However, while this requires a clean, sharp line, you may want to rethink your technique.
Overly-drawn eyeliner can look too harsh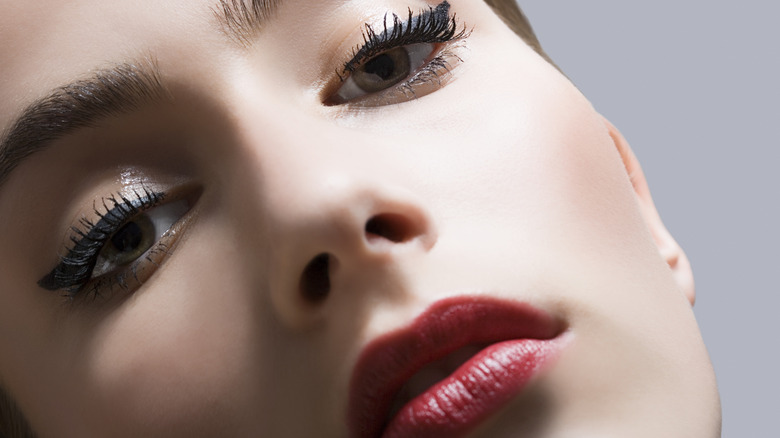 Image Source/Getty Images
Many of us strive to achieve that Instagram-worthy snatched cat-eye, but it may be time to put down your liquid liner. While sharp, graphic lines are a fun look, overly sharp lines can look too drastic. Instead, try feathering your eyeliner by smudging the edges. 
Using a pencil in the color of your choice, draw a line close to your lash line using short strokes. You can stop at the outer corners of your eyes if you want a super natural look, or you can extend a bit outwards to elongate them. Take a small rounded brush and blend the liner, so there are no harsh edges. Fill in your top waterline using a dark brown or black pencil, preferably waterproof. The effect will be a smudged look that will give you smoldering eyes.
If you prefer the cat-eye look, make sure to blend the tail end so that it tapers out quietly. Flick the eyeliner out and up so that it doesn't end abruptly. After application, take an angled brush and go along the edges to blend out any hard lines. And instead of the usual liquid liner, there are more forgiving products you'll want to reach for.
Use these products in lieu of liquid eyeliner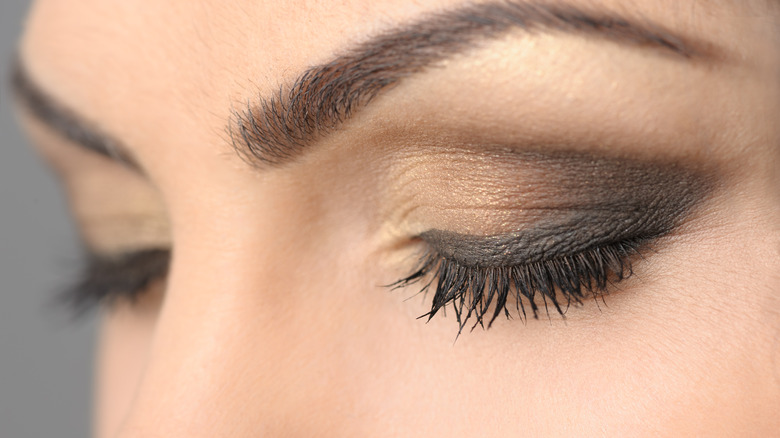 Starush/Getty Images
Liquid liner is the best way to get a clean line, but too-sharp eyeliner can actually make your eyes look smaller, especially if you have hooded lids. Cream liner is more forgiving and can be smudged after application. Use a small angled brush to apply the color along the lash line and then blend it with the same tool. The best part about pulling off the blurred eyeliner trend is not having to worry about precision.
Additionally, you can use powdered eyeshadow as liner. If you want an intense color, dampen your brush with water and then apply the shadow. For a more diffused look, simply apply it dry. Smudging the liner opens up the eyes and makes them appear more youthful and soft. 
Pencils are also great for their blendability and come in a wide range of textures. Choose one that's a bit soft so that you're not dragging it along your delicate eye area. An added bonus to ditching overly harsh lines is that you will no longer have to worry about those pesky, hard-to-fix mistakes!