Pair Colorful Accessories With Neutral Staples For Perfectly Balanced Outfits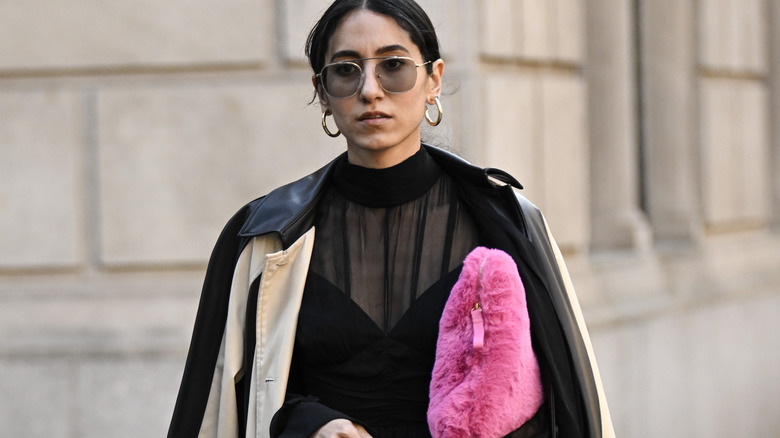 Daniel Zuchnik/Getty Images
We may receive a commission on purchases made from links.
High-impact color combos are great when we're looking for outfits to give us a jolt of energy. It communicates openness to the world and a desire to be seen (whether we actually want to or not). But sometimes we just want to tap into our more introverted side and calm it down with neutrals. According to Terry Marks, et. al, the authors of "Color Harmony Compendium," neutral colors tend to make us feel grounded because we often associate them with earthiness and stability. 
When we add doses of color to our wardrobe, it can feel like a restrained jolt of energy, giving just a little something to show you know how to put it on and pull it back. In other words, you're in control of what you're emitting into the universe. So, if balancing colorful accessories with neutral staples all of a sudden seems really enticing, here are a few ways to accomplish it.
Give classic energy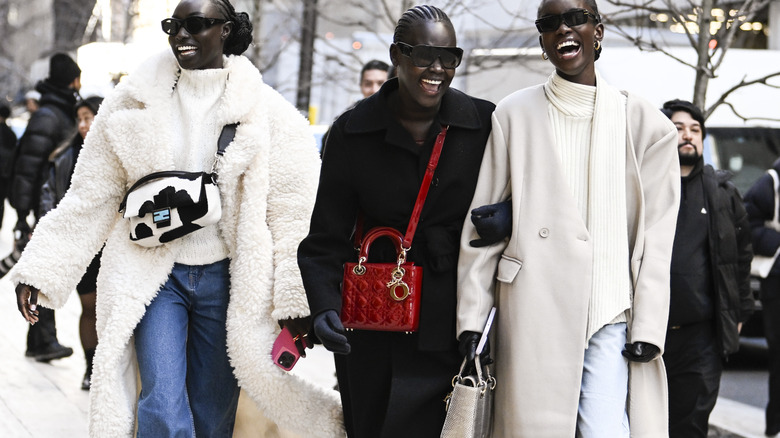 Daniel Zuchnik/Getty Images
Let's be clear: there really are no good or bad colors. It's all about the context in which you see the colors. So, when you pair a red bag with a black coat, this color, which is known for being stimulating and exciting, really packs a punch. It's the classic high-impact pairing. Adding a textured red bag boosts interest and elevates the look, so why not give it a shot?
Be pretty in pink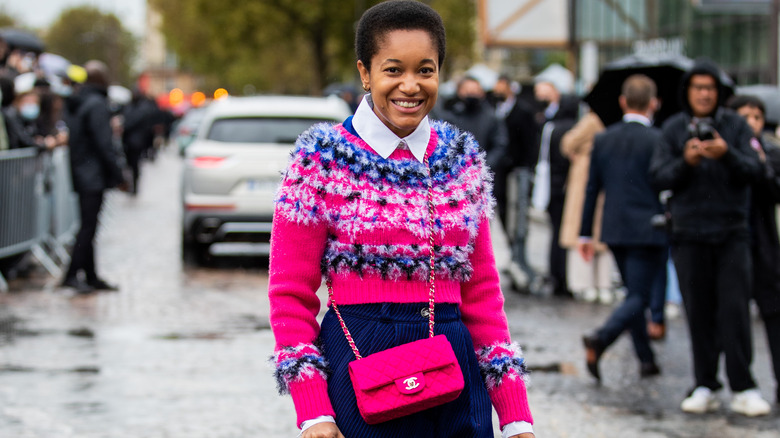 Christian Vierig/Getty Images
A crisp, white buttoned-down shirt is a tried-and-true staple. It communicates a sense of responsibility, authority, and effectiveness. But it's never boring when paired with a fair isle-inspired, pink multi-colored sweater and a pink bag. It's business on the bottom and a party on the top.
Make it low contrast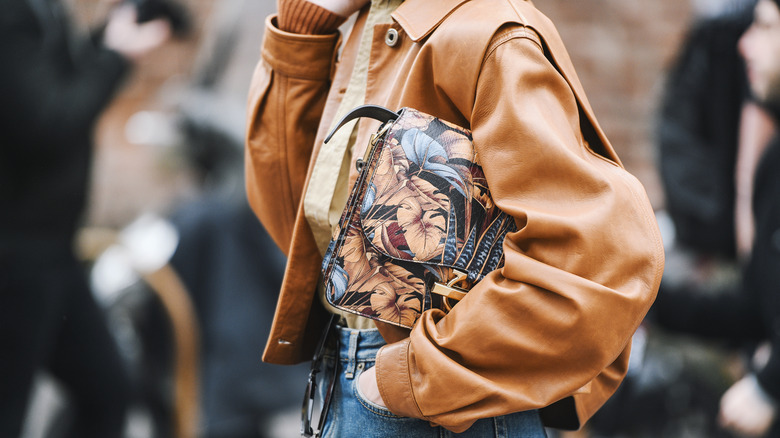 Creative Lab/Shutterstock
Who says colorful accessories have to have high contrast? It can be interesting (and maybe even more challenging) to try a toned-down color palette. Mixing muted blue and neutral accessories with a neutral leather jacket feels cool, calm, and understated. It's not quite monochromatic, but it may feel that way. Finally, the floral pattern adds an unexpected point of interest against the sturdy leather.
Use unexpected neutrals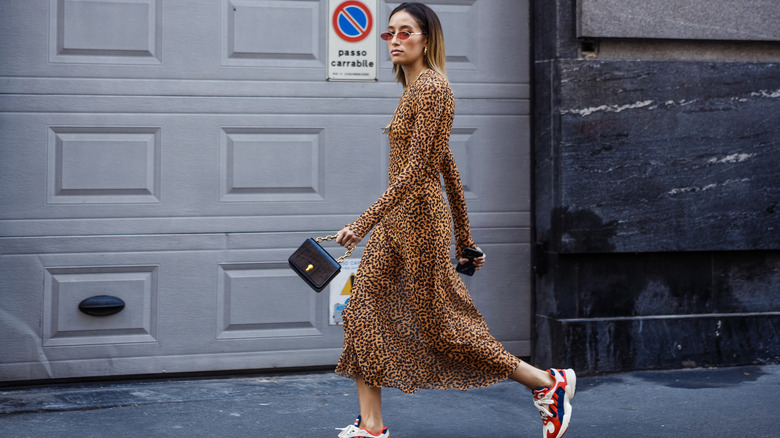 eversummerphoto/Shutterstock
Is leopard a neutral? In this instance, it's sure acting like one. The leopard print dress and red sneakers combo have several points of interest. First, mixing leopard print and red can potentially be very stimulating and maybe even a little aggressive. But alas, it's toned down by the pairing of athleisure wear and a relatively modest dress, giving a more casual vibe.
Don't be afraid to match your accessories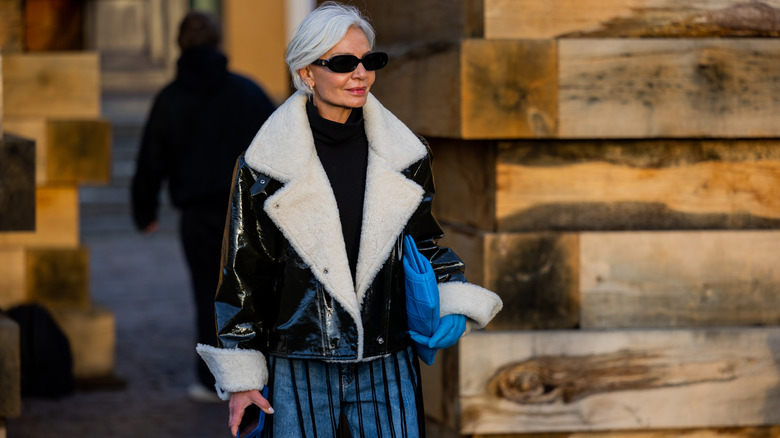 Christian Vierig/Getty Images
Vintage accessories like gloves and scarves are making a comeback, and these bright blue gloves stand up well to old faithfuls like this black shearling jacket and denim. The matching blue gloves and purse add a prim and proper vibe to an otherwise bada** outfit. It's time to dust off those gloves and give it a go.
Stay close to the neutral color scheme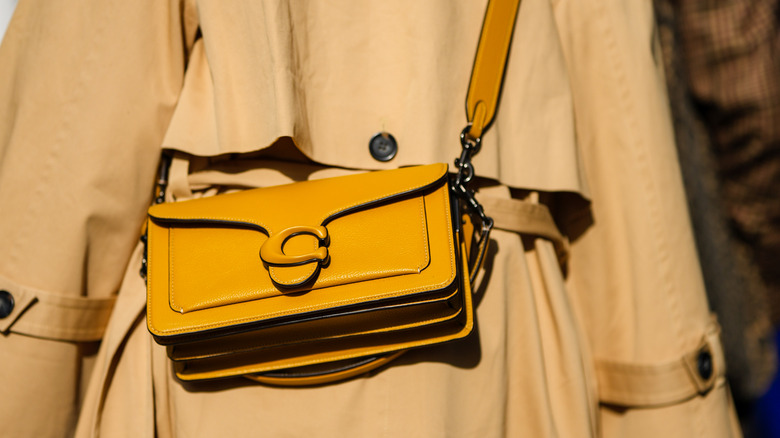 Edward Berthelot/Getty Images
Here's another way to do low contrast. The yellow purse blends in with the neutral-colored trench yet is bright enough to be noticed. Yellow, often associated with optimism, is typically considered to be a happy color. At the same time, this marigold shade of yellow, like the neutral, manages to feel earthy, creating an overall neutral palette with a touch of vitality.