7 Outdated Sandal Trends To Walk Away From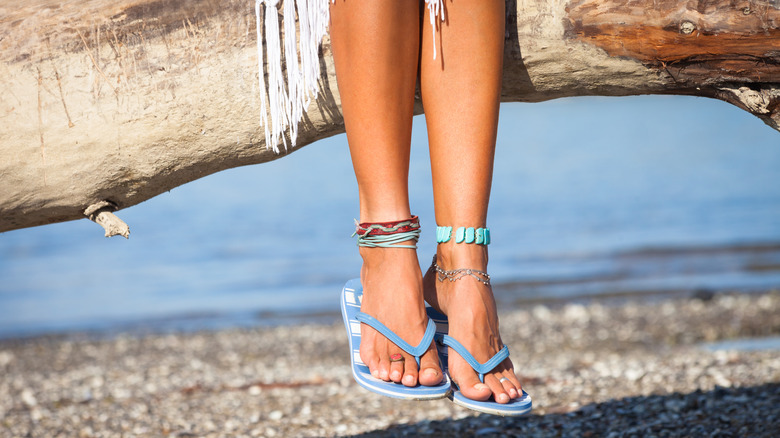 coka/Shutterstock
As the winter weather prepares to wind down across the Northern hemisphere, it's time to start planning for sandal season once again. This spring and summer, some big changes are in store for sandal trends across the board. The days of plasticky, embellished, childlike summer footwear are finally about to come to an end, clearing the way for a more polished and sophisticated aesthetic to unfold.
Advertisement
Before you decide to head out for your seasonal footwear refresh shopping trip, take a moment to have a look at the sandal trends that are on their way out this year. There's still plenty of time to hit up an online consignment store like ThredUp, where you can sell your old sandals and buy gently used pairs all in the same place, if you're into reducing, reusing, and recycling. Whatever your shopping preferences, here are the sandal trends that are on their way out of fashion this year.
Cheap (looking) slides
It was a good run for plastic and foam pool slides. The days of being able to wear the same sandals to the pool, the beach, the gym shower, and your family reunion are finally about to take their rightful place in the rearview mirror. Get ready to upgrade.
Advertisement
T-shaped straps
T-strap sandals are a classic in their own right, but they'll be sitting this season out. For 2023, simple looks like one simple strap across the foot and one across the ankle are in and more elaborate, multi-strap styles are out. Don't toss your T-straps, though. They always come back around.
Advertisement
Pillowy padding
In recent years, a new spinoff of the pool slide has emerged: the ultra padded, thick foam slide. While there is no arguing that these sandals are the peak of comfort, they're certainly far from the peak of fashion. Time to trade them out for literally anything else.
Advertisement
Lace-up
Spring and summer of 2023 is about simple elegance. Straps that lace up the ankle are too much for this year's sandal aesthetic. However, this is another style you'll likely want to stick in the back of your closet for when it once again sees its trendy day in the sun.
Advertisement
Basic thongs
Whether you call them thongs or flip flops, these basic beach and pool style sandals, held to the foot by a strap between the big and second toe, are moving out of fashion this year. It's time to elevate basic looks and swap them out for simple, timeless classics. 
Advertisement
PVC plastic
Plastic and foam pool slides aren't the only synthetic sandal moving firmly out of the trend cycle this summer. Basically, any shoe that's made out of a plastic-like material that you'd likely find in the kid's section is worth moving on from. This goes double for those in bright or neon colors.
Advertisement
Backless clogs
The day has finally come when it can be declared that backless clogs, with or without a heel strap, are out of style. As with the rest of the items on this list, the more rubberized, plastic, or brightly colored they are, the less they'll jive with the more refined styles moving in this spring and summer.
Advertisement