6 Swimwear Trends To Leave Behind On Your Next Vacation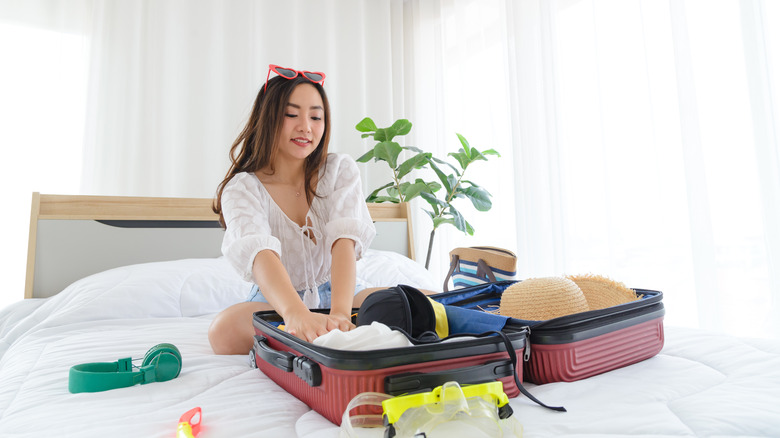 Pratchaya.Lee/Shutterstock
While you may think of swimsuit season taking place between the months of June and August, it's actually all year round. During winter, many of us jet off to warmer climates in hopes of thawing out. What's better than ditching the freezing February weather for a nice Bahamian breeze and the feeling of warm sand between your toes? However, pause before you pack last year's bathing suits. As with all fashion, swimwear trends come and go. What may have been en vogue in the previous season might already be outdated.
That doesn't mean you have to toss your whole collection of bikinis. Put them aside, as they'll probably be in fashion again. Just sift through your pile and make sure the ones on this list don't make their way into your suitcase — at least for this season. The fun part about new trends is that you have an excuse to go shopping!
The skirted swimsuit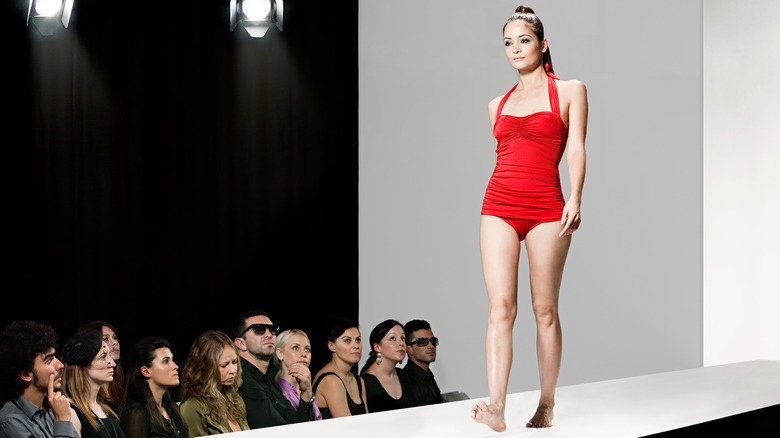 Image Source/Getty Images
Swimsuits with a skirted bottom are comfortable and flattering, especially if you want a more modest vibe. This style was popular a few years ago when the 1960s retro look came back. However, in 2023, ditch this look for a more modern one. Try a swimsuit with small ruffles around the hips instead.
Solid one-pieces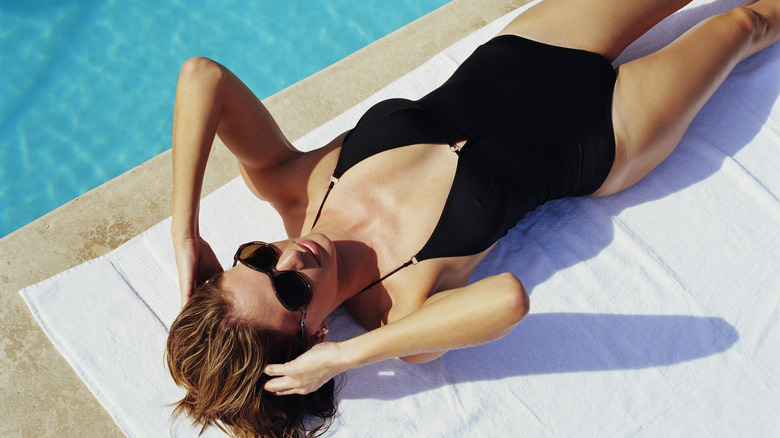 Siri Stafford/Getty Images
Solid bathing suits are timeless and will never go out of style. The single color palette lengthens your body and creates a cinched waist, making it flattering for all body types. Monochromatic looks are still popular, but this season, cutout swimsuits are trending. Pick an area you want to show off, like your waist or midriff, and you can still be comfortable while being fashionable in your one-piece.
Bandeau tops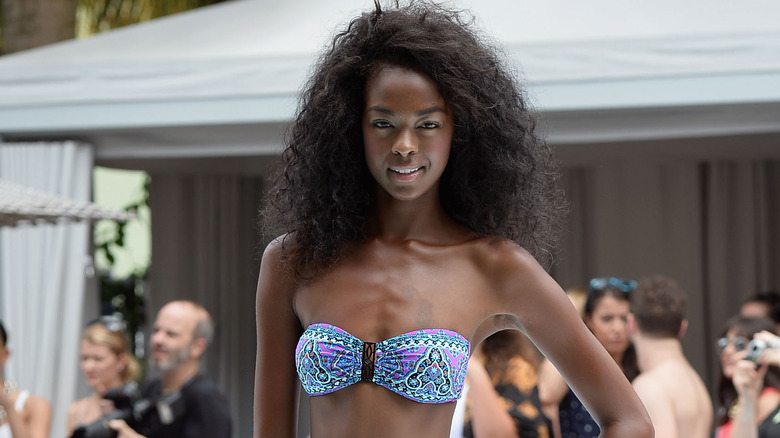 Mike Coppola/Getty Images
Bandeau bikini tops rarely look good on anyone unless you're Gisele Bündchen. Let's face it: The cut isn't that flattering and tends to flatten out your chest. Also, if they come without straps, you're constantly having to pull them up. While bandeaus are a great bra option to pair with your trendy square neckline tops, when it comes to bikinis, you'll want to replace them with underwire ones. Do that, and you'll be frolicking on the beach without a care in the world.
Animal prints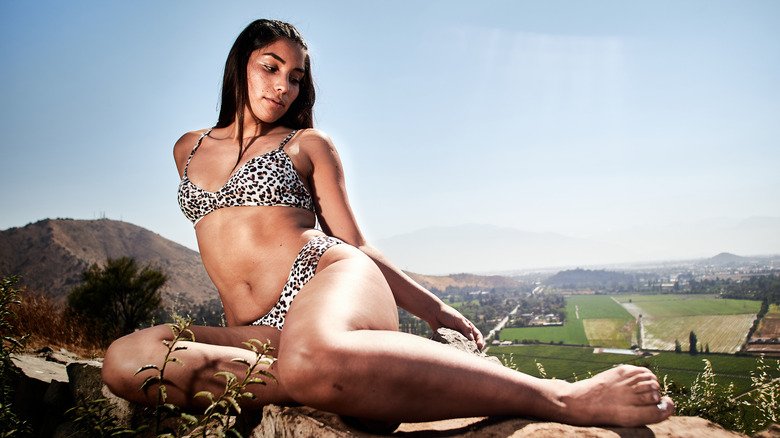 Wirestock/Getty Images
Animal prints have been in style for some time, but they are slowly making way for other patterns. Leave your leopard or cheetah print bathing suit behind this season and invest in one with a younger, trendier print. Designers these days are opting for retro or floral designs. Geometric patterns are also one of the major prints you'll be seeing everywhere in fashion in 2023. 
Neon colors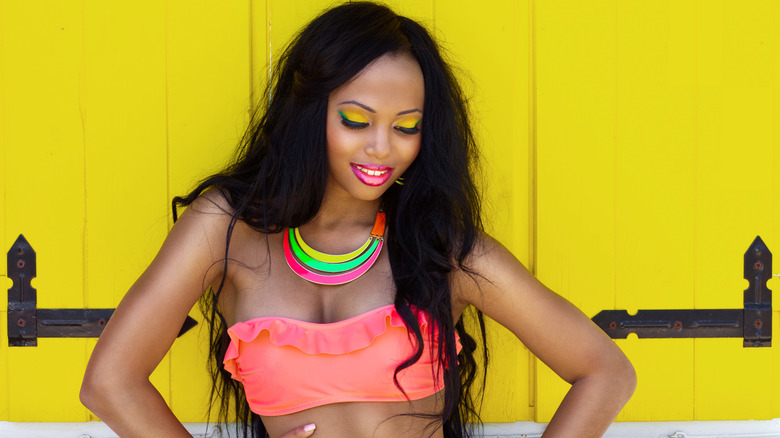 Ninamalyna/Getty Images
2022 was all about neon colors and bringing the '80s back. While wearing highlighter colors is fun and youthful, this season's bathing suit trends involve a softer pastel. Think blush pink or a soft peach shade. If you love your Day-Glo look, fear not. It'll likely come back in style again. Or, save your neon bathing suit for an '80s-themed party.
Full-coverage bikini bottoms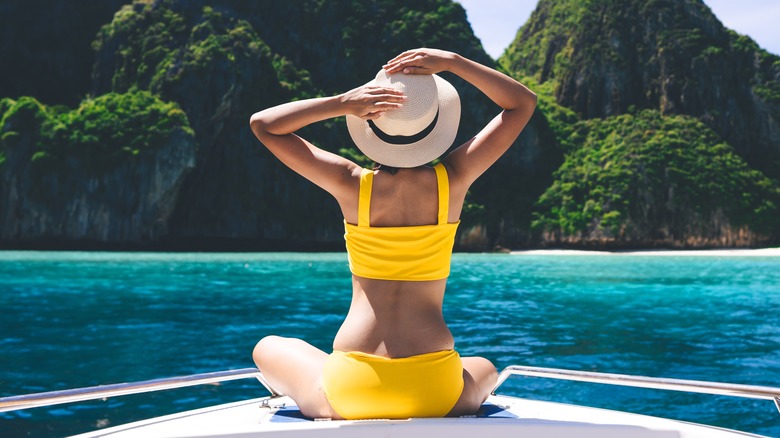 dodotone/Shutterstock
Many of us like (and prefer) more coverage on our bathing suit bottoms. However, believe it or not, showing a little bit of cheek is actually more flattering. Full-coverage bottoms can have too much material and sag, making your bum look droopy. Wearing cheeky bikini bottoms gives the illusion of a lifted and toned derriere. You don't have to go full-on thong! Just a little cutout on the sides will go a long way.