The Key To Lash Health When You Have Extensions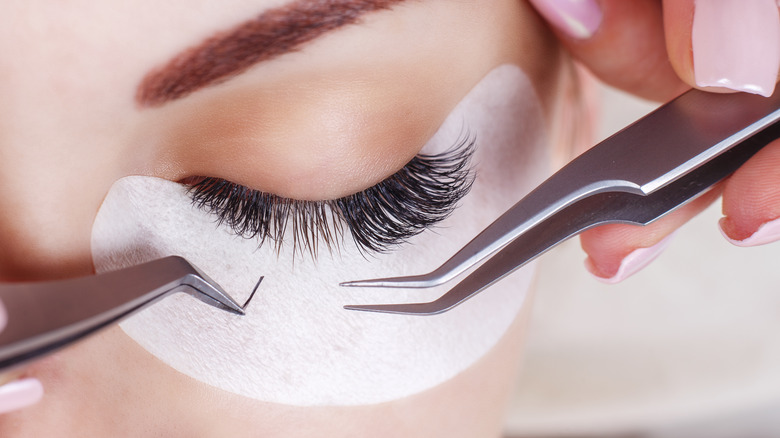 Licsiren/Getty Images
Everyone wants movie star eyelashes, but not everyone is a fan of strip lashes. While there are plenty of lash products available, many have been flocking to lash extensions. Lash extensions are a semi-permanent solution that attaches synthetic, silk, and mink fibers to the eyelash. On this, Clementina Richardson, the owner of Envious Lashes, told Harpers Bazaar that the process of applying the eyelashes includes applying the fiber to each isolated lash with semi-permanent glue. The entire process takes between an hour and a half to three hours to complete. From there, most people visit their lash technician every two to three weeks after the original application for touch-ups.
Like any beauty regimen, some risks could arise with eyelash extensions. People have faced considerable damage to their natural eyelashes that have ruined their whole experience. The American Academy of Ophthalmology warns that people could face swelling, loss of natural eyelashes, skin irritation, and even infection of the cornea. While this all sounds horrifying, it does not have to be inevitable. With these key tips, anyone can have healthy lash extensions if they know what to look for.
Make sure to invest in the right Lash technician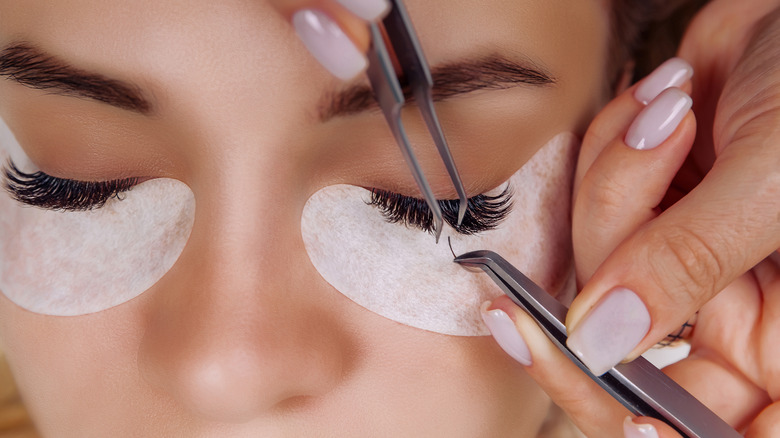 Aliaksandr Barouski/Shutterstock
The key to having a great lash extension experience starts with an experienced lash tech. When going to a lash appointment, there are things to look out for to maintain the safety of your eyes. Once speaking to your technician, it's important to explain what exactly you are looking for in terms of eyelash density. An experienced technician should be able to look at an individual's eyelashes and know if they could handle a hybrid or volume set. If eyelashes are too heavy for the eyes, they could pull on the natural eyelashes. This could lead to hindering eyelash growth and even permanent damage.
It's important to do thorough research on any lash technician since they are dealing with your eyes. Refrain from making appointments with individuals who do not have a valid esthetician license or have taken a lash-extension training course.
Courtney Buhler founder of Sugarlash Pro advises that we should inquire about the glue they are using on your eyes. "If they get their supplies on Amazon, run," she tells The Cut. "They should be proud of the brand they use and understand the system and be able to explain it to you."
Make sure to prioritize lash care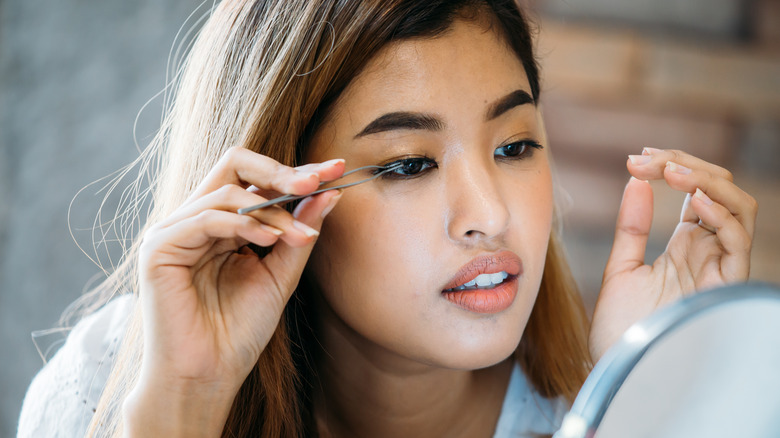 Twinsterphoto/Getty Images
Once the appointment is done, it's up to the individual to maintain the eyelashes. Proper lash care is particularly important to help maintain the health of the lashes regardless of how well the extensions were installed. Proper maintenance will not only help extend the use of the lashes but also preserve your eyes' health.
According to Amazing Lash Studio, folks must keep their eyelashes dry for the first two days, especially for extended periods of time. This means they must avoid heavy sweating, periods in the rain, and even swimming to keep the eyelashes intact. It's also recommended to wash them at least twice a day using proper lash shampoos. This is great to get rid of dirt and oil that accumulates throughout the day. Failing to wash the eyelashes can weaken the lash glue and cause the eyelash fibers to fall out prematurely. Once your lashes are done, you can head to the drugstore to grab the perfect waterproof mascara.