Are Blowout Brushes Bad For Your Hair? A Cosmetologist Explains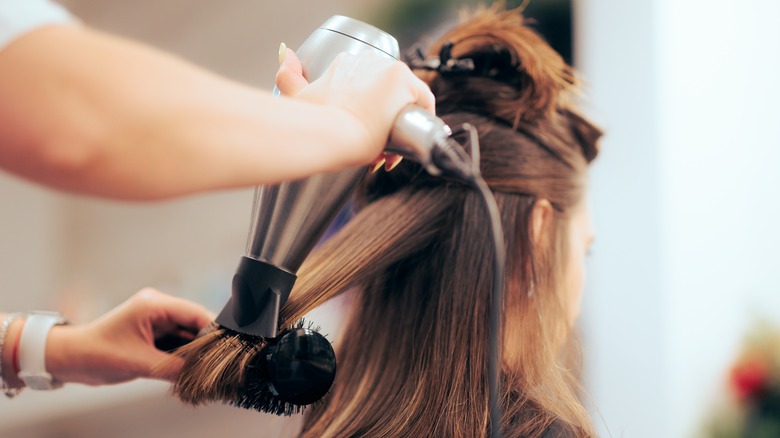 Nicoleta Ionescu/Shutterstock
Nothing beats the feeling of walking out of the salon with bouncy and voluminous hair from a fresh blowout. Salons have been giving women a similar treatment for years, wrapping women's hair in rollers while they sit under a dryer waiting for voluminous hair that lasts for days. Today, the process works a bit differently but has the same concept. Your stylist can perform a blowout, or you can do it yourself. No matter who completes the task, a blowout today starts with damp, freshly washed hair. The hair is then sectioned off and a round brush is used to dry the hair and create volume while leaving the hair sleek and voluminous.
While the process of getting a blowout seems simple enough, did you know it can actually be damaging because of the round blowout brush itself? Cosmetologist Ghanima Abdullah of The Right Hairstyles tells Glam all about the negative effects of using a blowout brush, as well as how to prevent this damage.
Why can a blowout brush be damaging?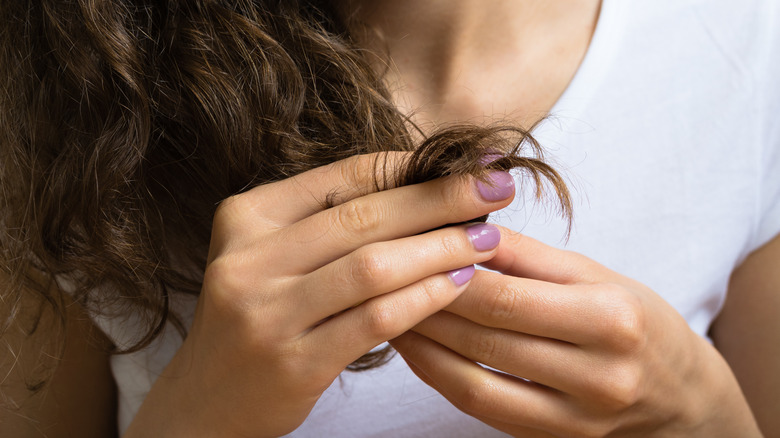 Iprogressman/Getty Images
Blowout brushes (aka round brushes) are commonly used for blowouts, both at home and in the salon. According to Ghanima Abdullah, the brush is used "to add tension to the hair then pull on the brush while moving it around in short paces to create the waves or curls." The hair has to be damp to get the full effect because the styling process requires the hair to dry in a rounded position. "Wet hair is much more fragile than dry hair," according to Abdullah, which increases the chances of permanent damage. She adds, "When wet hair is pulled roughly, it adds too much tension and that can snap the hair."
Another risk of a blowout brush is not as much about the physical brush as it is the heat pointing directly at it. When using a blowout brush, you're pointing the blow dryer directly at the hair and getting a similar effect to a curling iron. "Blow dryers are meant to be used in a way that circulates the hot air around your head," Abdullah explains. When blowdryers aren't used in this method, the heat cannot circulate, leading to too much heat on specific spots causing damage.
How to lessen the damage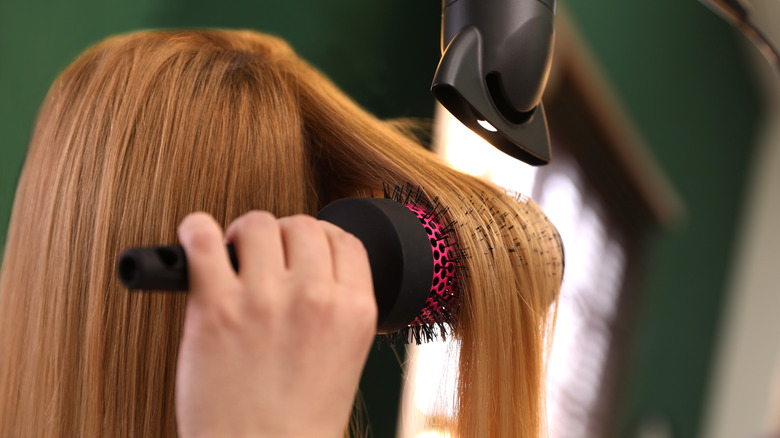 New Africa/Shutterstock
While there is no way to completely avoid damage while getting a classic blowout with a round brush, there are ways to minimize the effects. Unfortunately, these can come with a price. While it's possible to get a blowout on straightened dry hair, Ghanima Abdullah says that "the curls don't last quite as long." Dry hair is stronger and won't react as much to pulling and tugging. The pattern that the hair dries in greatly affects the way it lays until the next wash. If your hair dries straight, it will be impossible to get the full effect of a blowout until after your next wash.
Another option to make your blowout less damaging is to use a great heat protectant. As you are applying more heat to one specific area of hair that is in your round brush, you will want to make sure your hair is as protected as possible. Heat protectants retain moisture in your hair by being an extra layer between your tresses and the heat tool. This can help minimize the damage caused by your dryer being in one place for so long.
The alternative to a full blowout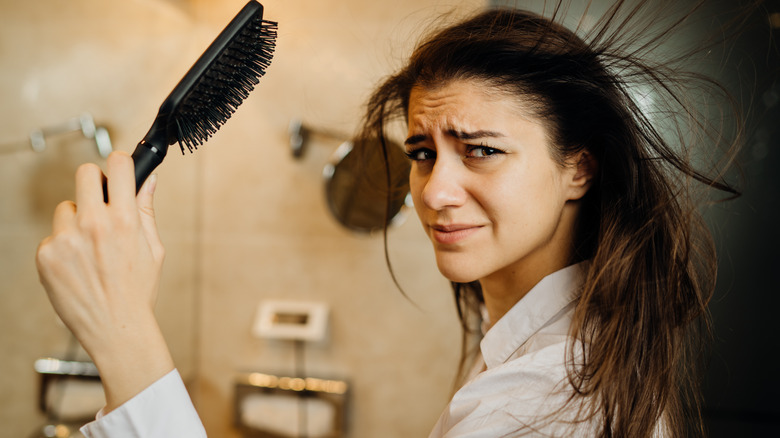 eldar nurkovic/Shutterstock
If you are looking to avoid a full blowout, there are options. For instance, some people need options as they struggle to get the blowout technique down at home and don't want to go to the salon. Ghanima Abdullah explains that it "takes a while to get accustomed to this process, especially with hard-to-reach areas of the head." Others are just looking to avoid the pulling of wet hair that comes with a round blowout brush, as it causes unnecessary damage. To avoid the damage and complications of a full blowout, you can receive a half blowout at your fave salon.
"If you want a great blowout but don't want that high potential for damage, tell your stylist to dry your hair completely under a hooded dryer with jumbo curlers first," says Abdullah. This is also easier than trying to figure out a traditional blowout on your own at home. The rollers will create volume, with Abdullah then saying your stylist "can use a round brush and blow dryer to get the curls and waves." Less pulling is required, but you still end up with the same results. A true win-win scenario.