The Dating App Question You Should Probably Ask Before Meeting IRL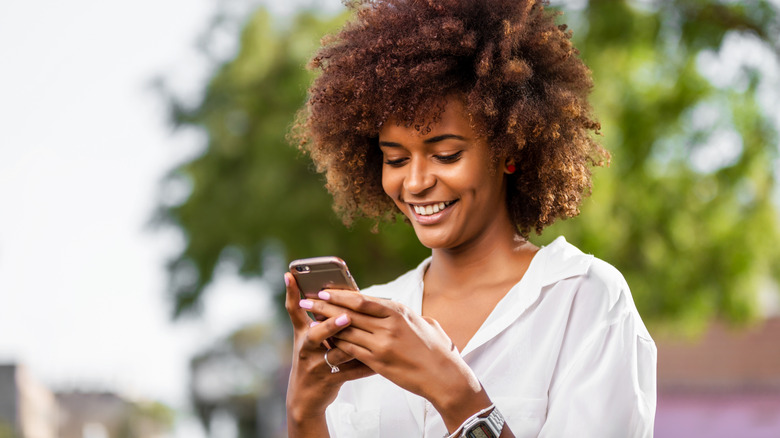 Samuel Borges Photography/Shutterstock
There's no doubt that online dating can be both exciting and daunting. Along with figuring out what dating app is right for you and attracting plenty of matches, you also need to come up with potential conversation-starters. Fortunately, dating expert Natalia Juarez has some advice and told Elite Daily, "Don't be boring. The 'Hey, how are you' and 'How was your weekend' opening lines? I can't believe people are still doing that! It's so lazy, and you're making me do all the work!"
Advertisement
"Find something in their profile that you can comment on, something where you find a commonality," Juarez suggested instead. However, you may want to avoid going with the first thing that pops into your mind. That's because what you think is a savvy way to kick off a chat might be too obvious.
Juarez explained, "If there's something that really, really stands out in a person's bio, chances are a lot of other people are commenting on that too. One way to distinguish yourself would be to find something in their profile that's a little less prominent and comment on that instead."
Once you have the conversation started and hopefully rolling along smoothly, you can begin to delve deeper by bringing up topics that reveal more of who they are and want they want out of a relationship. For instance, there is one particular question that you should probably ask the person you've been chatting with on a dating app before you meet them in real life.
Advertisement
There are endless ways to answer this question
Lyubov Levitskaya/Shutterstock
When you connect with a person on a dating app who might end up being your special someone, you likely end up discussing typical topics such as their pastimes and what they do for a living. You might have also brought up your backgrounds and beliefs as well as goals and plans for the future. While that's all well and good, you should make sure to mention something specific before you bother to schedule your first IRL date.
Advertisement
Sara Tick, a licensed therapist and men's dating coach, told Insider that you may want to ask your potential partner how they would spend a full day if they could indulge in anything and everything that they wanted to do. It's an inquiry that can be fun and lighthearted.
At the same time, it might give you a glimpse at what they truly enjoy and what is important to them. It also gives them a chance to get creative and have some fun. "Would they spend their day with family or friends? Would they hop on a plane and go to an exotic destination? Regardless of how they answer, it will open up an interesting conversation," Tick said.
If you're wondering how important this might really be, it turns out that asking the right questions is a key step in the online dating process. You just have to know what else to ask.
Advertisement
The right questions can keep you from wasting time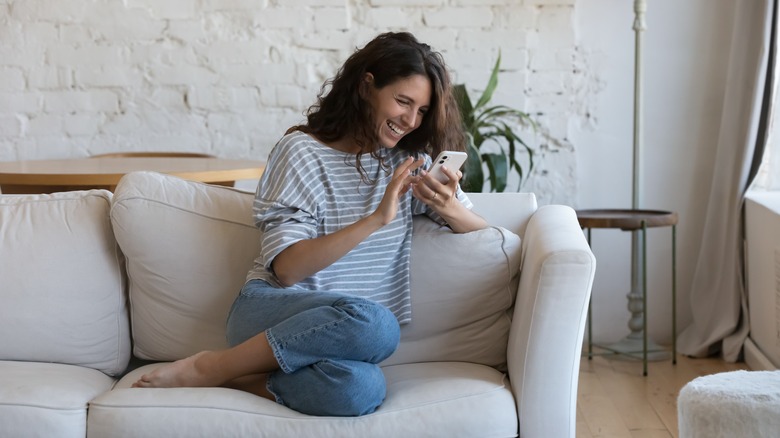 fizkes/Shutterstock
Dating apps can obviously help you meet people that you may never have connected with if you weren't online, while also figuring out who might suit you best. However, you still have to do some work for yourself and by asking the right questions, you can feel confident that you're more likely to meet someone who you truly click with.
Advertisement
You can also make sure that you're not wasting your time. You certainly don't want to start crushing on someone only to find out that there's been a deal-breaking issue looming in the background the entire time.
To do this effectively, you may need to find a balance between posing questions that will lead to the kind of answers that you need, while also keeping things casual. Your chat should be less of an interview and more of a conversation.
Although your specific list of conversation topics may depend on your particular priorities, Maria Sullivan, VP of Dating.com, has a way to narrow down the possibilities, telling InStyle, "In order to make the most out of your time, you should be asking questions about their everyday lives."
Advertisement
This will give you insight on whether your lifestyles are compatible. If the answers fill you with interest, hope, and excitement, then it might be time to ask the final question from above. You may then find yourself figuring out when you're both free to get together face-to-face for the first time and maybe, just maybe, start to fall for each other.