Our Best Advice For Packing Away Your Winter Clothing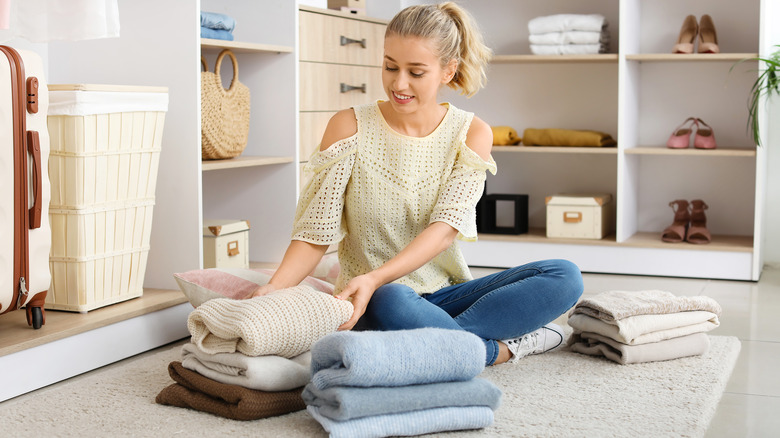 Pixel-Shot/Shutterstock
Longer days, blossoming flowers, and chirping birds can only mean one thing: spring is just around the corner. After months of darkness and frigid winter weather, the signs of warmer months to come have the ability to instill collective feelings of hope and renewal. The healing springtime weather also calls for lighter layers, which means it is time to swap your wool and cashmere for cotton and linen.
Advertisement
If you are not someone who typically swaps out your seasonal wardrobes, then this is your sign to begin doing so. Not only does storing your winter clothing help make room for the new, but it also follows the age-old routine of spring cleaning which serves to cleanse and de-clutter your environment after months of near hibernation. Resetting your physical environment can do wonders for your mood and mental well-being, and it can even help boost productivity levels. So, take a look at these five easy tips to properly store your cozy sweaters and peacoats for when the warmer months roll in.
Sort and wash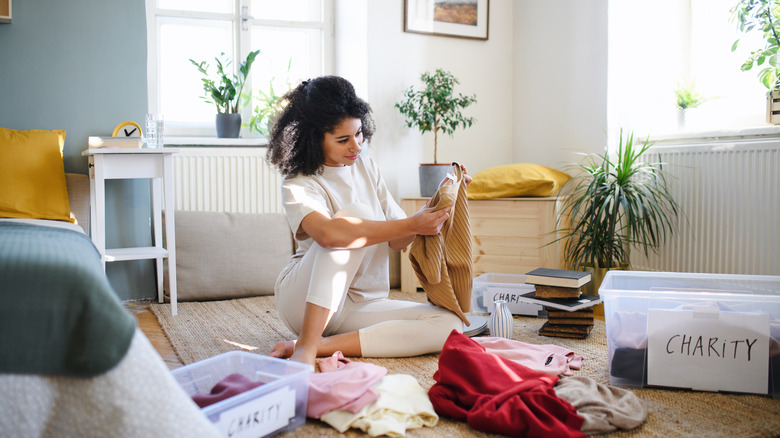 Ground Picture/Shutterstock
Get a head start on your spring cleaning by beginning with your winter wardrobe. The first step is to separate your winter clothing items and channel your inner Marie Kondo. Now, this doesn't mean you have to stare at every clothing item and ask yourself if each sweater sparks joy, but do stop and logically consider whether you plan to wear that item again or not. The point of storing your winter wardrobe is to de-clutter and organize. Take a hard look at that cardigan that you haven't worn in years. Will you wear it next winter? If you hesitate, you have your answer. So, make sure to set the rejects aside to make room for the clothes you genuinely care about.
Advertisement
Now that the difficult part is over, it's time to wash your clothing. You should always wash your winter knits and jackets before storing, especially if they have stains. Allowing dirt, food, or sweat stains to marinate for months in a closed container is never a good idea. Not only does this make it nearly impossible to remove the stains when you take them out the following winter, but any sweat or food odors may linger even after washing. Washing your entire winter wardrobe can be, admittedly, time-consuming, so having your clothing dry-cleaned is an easy option.
Choose the right storage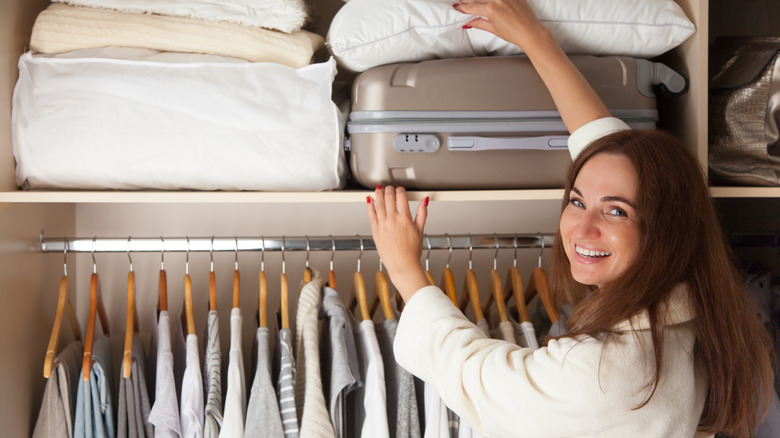 Kostikova Natalia/Shutterstock
The best advice you can receive for properly storing your winter clothing is this: do not use garbage bags. Seriously, don't do it. Garbage bags are a cost-efficient storage option, yes, but they are prone to tearing and do not allow proper ventilation. Cramped spaces, packed clothing, and warm weather can become a deadly combination that creates a breeding ground for bacteria and mold, among other things, which is why you should also reconsider your plastic storage bins. Ideally, you should use breathable storage containers or garment bags which allow ample air flow during months of storage over the hot summer months. Garment bags are especially useful for storing your peacoats and jackets as these items are difficult to iron.
Advertisement
You should also consider where you plan to store your winter clothing. The best places to store a winter wardrobe are ventilated and climate-controlled areas. Try to store your clothes somewhere cool and dry. Attics are not great locations for clothing storage as they typically suffer from moisture and humidity issues, which can encourage mildew growth. The garage is another unsuitable location as it is often exposed to unstable temperatures. The ideal location for storing your clothes is in a spare wardrobe, closet, or under your bed. If you don't have any space in your bedroom(s), you can also hide your clothes in suitcases or even your basement provided your basement does not suffer from pest or humidity issues.
Advertisement
How to avoid disfiguration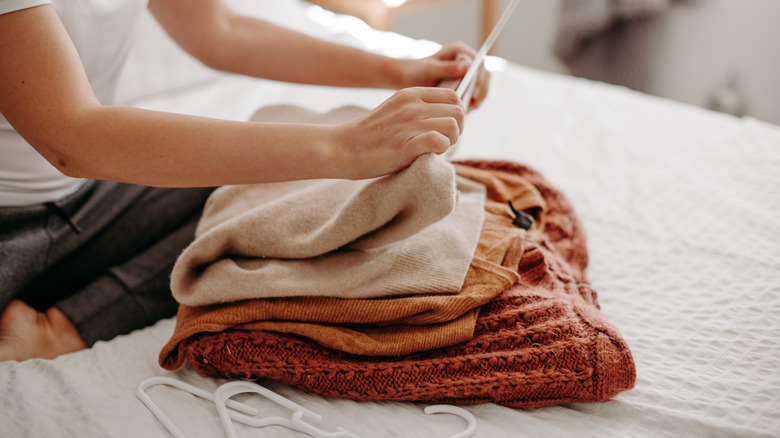 Irina Lev/Shutterstock
If you want to maintain the integrity of your sweaters and long sleeve t-shirts, then you want to learn how to store your clothing the right way. The key point here is to prevent your clothing from disfiguring during storage. To prevent your favorite knit sweater from stretching out at the shoulders, for instance, you should avoid using hangers. Instead, opt to fold all items with delicate fabrics so the stitches don't remain stretched out for months. Of course, this does not apply to all clothing items such as peacoats and jackets, as these items are designed with fabrics that are not easy to disfigure. In this case, you can use breathable garment bags to group your winter clothing together and hang your clothes in a spare closet.
Advertisement
Another great tip is to extend the life of your fleece or knit clothing items is to mend holes, broken zippers, and remove pilling prior to storage. Make the transition easier for yourself in six months' time and repair any damage to your winter clothing items so they're ready to wear immediately out of storage.
Keep the pests at bay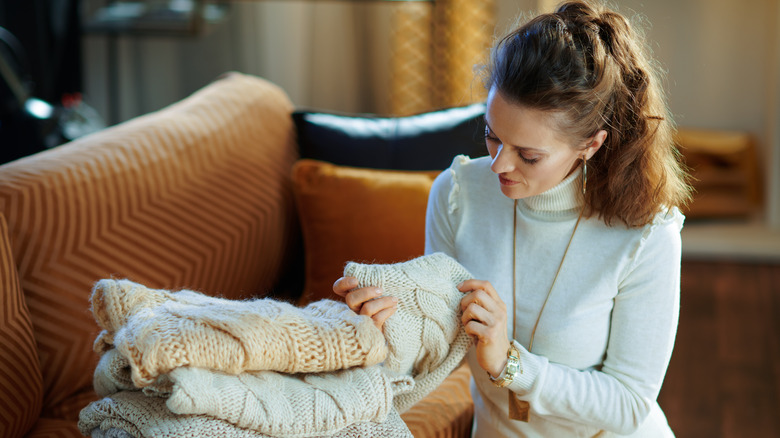 Alliance Images/Shutterstock
Remember the tip about garbage bags and warm weather? Well, here is another species that is drawn to heat and poor ventilation: moths. Moth-eaten clothing is a perfect example of why material matters when it comes to storing your winter clothes. It's dreadful to pull out your winter wardrobe only to find the sleeves of your favorite cardigans mottled with holes.
Advertisement
Thankfully, there are several things you can do to mitigate pesky moth attacks. Washing your wardrobe prior to storing, first off, is a great way for your clothes to remain under the radar, as moths tend to be attracted to dirt, dust, and odor. You should also take note of ideal storage locations in your home — locations free from excess moisture, hot temperatures, and direct sunlight — and invest in breathable storage containers to encourage airflow. You can also invest in cedar blocks which are perfect for warding off moths. All you have to do is add a block or two to your storage container or garment bags, and the cedar will take care of the rest.
How to store shoes and accessories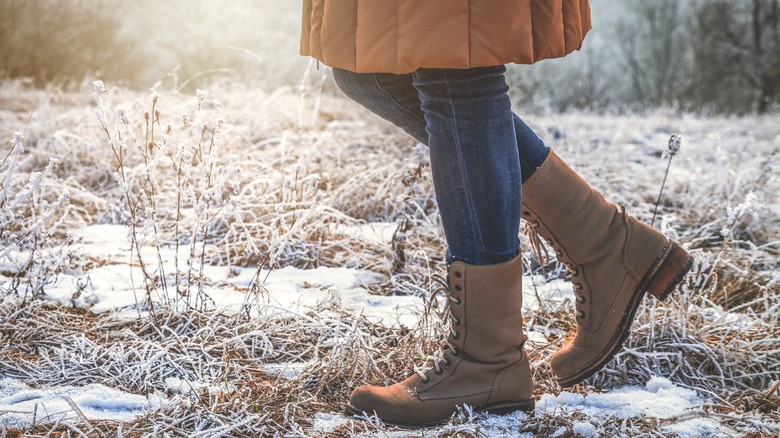 encierro/Shutterstock
What about your shoes and handbags? Well, you mustn't neglect those. Your shoes and accessories also require special treatment for storage. Make sure to clean your shoes prior to storing, for instance, as they often sport stains from salt and mud during the harsh winter months. Salt stains can be difficult to remove, especially after months of neglect, so give your winter boots a thorough wipe-down before you put them away. For your tall boots, you can use boot trees to help maintain the shape and prevent wrinkling of the fabric.
Advertisement
You should also make use of your shoe bags to prevent dust and dirt from accumulating over the months. The same applies to your handbags. Designer handbags often come with dust covers to protect the bags from dust and sunlight, which can damage the fabric over time. You can also use drawstring shoe bags or boxes — just make sure they're breathable or you may not like the smell when it's time to make the swap again.
Now that you know all the best tips, it's time to tuck in your winter sweaters, jackets, shoes, and handbags until the wind and ice beckon their call.