The Easy Fall Trend That Only Requires A Sweater To Pull Off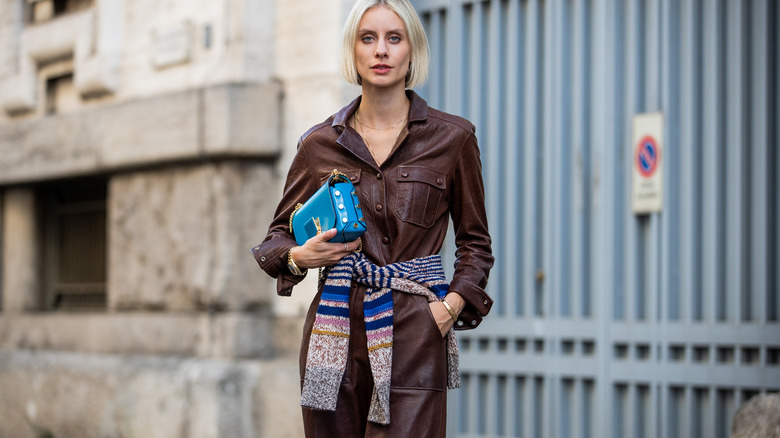 Christian Vierig/Getty Images
Mix functionality and fashion this fall as you try to think of creative ways to style your outfits. It's a season when layering is almost inevitable, but no one says you have to sacrifice style for that reason. It might be a little inconvenient to have to carry around sweaters and coats when you're no longer using them, like when you're indoors in the warmth. Maybe as a kid in school you were also faced with this dilemma and may have resorted to tying your sweater around your waist. Fast forward to today, this method has moved past functionality and has become a stylistic choice. It has even made its way onto the runways, quickly becoming a trend itself.
In fact, this was a very prevalent look back in the '90s grunge era. It was popular to style a t-shirt, jeans, and boots topped off with a flannel tied around the waist. It then picked up traction in the 2010s, and now it's back again (via OOTD). All you need to rock this look yourself is a sweater.
What does it look like?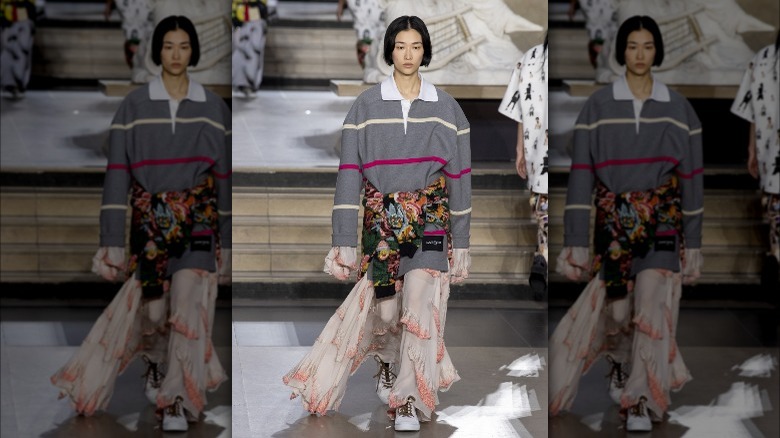 Kristy Sparow/Getty Images
Because of the look's background, it is often a style associated with streetwear. It's meant to give off an effortless yet cool appearance. The fall and winter 2022 fashion runways portrayed different ways to wrap a sweater around your waist. You will see a variety of options as different designers display their take on the trend. You can do it casually as you may be used to, or try an elevated approach.
For Bottega Veneta, designer Matthieu Blazy displayed elegant gowns with a knit sweater layered on top. Later in the show, he fully tapped into the trend, pairing sophisticated satin dresses with a black sweater tied around the waist. This method shows an excellent combination of a casual approach turned high-fashion (via Vogue).
With oversized sweaters, blazers, and gowns, the Louis Vuitton show designed by Nicolas Ghesquière also partook in spotlighting this new trend. In it, the sweater tied around the waist was paired with long flowing gowns. One look featured an oversized polo sweatshirt over a flowy pantsuit, finished with the sweater tied on the waist over the whole ensemble. "I would like people to sense that it's a collection without constraint, that's focused on freedom of movement, ease, and total comfort even though it involves very meticulous work in terms of materials," designer Nicolas Ghesquière says on Louis Vuitton's website. It was a collection that was meant to encourage the flexibility to mix and match garments for comfort and style.
It's easy to try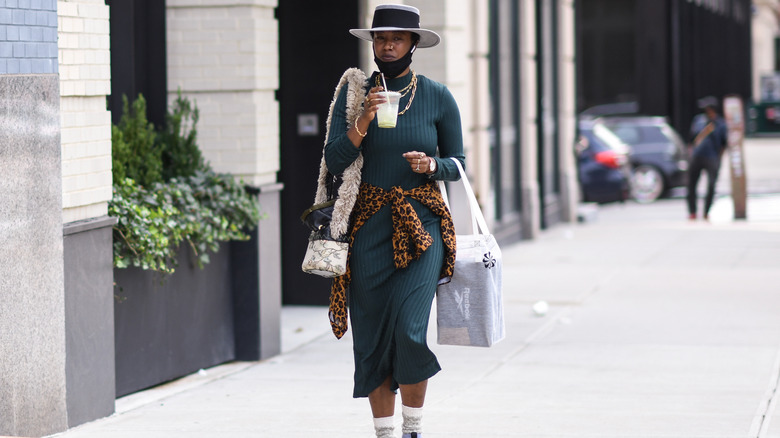 Daniel Zuchnik/Getty Images
This look certainly offers a "freedom of movement" and flexibility, as displayed in the runway shows. It all comes down to one garment: a sweater. If you have that, you already have all that you need to try this look for yourself. It doesn't matter if you take the '90s approach or try pairing it with a fancier outfit because it offers a versatility to work with just about any style.
Content creator Amber B., known as Helloamberb on TikTok, tried this look as a way to step out of her comfort zone, following the advice of a follower. She paired a white asymmetrical off-shoulder dress with a dark navy sweatshirt tied around the waist. "When I read this I was like, 'No way let me try it,' and it is a vibe. Like, this is so cute! I would never expect this," she excitedly says in a TikTok video. With it, she wears a pair of sandals and a brown leather handbag, comparing the look to Greek goddess style. It is a method that offers many looks for anyone to try, on top of how easy it is to put together. You can go for a classy, formal style, a preppy feel, a colorful maximalist approach, or use it when you need a unique waist-cinching belt effect.