Why Orange May Be The Best Nail Color For Mature Hands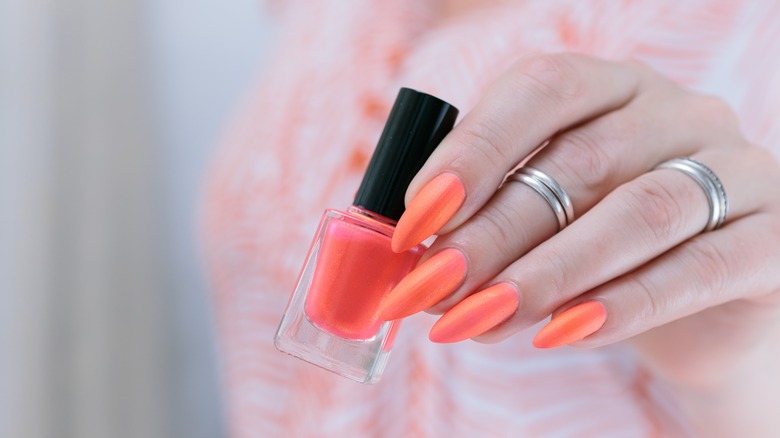 TanitaKo/Shutterstock
We all want to keep our hands looking younger as we age, but did you know that the nail polish color you choose can help your skin appear more youthful? Certain shades draw attention to wrinkles, veins, and age spots, while others give that pop of color your hands need to look younger. While you might have that go-to nail polish color that you can't live without, it may be time to revamp your nail routine for the sake of your hands. Don't feel bad about being a creature of habit; even the Queen wore the same nail polish color for 30 years (via Insider).
Because hands are exposed to the sun and elements more than any other part of the body, they are more susceptible to aging faster. Hand and cosmetic surgeon Bryan Michelow, M.D., tells Cleveland Clinic, "As you age, your skin thins and the fat in the back of your hands diminishes." Michelow goes on to say that this reduced volume, along with decreased elasticity, can create wrinkles and age spots. Additionally, as the skin on our hands thins, the veins on the back of our hands start to show more. Because your hands are usually front and center, let's explore why you should be wearing orange polish to give your hardworking hands a more youthful glow.
The right polish color for a youthful look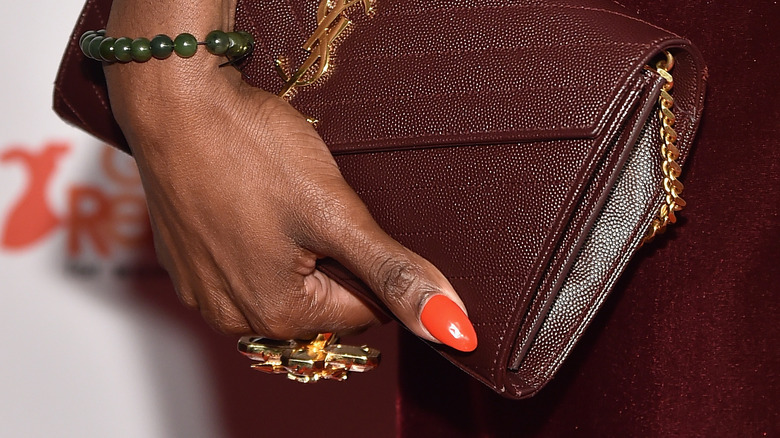 Mike Coppola/Getty Images
Oranges, corals, and peach-based hues can draw attention away from the signs of aging on our hands, due to the fact that these colors are so bright and youthful. Subtle shades like beiges and sheer pinks only draw the eyes away from the nails and to the hands, revealing wrinkles and age spots. Also, the next time you go to the salon, celebrity manicurist Deborah Lippmann suggests asking for an oval-shaped nail (via NewBeauty). She stresses that an oval shape can make our fingers look longer, which helps the hands to appear younger. Be sure to keep in mind that hands always look younger when your nails are groomed and clean, regardless of if you have polish on.
While many people have their own style or trend they want to achieve when getting a manicure, some opt to groom their nails at home to speed up nail growth. Either way, selecting a shade of orange can really give your hands that youthful look. When it comes to shades of orange, there are so many out there to choose from: Coral, peach, tangerine, sunset, neon, rust, amber, and orangey-reds are just a few of the choices you have.
Tips and advice for mature hands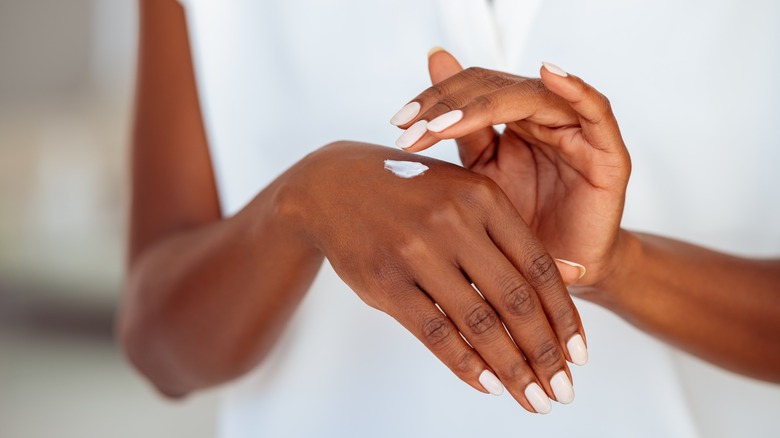 Ground Picture/Shutterstock
After you apply that perfect shade of orange to your nails, there are still other ways you can care for mature hands. First things first, always have an anti-aging hand cream that you use daily. In addition to hand cream, make sure you are putting an SPF sunscreen on your hands as well. If you can find an age-defense hand cream with SPF in it, then you hit the jackpot! Moisturizing your hands throughout the day can help your skin retain its elasticity.
It's also important to remember to protect your hands when cleaning and doing dishes by wearing gloves to avoid excessive chemicals and over drying. When out in the garden or doing yard work, always wear a pair of cotton gloves so that your hands are protected from the weather and elements. Dr. Michelow also recommends exfoliating your hands by using a simple mixture of sugar and lemon, followed by lanolin cream (via Cleveland Clinic). Including these hand care tips in your routine, along with a pop of orange on the nails, will give you a winning combination for your hands.