What To Know About The Rockstar Girlfriend Fashion Trend (& Why We Love It)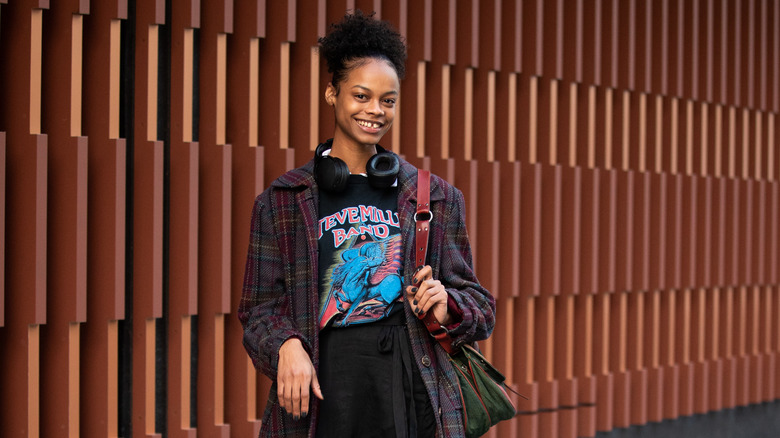 Melodie Jeng/Getty Images
The grunge rockstar aesthetic certainly isn't "new" to the fashion scene, and it seems to resurface in some form or another every couple of decades. The '70s can certainly take a lot of credit for making this trend so popular, back when groupies coined this style as they rubbed elbows with rockstars. Messy, wild tresses, smudged or smoky makeup and effortlessly chic outfits sum up the rockstar girlfriend aesthetic that is racking up millions of views on the internet, and the trend has taken a positive turn. During the tumultuous decade when groupies were both idolized and shunned, their "throwaway" namesake pointed to the idea that they were there to play side pieces to the stars. While this wasn't necessarily the case, the trend has caught bad publicity in the past due to its title.
In previous decades, the rockstar girlfriend look has been dubbed as sexy and sexualized, but each time it comes back it seems the "girlfriends" are taking more and more control. This trend is about feeling sexy and embracing the hedonistic ideals of a rockstar era, while still supporting a feminine forward mindset. People seem to be moving away from the "clean girl" vibes that took Tik Tok by storm, and instead are choosing to walk on the wild side with a messier appearance that still airs on the side of chic. Rock 'n' Roll is about living life to the fullest, which is why this trend is such a vibe.
Conquer the smokey, smudged look
The most recent rockstar girlfriend renewal is targeted toward depicting the grunge-inspired look without falling into the negative pockets of the trend, like partying too hard you can't go to work. While the style is similar to the '70s and '90s looks that dominated the fashion scene for a while, today's rockstar trend is all about capturing the smokey eye. Eyeliner should look almost as if it's been there since the day before, with a smudged finish that accentuates your eye shape. If you couldn't capture the vanilla vibe circulating the internet, this option is for you.
Go bigger with glitter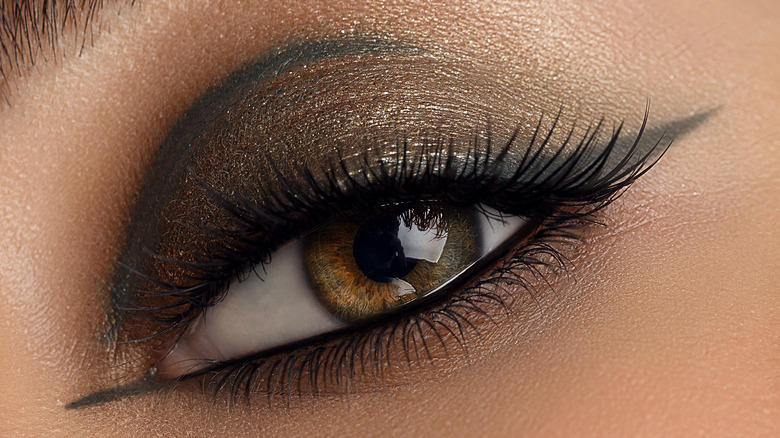 svetlichniy_igor/Shutterstock
On top of smudged eyeliner and black lashes, glitter is here to add a pop of color and glam to your makeup routine. Once you've created a heavy smokey eye, dab some silver or gold shadow over the black to give your peepers a pop! Rockstars love to be seen, and nothing says "look over here" like glitter. It also adds a femme feel, especially when embracing the oversized t-shirts and boots that can benefit from a sparkly touch.
Combine fabrics for a edgy, sexy vibe
The rockstar girlfriend aesthetic is a warring juxtaposition of oversized, ripped clothing and soft silks. When combined, these combinations create a strange and alluring component that looks hardcore and sweet. To really jump on the trend, keep a silk slip dress or two in your rotation. These can be layered with band t-shirts or paired with a leather jacket and Docs for a truly grunge-style compilation. Silk blouses are also a good addition to your closet, and these can be worn open to expose lacy bralettes with denim cut-offs.
Leather is a must
All leather is a must for nailing this trend, and you can never have too many leather (or pleather) items to interchange. Boots, jackets, pants: you name it, and it works with the look. Usually adding just one leather-based piece to an outfit is enough, so pair cropped t-shirts or tanks with tight pants for a sexy, laid-back vibe, or add edgy boots to a silk skirt. Distressed and vintage leather always plays well with the rockstar trend, which gives you more reasons to go thrifting.
Fishnets are fun, too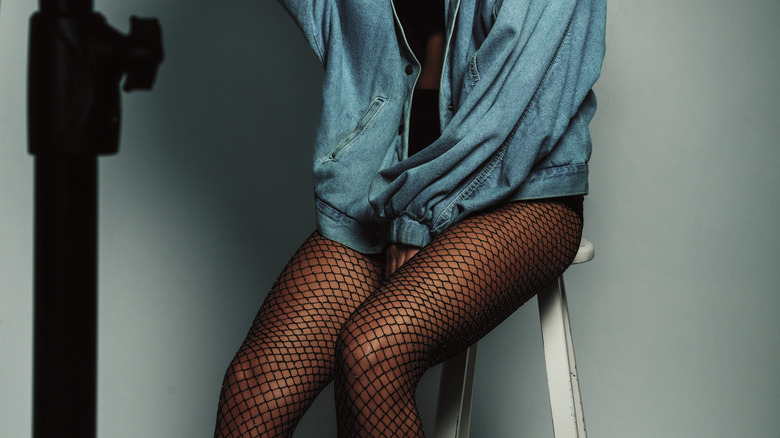 Husam Cakaloglu/Getty Images
Part of the appeal of the rockstar girlfriend look is the casualness behind it. You don't have to go out looking clean and polished, and instead should be leaning into the messier side of fashion. Keep a pair of fishnets around, and if they get a few holes along the way: you've successfully accomplished the trend. Fishnets go well with cut-off shorts or dresses, then finish the whole style off with boots or some Converse.
Don't forget the band t-shirt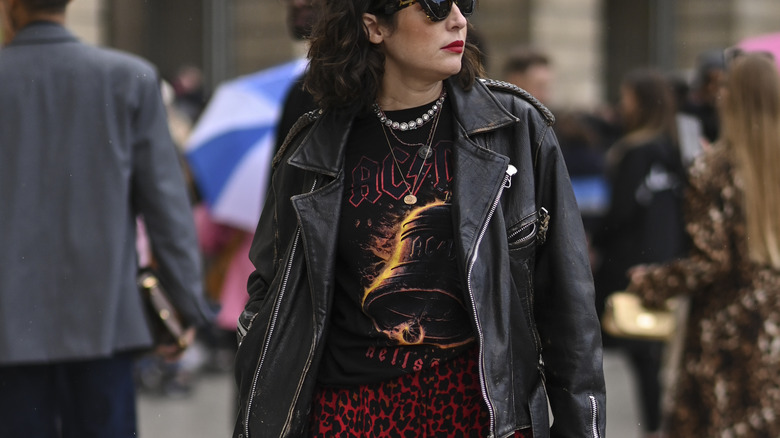 Daniel Zuchnik/Getty Images
This aesthetic is about channeling '90s style icons like Kate Moss, as well as the OGs who pioneered the trend in the '70s. Band t-shirts aren't just comfortable and cool — they look epic with almost any rockstar girlfriend outfit. The best part of this style is how effortless but sexy it can be, which gives you the freedom to play around until you find the best combinations. It looks good day or night, and it doesn't limit you to always appearing flawless and "together." Be honest: sometimes it feels good to rock out and embrace the messy, wild side of life.