Serum Foundations Promise To Revolutionize Your Makeup. Here's What We Know
We may receive a commission on purchases made from links.
Those of us attuned to the seasonality of certain makeup trends are waiting for a switch in weather to change up our routines, especially when it comes to foundation, but many foundations are good for all-year wear, even if they're particularly poignant in specific seasons. Oh, the age-old question: to wear or not to wear? That is, to sweat it off or to swear off it entirely? This is a hard truth for foundation, but might there exist a third, less divisive option? Apparently so. Serum foundations have entered the chat.
Advertisement
Serum foundations and skin tints are all the rage these days, particularly in warmer months but also for the whole year. Once the weather begins to warm, flowers bloom, colors brighten, and allergies start acting up, lightweight and natural makeup come in handy. Now, here's all you need to know about this wonder product and how it can improve your own skin and makeup regimens.
What is a serum foundation?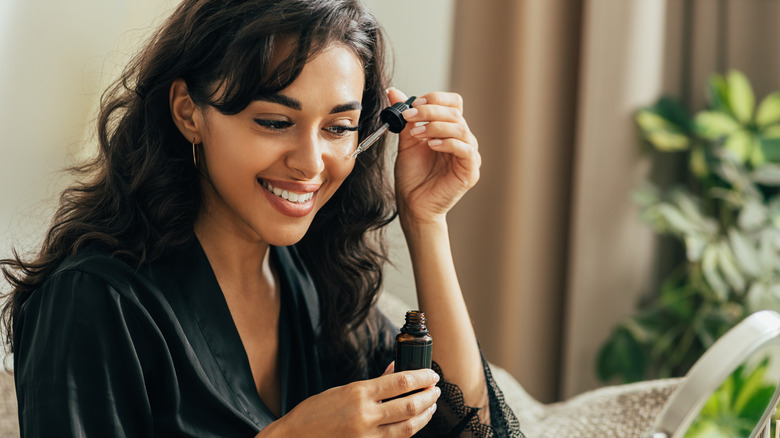 Youngoldman/Getty Images
Serum foundations are just what their name implies: an innovative makeup and skincare two-in-one product that combines the beneficial and nourishing properties of skin serums with the coverage and brightening effects of foundation to kill two birds with one stone — or perhaps erase all pores with one product.
Advertisement
Serum foundations promise many things, as can be expected of a product marketed as doing two very different things at once. The serum-like effects of each foundation vary from one product to another, as do face serums in general. Some boast intense hydration, some lightweight moisturizing, some aim for notable anti-aging results, some provide sun protection with added SPF filters, and some claim to do it all. 
The basic tenants of serum foundations' formulas remain the same as other products; they cover imperfections, even one's skin tone, and brighten one's complexion. Who wouldn't want the joint power of both? 
Do serum foundations apply the same?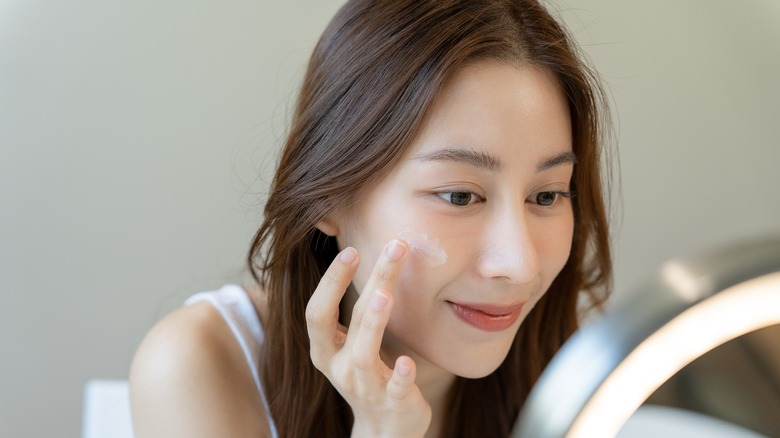 shisu_ka/Shutterstock
We're all familiar with traditional methods for applying foundation, and we're also familiar with serum application. They are not the same. Typically, liquid foundation is applied with tools, be it beauty sponges or brushes. You pat it in or carefully brush it on to achieve even coverage and smooth base for the rest of your makeup. Serums, on the other hand, go from dropper to face and are patted in immediately with one's own trusted fingers, no tools needed.
Advertisement
So how does a serum foundation apply? Tools or no tools? Well, it seems it's a 'to each their own' approach with this product. Because it is, first and foremost, a makeup product with pigment that needs to be blended into the complexion, tools might be useful. But the (typically lightweight) serum-like nature and consistency of the product make it amenable to blending in with just the use of the fingertips.
Bottom line: you can choose to apply with tools, but can also opt to use just your hands for a hassle-free application.
Is it worth it?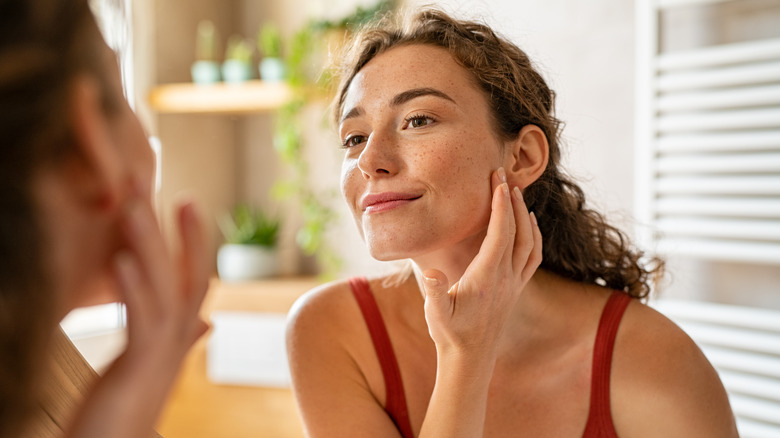 Ground Picture/Shutterstock
Skincare and makeup enthusiasts alike seem to agree — yes, serum foundations are a must! Skincare and makeup routines can only be improved by meshing them together. TikTok makeup connoisseurs are already trying some of these serum foundations and skin tints for their audience, and they appear to think good things only. Many of them claim that the dual-purpose product is the perfect alternative for foundation lovers who want a light routine that will withstand the melting effect of hotter seasons. They argue that it perfectly achieves the no-makeup makeup, clean-girl look that is so coveted these days.
Advertisement
And, if you needed any more convincing, it is also derm-approved! Many serum foundations have dermatologically tested formulations that make them safe for sensitive skin, which isn't common for most regularly formulated foundations. It cannot hurt to err on the side of caution when it comes to your skin. According to New York dermatologist Anna Karp, finding foundations with ingredients that actively fight common skin concerns is achievable (via HuffPost).
Best on the market
If you've read what we have to say about serum foundations and are now considering an emergency trip to the beauty store, here are some of the best on the market. When you think of natural, your skin-but-better makeup vibes, you probably think of Glossier. Glossier's Perfecting Skin Tint is one of the brand's best-sellers for a reason. Boasting an ultra-thin formula with added Glycerin, this tint will allow your skin to breathe while hydrating and brightening your complexion all at once. Keeping to the natural look, L'Oréal carries the viral True Match Nude Plumping Tinted Serum. Marketed as the first tinted serum to use 1% hyaluronic acid in its formula, the True Match Serum is dermatologically tested and will hydrate and smooth the skin all day.
Advertisement
As for something more potent and high-end, there's always Dior. Thanks to the properties of Dior's revitalizing longoza flower, their Capture Totale Super Potents Serum Foundation seemingly does it all. Targeting wrinkles, dark spots, and general signs of aging, this serum foundation doesn't just aim to cover up, it aims to transform. And everyone knows, sunscreen application is a crucial last step to any skincare and makeup routine, but isn't it troublesome to apply it overtop a perfect layer of foundation? Lâncome's Skin Feels Good Hydrating Skin Tint and its hydrating formula with SPF 23 is a must for those who prioritize sun protection.