TikTok's Overnight Styling Trick Promises Your Bounciest Blowout Yet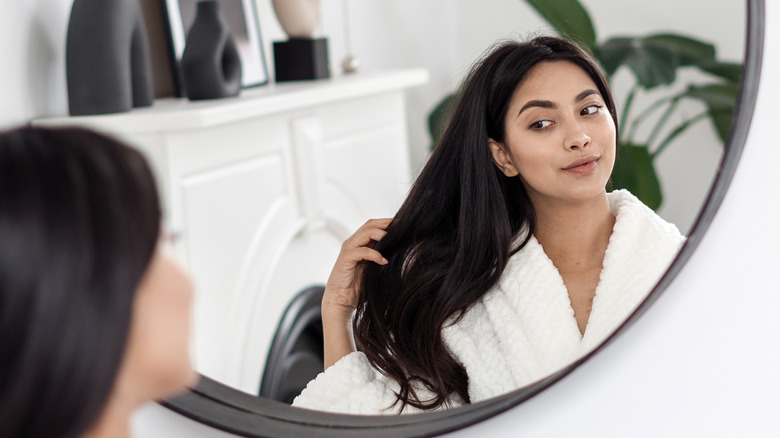 brizmaker/Shutterstock
We are always looking for the latest and greatest tricks and shortcuts and thanks to TikTok, we never have to look far. TikTok is constantly giving us more information than we will ever need, but sometimes the hacks it provides are truly life-changing — especially in the hair and beauty world. Getting ready in the morning is the bane of many women's existence, so anything to speed up the process is much appreciated. 
Advertisement
The latest hair hack to go viral on the app provides ultimate volume overnight, allowing you to wake up flawless and ready to take on the day. As they say, "the higher the hair the closer to heaven", and this trick makes us believe it. The hack requires minimal heat, less effort, and only a few products to achieve the look you are going for. Grab your socks, some curling rods, and curling iron, and get ready to try TikTok's newest trick for a bouncy overnight blowout.
All about the newest overnight blowout trick
TikTok user Yesenia Hipolito garnered over 340,000 likes when she shared her trick for an overnight blowout, which was truly not a blowout at all. The faux-blowout is "perfect and easy for when you're trying to prep for a morning when you won't have much time to style your hair" according to Hipolito. While some TikTok users seemed to be excited about the new hack, others are not sure how many more TikTok tricks they can take, leaving comments such as "I can't keep going to bed in these contraptions my bfs going to leave me." 
Advertisement
As is usually the case with TikTok, this is far from the first trick we have seen for getting a voluminous faux-blowout overnight — other previous hacks have also required sleeping with unique-looking contraptions in your hair. Even though this is not our first faux-blowout rodeo, it may be one of the last as it truly is one of the simplest.
How to complete the faux-blowout hack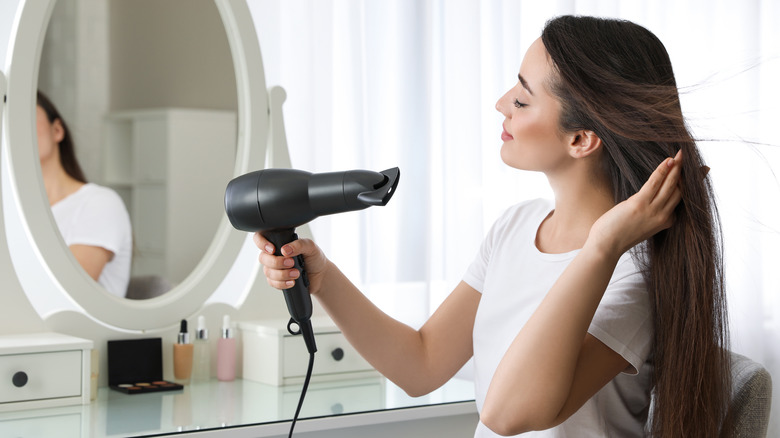 New Africa/Shutterstock
If you are looking to attempt this overnight faux blowout yourself, you aren't alone. To begin, wash your hair and get it mostly dry. The next step is to divide your hair into two sections, splitting the top and bottom layers of your hair. Separate these out with a claw clip. The queen of this hair hack, Yesenia Hipolito, says to take the top layer of the hair and curl it towards the face in one big section using a curling iron. Then, spray it with a dash of hairspray.
Advertisement
Afterward, you will use a sock filled with a couple of flexible roller rods and wrap your hair around it in the same direction that you curled it. The key is to ensure your hair is still hot when the socks are placed. As your hair cools it will cool in the shape of a curl with lots of volume. After you have wrapped the hair around the socks, curve the ends of the sock contraption toward each other to help your hair stay in place. Repeat this process with the underlayer of your hair and set it with some more hairspray. Then, use a silk bonnet to keep your hair nice and tucked away while you sleep. In the morning, take your hair down, and voila! You will have a bouncy head of hair that will make you look like you just left the salon.
Advertisement